GROUPON GUIDE TO WASHINGTON-DC
Meet Founders' Innovative, In-Your-Face But Not Too In-Your-Face All Day IPA
BY: Shannon Jewitt |
Jul 3, 2014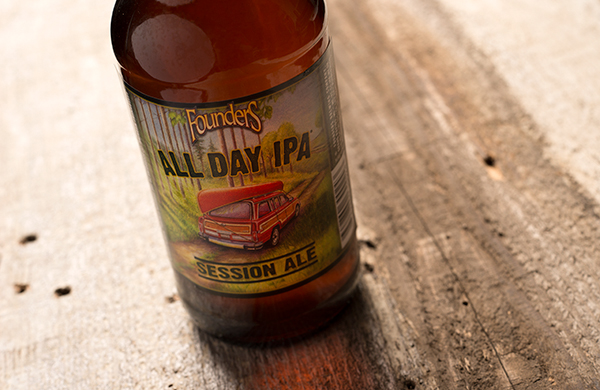 There are almost 3,000 craft breweries in the United States. In this edition of Beer Stalker, we investigate Founders Brewing Co.'s All Day IPA, a sessionable IPA with "shit-tons of flavor and great aromatics."
The beer:
Founders Brewing Co.
's All Day IPA
Style:
Sessionable IPA
Hops:
Simcoe, amarillo
Color:
The same golden-copper as a gold-plated fox
When Founders started, did it hit the ground running?
Not exactly. In its early years, the brewery was creating well-balanced but unremarkable beer. "We really got pushed to the point of bankruptcy, where our business model didn't work," said Dave Engbers, a cofounder of Founders Brewing Co. At that point, he and the other founder, Mike Stevens, made a decision: "If we're going down, we're going down on our own terms." That meant creating complex, big-bodied beers with huge aromatics. "We just didn't realize how many people who were out there really hoping and demanding more from their beer," he said.
What was the inspiration for All Day IPA?
As Engbers and other members of Founders were getting older and having families, they wanted a beer that they could drink several of while still being responsible—a session ale. However, Engbers said, session ales have historically been watered-down versions of previously brewed beers. "We wanted a beer that had all the characteristics of a Founders beer—full flavor, big aromatics," he said. "The challenge was how can we do that but limiting the gravity of the beer." The brewery worked on All Day's recipe for three years, bringing in ingredients from around the world before finding the right balance of malts and grains and the right hop mix.
Where should I drink All Day IPA?
There's no doubt the brew targets those with active lifestyles. Engbers said it is ideal for drinking while spending time enjoying nature with friends and family. "It's a great beer to celebrate when you're playing with your kids in the backyard or barbecuing with friends, on a golf course, on a boat, on the trail," Engbers said. "If you're on a bike ride or a hike, you don't want to drink something that's so heavy or high in alcohol that it's going to negatively affect you." He added, however, that it still has "shit-tons of flavor."
Would you consider All Day IPA an innovator?
"All Day is really, I think, is in its infancy stage," Engbers said. But the baby beer, which was first released in 2013, is certainly a trendsetter, as numerous other microbreweries have followed Founders' suit, producing sessionable IPAs. Of those, he recommended
Stone Brewing Co.
's Go To IPA,
Lagunitas Brewing Company
's DayTime, and
Firestone Walker Brewing Company
's Easy Jack.
Photo by Andrew Nawrocki, Groupon
Shop for local deals in beer, wine, or spirits.
Read more to build a six-pack of refreshing beer stories.