A Six-Pack to Sip All Summer Long
BY: Shannon Jewitt |
Jun 26, 2014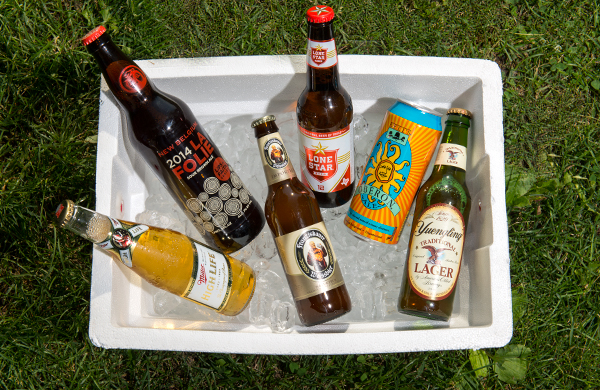 Summer offers plenty of perfect opportunities for throwing back a cold one, from barbecues and picnics to days at the beach. Just like the sun, though, it's possible to have too much of a good thing. That's why it's important to counter higher-ABV brews with beers that are lighter on your palate and your wallet. With that in mind, we put together a balanced six-pack of summer beers.
New Belgium Brewing's La Folie
Not for the faint of tongue, New Belgium Brewing's La Folie, a wood-aged, sour brown ale that's part of the Lips of Faith series, offers a tart-tasting brew perfect for a seafood-heavy picnic.
Bell's Brewery's Oberon
Although we wish we could drink this wheat ale year-round, Bell's Brewery only brews it through Labor Day. So, take a swig or a few of this classic summer beer from the bottle, can, or mini keg before the end of the season.
Yuengling's Yuengling Traditional Lager
Brewed by the oldest brewery in the United States, Yuengling's Traditional Lager is the perfect beer for those ballin' on a budget. If you're on the East Coast, that is. If you're elsewhere, you can only dream of its sweet, biscuity goodness.
MillerCoors' Miller High Life
It's not called the "Champagne of Beers" for nothing. Not only is it crisp and refreshing, it's also approachable and affordable. And, being brewed in Wisconsin, it pairs well with cheese brats, cheese curds, and everything else cheese.
Lone Star Beer's Lone Star Beer
If you're impersonating a Texan or a character in True Detective, this is the beer for you. If not, Lone Star is still an excellent summer-beer choice, especially for barbecues.
Franziskaner's Weissbier
Few things say summer more than a hefeweizen. Maybe it's the beer's sunny yellow-orange hue or its smooth mouthfeel. Regardless, open one of these to start your summer off on the right note.
Photo by Andrew Nawrocki, Groupon
Shop for local deals in beer, wine, or spirits.
Still room in your cooler? Read more craft-beer coverage on the Guide.
BY: Shannon Jewitt
Resident Beer Stalker Shannon has an insatiable thirst for craft beer. Despite being a vegetarian, she always makes an exception for fries cooked in duck fat.