Falcon Dive IPA: A Hyperlocal, Hoppy Chicago Brew
BY: Shannon Jewitt |
Jun 6, 2014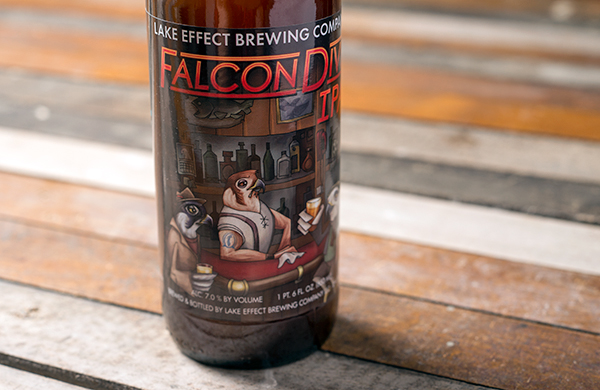 There are almost 3,000 craft breweries in the United States. In this edition of Beer Stalker, we investigate Lake Effect Brewing Company's "insanely hopped" Falcon Dive IPA and how it stands out from its siblings.
The beer:
Lake Effect Brewing Company
's Falcon Dive IPA
Malts:
American pale, crystal
Style:
American-style IPA
Hops:
Falconer's Flight 7 C's: cascade, centennial, chinook, citra, cluster, columbus, and crystal
Color:
The same shade as a broken taillight
Where did the name Lake Effect originate?
One of the brewery's main goals is to protect and give back to the Great Lakes, said
Clint Bautz
, the owner and founder of the brewery. So the name Lake Effect was a logical one. Part of that goal involves having a small
ecological footprint
, which means using as many local ingredients as possible. About 95% of the brewery's malts come from Wisconsin, 100% of its water is from Lake Michigan, 20% of its hops are from Michigan, and 100% of its yeast comes from a yeast lab located next door to the brewery.
How about the name Falcon Dive IPA?
The brewery wanted to incorporate the name of the hops—Falconer's Flight 7 C's, a blend of seven of the Northwest's most popular and bright aroma hops—in the beer. "The main focus of the beer is those hops," Bautz said. The image of falcons came about pretty quickly. This influenced the brew's packaging as well. "It has a really cool label. A lot of people buy it just because of the label," he said. "The label has all the falcons in a bar. So it really is a falcon dive."
Just how much hops are we talking about?
Lake Effect's website refers to Falcon Dive IPA as "insanely hopped." To meet that definition, the brewers use about
10 pounds of hops
in each batch of Falcon Dive.
Who should drink this beer?
The hop head, of course. However, the beer also has crossover appeal. "The bitterness is there for the IPA, but there's so much aroma and flavor hops that it masks a lot of the bitterness," Bautz said.
Does Falcon Dive have any siblings?
"We have a white IPA that we call Kiwi Snow, which the hops are from New Zealand. We have a belgian IPA, which has the belgian yeast," Bautz said. Whereas the yeast in its siblings' brews works with the hops to create different flavors, the yeast in this American-style IPA takes a backseat, serving as a canvas for the hops.
What other IPAs would you recommend?
Bautz suggested a host of Chicago brews, including
Begyle Brewing
's Quagmire,
Pipeworks Brewing Co.
's Ninja vs. Unicorn Double IPA,
Spiteful Brewing
's 10-9 Bike Messenger Appreciation IPA,
Ale Syndicate
's Municipal India Pale Ale, and
Half Acre Beer Company
's Spice IPA, as well as just about anything from
Goose Island Beer Co.
Photo by Andrew Nawrocki, Groupon
Shop for local deals in beer, wine, or spirits.
Read more Beer Stalkers and check out more craft-beer coverage on the Guide.
BY: Shannon Jewitt
Resident Beer Stalker Shannon has an insatiable thirst for craft beer. Despite being a vegetarian, she always makes an exception for fries cooked in duck fat.