Department-Store Makeup's Got Nothin' on These Products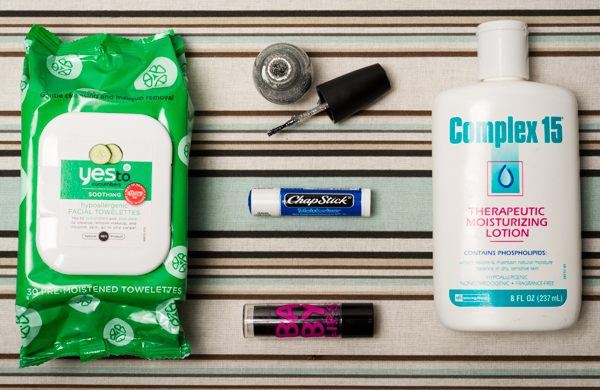 When it comes to beauty products, some things are definitely worth splurging on (there's a Chanel lipstick I basically won't leave the house without). But there's something to be said for those inexpensive standbys you know you can find in the aisles of any drugstore. These are our favorite budget buys, those things we won't hesitate to stop and buy a fourth of in the event that we did leave the house without them. Again. – 
Kelly MacDowell
Neutrogena Norwegian Formula Hand Cream
$5.49 for 2 oz. at CVS
As someone who's borderline compulsive about moisturizing her hands, I've never found a product I like better. The consistency is more like a thick ointment than a cream (yet somehow not greasy), so you only need a dab with each application. As such, a 2-ounce bottle will last me about six months and doesn't take up much room in my bag.
– Kelly MacDowell 

ChapStick Lip Moisturizer
$2.29 at CVS
This formula is much more emollient than regular ChapStick, which has been a relief to my chronically chapped lips. Not only does it keep my lips soft, but the SPF 15 helps protect against the elements. If I leave the house without it, I turn back for it, or go to the nearest drugstore to buy a new one. I've learned to keep one in my jacket, one in my purse, one at my desk, and one next to my bed.
– Aimee Algas Alker 
Revlon Nail Enamel
$5.29 at Walgreens
There's a magnetic force in my body that attracts at least one bottle of Revlon nail polish every time I go to the drugstore. The spectrum of colors is awesome, plus they're free of formaldehyde and toluene.
– Amelia Buzzell
Yes to Cucumbers Soothing Facial Towelettes
$5.99 for 30-count at Target
I pack these in my yoga bag so I don't have to carry around a full bottle of face wash like a crazy person. They wipe away sweat, dirt, and makeup without irritating my super-sensitive skin. The company claims that the wipes are biodegradable—according to the
FSC
, they're made of a mix of recycled and responsibly sourced wood fiber. –
Amanda Nyren
Maybelline Baby Lips Moisturizing Lip Balm
$3.99 at Walgreens
I love wearing lipstick, but a lot of times I just want a subtle color that's really easy to apply. These balms are perfect for those times, and they really do keep lips soft and hydrated. Plus, they smell deliciously fruity.
– Colleen Loggins 
Complex 15 Therapeutic Moisturizing Lotion
$8.69 for 8 oz. at Walgreens
This moisturizer is perfect for my superdry face: it's light enough to apply several times daily, and the fragrance-free formula doesn't irritate my sensitive skin. Though there is a face-specific moisturizer, I use the body moisturizer on my face instead. The basic ingredients are the same and it's a much better deal.
– Shannon Grilli
Shop Goods for health and beauty products, and make informed decisions with help from these articles: