Eat Like You're in a Golden Globe–Nominated Film
BY: Nathalie Lagerfeld |
Jan 6, 2014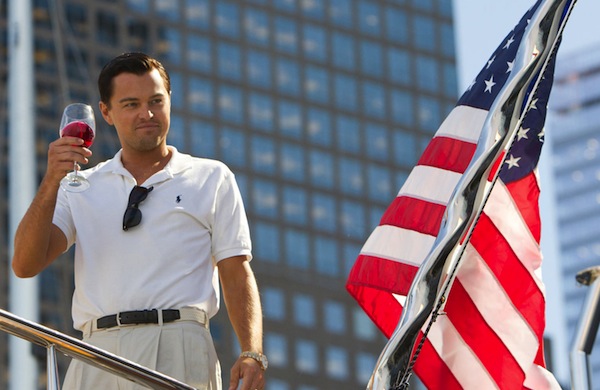 THE FILM: The Wolf of Wall Street (Best Motion Picture, Musical or Comedy)
THE FOOD: Maine lobster
Scheming stockbroker Jordan Belfort (Leonardo DiCaprio) has the best of everything: Rolexes, narcotics, a yacht,
pretty ladies with wads of cash taped to them
. So when it comes time to hurl an object at a federal investigator, Belfort doesn't settle for just any old projectile. Instead, the G-man ends up with a succulent Maine lobster smeared on the back of his suit. To ape Belfort's lifestyle, head to
Eataly
(43 E. Ohio St.), Mario Batali's River North superstore. It's easy to imagine the tycoon blowing his ill-gotten gains on fancy wines and
$35-per-pound black garlic
were he to visit here. More importantly, though, you can order your own catapultable crustacean from its well-stocked seafood counter.
Read our guide to Eataly here.
THE FILM: Before Midnight (Best Actress in a Motion Picture, Musical or Comedy, for Julie Delpy)
THE FOOD: Greek roast chicken
You'd think that the beautiful landscapes of southern Greece would take anyone's mind off their troubles. Not so for Jesse (Ethan Hawke) and Celine (Julie Delpy), whose serendipitous romance was the subject of two previous Richard Linklater films. Now a middle-aged couple with two young daughters, they've come to know the worst of each other and continually snipe and fight, even during an alfresco dinner by the picturesque seacoast. Midwinter Chicago can't really match the view from a Greek villa, but you can get a taste of Jesse and Celeste's Peloponnesian feast by heading to
Athenian Room
(807 W. Webster Ave.). An additional Golden Globes connection: the restaurant's Greek roast chicken is also one of cohost Tina Fey's
favorite Chicago dishes
.
Read our take on Athenian Room's chicken, kalamata style, here.
THE FILM: American Hustle (Best Motion Picture, Musical or Comedy)
THE FOOD: Anything Italian
In many classic mob movies, Italian restaurants serve as the site of much plotting and scheming. So it's fitting that con artist Irving (Christian Bale) and his wife (Jennifer Lawrence) picked an Italian restaurant for their dinner with the crooked mayor of Camden (Jeremy Renner), whom Irving is helping the FBI set up. Cozy up in a red-leather booth at
Club Lago
(331 W. Superior Ave.) to share your own conspiratorial whispers and
nail-polish top-coat recommendations
. The River North institution has been dishing out ravioli and osso buco at the same location for more than 60 years.
Read more about Club Lago's history here.
THE FILM: Gravity (Best Motion Picture, Drama)
THE FOOD: Astronaut ice cream
Sandra Bullock didn't really have time to snack during her outer-space ordeal, but you can celebrate her victory over malicious satellite shrapnel with some astronaut-style
freeze-dried ice cream
from REI (multiple locations, $2.50).
THE FILM: Frances Ha (Best Actress in a Motion Picture, Musical or Comedy, for Greta Gerwig)
THE FOOD: Wine, lots of wine
Confused 27-year-old Frances is always pouring copious amounts of wine: for herself, as at the dinner party where she discovers her estranged friend Sophie is moving to Japan, or for others, as when hard times force her to return to her alma mater to work as a catering waitress. Head to
Webster's Wine Bar
(1480 W. Webster Ave.) or
Rootstock Wine & Beer Bar
(954 N. California Ave.) to drink those late-20s jitters away—black-and-white visuals not included.
THE FILM: Her (Best Motion Picture, Musical or Comedy)
THE FOOD: Anything, as long as you Instagram it
That's how computers eat, right?
Photo courtesy of Paramount Pictures
BY: Nathalie Lagerfeld
Guide Staff Writer
Nathalie is a writer and editor on the Guide's food team. Originally from Virginia, she now lives in Chicago, where she regularly indulges her love of tortas, bibimbap, and Cheez-Its. Follow her on Twitter @maviswillsaveus.