What to Wear to Chicago's Newest Patios
BY: Michelle Schuman |
Jul 15, 2014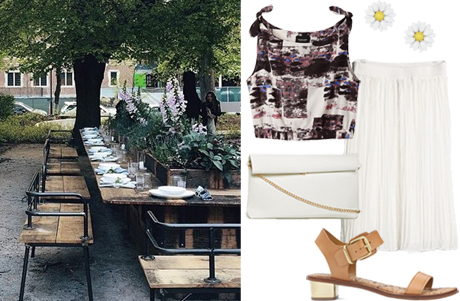 This year's brutally cold winter always meant it would feel especially sweet to soak in the summer sun on one of the city's patios. Below, we've rounded up some of our favorite new places to dine alfresco. But here's the twist: we've also matched each restaurant's style with an outfit that adopts some of spring 2014's biggest trends, including pleated skirts, jump suits, and sneakers. It turns out the only thing that goes better with tartine than a glass of wine is a crop top and sandals.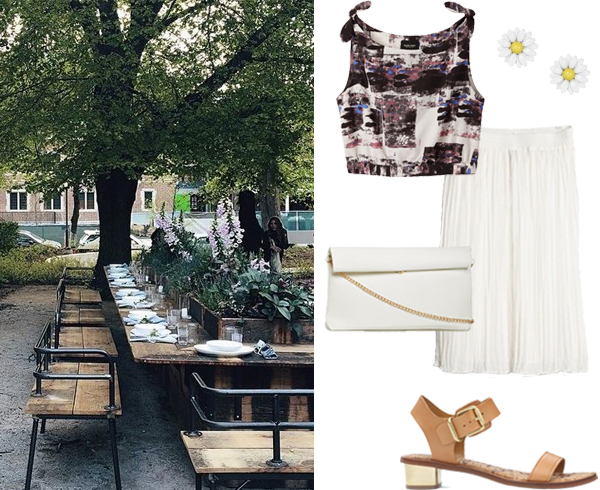 Plein Air Cafe | Hyde Park
Crop top, La Garçonne ($241.50); skirt, Mango ($69.99); crossbody bag, Daily Look ($29.99); daisy earrings, River Island ($4); sandals, Sam Edelman ($70)
The patio:
It feels like a secret garden: trees and bushes cast shade on floral centerpieces and rustic communal tables. (There are also a few smaller tables if you don't want to dine with strangers.) Come at the right time and you can catch a free concert from
Uncanned Music
's
Chicago Overground
series, which highlights some of Chicago's most acclaimed jazz artists.
The restaurant:
Plein air
is a French term meaning "in the open air" and is used to describe the act of painting outdoors. French culture also influences the menu—developed in part by
Pleasant House Bakery
's Art Jackson—which features tartine, baguette sandwiches, and savory pies.
The look:
The café's French inspiration and floral patio conjure images of impressionist artwork, reflected in this top's abstracted print. The skirt and nude sandals create a blank slate that highlight the top, adhering to the classic French aesthetic of simplicity.
Uncanned Music's founder thinks like a scientist when building custom playlists for West Town bars.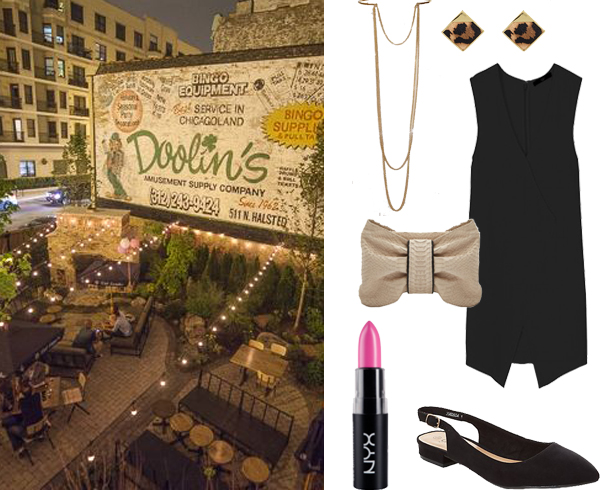 The Dawson | River West
Dress, Tibi ($119.20); bow clutch, Alice and Olivia ($297); slingbacks, New Look ($31); necklace, Henri Bendel ($248); earrings, River Island ($10); Summer Breeze matte lipstick, NYX ($6)
The patio:
The Dawson's patio feels like it goes on forever, yet the expansive space remains meticulously manicured. Small gardens are encased in a high wooden fence strung with green plants and romantic Edison bulbs. You likely won't have to wait long for a drink—the patio has a full bar equipped with a frozen mai tai machine.
The restaurant:
Helmed by experienced restaurateurs Billy Lawless (
The Gage
and
Henri
) and Branko Palikuca (the suburbs'
Topaz Café
and
Amber Café
), this two-level American restaurant offers craft cocktails like the First Base, made with vodka, white port, St-Germain, and lemon. The upscale cuisine includes dishes like the black-pepper ricotta cavatelli and roasted halibut.
The look:
Like much of The Dawson's cuisine, this wrap dress is a contemporary update on an American classic. Here, it's dressed up with simple flats (so you don't trip on the cobblestones) and other simple accessories. The dramatic necklace adds a bit of glamour.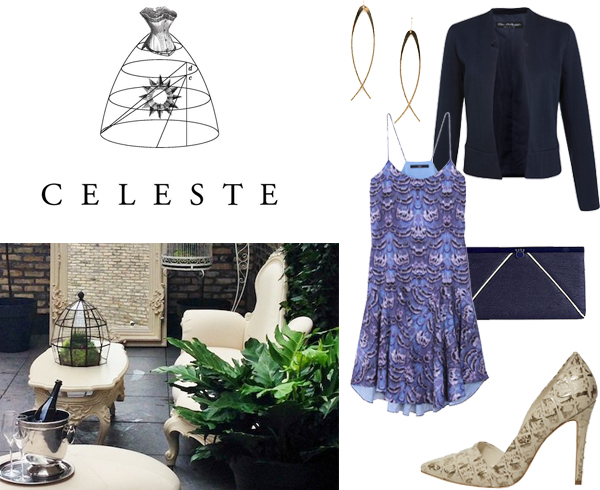 Celeste | River North
Jacket, Miss Selfridge ($68); dress, Tibi ($345); pumps, Alice and Olivia ($195); clutch, Debenhams ($50); earrings, Mango ($14.99)
The patio:
High walls covered in creeping ivy seclude this rooftop patio from the noise of Hubbard Street below. The intimate space is outfitted with vintage-inspired furniture and a birdcage or two. The ornate settees will make your refreshing gin-based cocktail or champagne feel even fancier.
The restaurant:
Inspired by Chicago's glamorous 1893 World's Fair (the logo features a corset and skirt cage), Celeste is opulent without being over the top. The street-level bar serves up small plates like baby octopus, and the upstairs restaurant (which is a bit more formal) offers entrees such as skate with saffron cream. But Celeste's real draw is an expansive cocktail list courtesy of Fred Sarkis, formerly of
Sable Kitchen & Bar
.
The look:
Turn-of-the-century dress calls for corsets, which are too uncomfortable for relaxing on a patio. As such, we modernized our look by a couple of decades with this 1920s-inspired frock. A sharp jacket and clutch make the outfit more current, but the lavish feel still complements the decor nicely.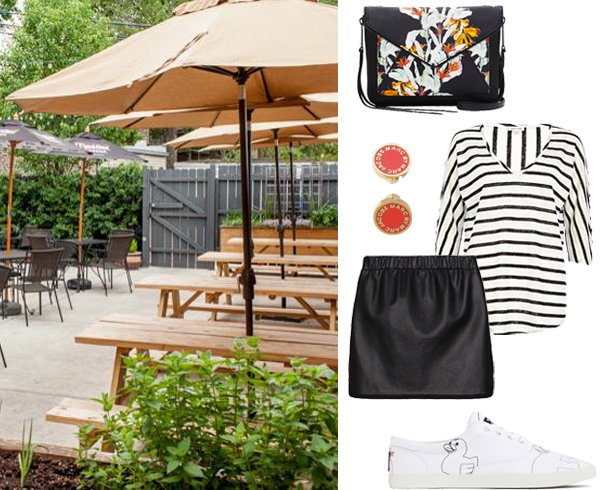 The Brixton | Andersonville
Striped tee, River Island ($40); leather skirt, Intermix ($550); Duckie sneakers, Bucketfeet ($68); earrings, Marc by Marc Jacobs ($48); crossbody bag, Rebecca Minkoff ($175)
The patio:
Simple picnic tables, umbrellas, and metal chairs belie this gastropub's elevated cuisine. But the laid-back look doesn't spoil the fun of snacking on jerky and shishito peppers while sipping a cold beer from the bar's selection of six drafts and 30-something bottles and cans.
The restaurant:
Chef Kevin McMullen—who cut his culinary chops at
El Ideas
—brought some serious creativity to The Brixton's kitchen with berkshire pork-cheek gnocchi and chicken-liver pâté with dijon and blackberry jam. Behind the bar, bartenders whip up craft cocktails against a dramatic backdrop of backlit bottles.
The look:
The striped T-shirt and sneakers of this comfortable outfit reflect the patio's low-key look. Yet the leather skirt and designer earrings keep it just fashionable enough for a restaurant that serves Blanc de Blancs. Plus, the crossbody bag means you can play pool in The Brixton's upstairs lounge without enlisting a friend to watch your purse.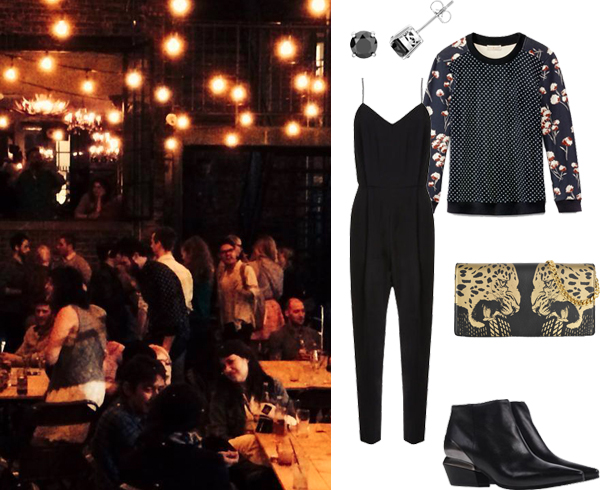 Sportsman's Club | Humboldt Park
Jump suit, Whistles ($214); sweatshirt, Tory Burch ($250); clutch, Forzieri ($612.50); earrings, Goods ($39.99); boots, Shoescribe ($710)
The patio:
Sportsman's Club doesn't have a patio, per se—it has a "backyard." High brick walls enclose the casual space, which invites mingling with a small outdoor bar and wooden tables spaced with plenty of room to stand and walk around.
The bar:
Between the vintage cash register, antlers, and chess boards carved into the tables, this cash-only bar looks like it's been around for a century, though it only opened in December. Inside, mustachioed bartenders mix up craft cocktails and create inventive digestifs using an amaro machine. Perhaps the most unique touch is the renovated reel-to-reel player, which plays bluesy '70s roots rock handpicked by Uncanned Music.
The look:
This jump suit's classic, low-key look befits the hip patio, as do the edgy boots. The soft sweatshirt adds some color while keeping you warm when the temperature drops. The clutch, meanwhile, adds a touch of humor and serves as a potential conversation starter.
Live a little further northwest? Check out our list of Logan Square patios.
BY: Michelle Schuman
Michelle is a freelance fashion designer and dancer from Detroit. She has traveled the US extensively (and loves it!), but her biggest goal is to travel abroad.