GROUPON GUIDE TO WASHINGTON-DC
My New Year's Beauty Resolutions
BY: Favin, the Maven |
Jan 12, 2015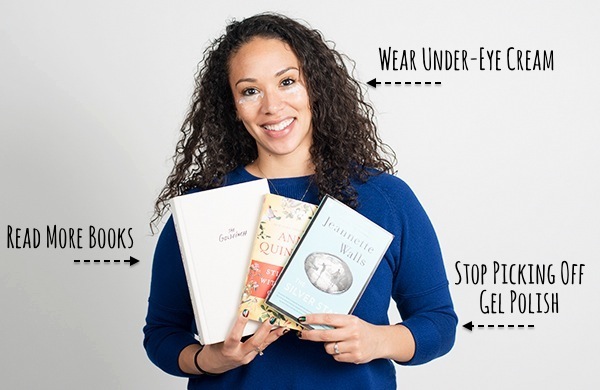 New Year's resolutions are easy to make. Watch this: I resolve to eat only healthy food. Cool, huh! For me, though, they're really hard to keep. I've been making them for 30 years, and I've barely kept any. A year is a long time to eat kale.
This year, though, to make it extra-hard for me to break my resolutions, I'm posting them here. These are just my beauty-related ones, but hopefully knowing that other people have read them will help me stick to them.
So, here goes. I resolve to ...
Do my 8-Minute Abs every day.
8-Minute Abs, a YouTube video I first started repping in April, is the perfect workout for me. It's easy enough that I don't dread it (only eight minutes!) but V-sitty enough that it burns my core. If I do it every day, soon I can change my blog title to Favin the Strong Maven.
Just kidding.

Wash my face and use under-eye cream every night.
In case you haven't noticed, I have trouble sticking to daily schedules. But in 2015, I'm going to do it anyway! Even when I'm sleepy, I'm going to wash my face. I'm tired of waking up to unexpected breakouts! I'm also recommitting to my under-eye cream, LUSH's Enchanted Eye Cream. This is my first attempt at an anti-aging routine, and I'm planning to nail it.
Read 12 books by the end of the year.
OK, so this isn't exactly beauty, but I've been in love with TV lately—especially American Horror Story—and my DVR is always stocked. I love reading, though, and this year I'm going to make more time for it. My January pick? This Is Where I Leave You by Jonathan Tropper.
Take my supplements every day.
I used to only consider pizza and wine as my supplements. But I started experimenting with actual supplements in 2014, and since I started taking the ones that make sense for me (turmeric pills for overall health and neem tablets for clear skin), I've really noticed a difference. Time to turn these babies into a lifestyle.
Start a savings account for my beauty treatments.
I love shopping for beauty treatments, and I love impulse-shopping for them even more. I can't walk by a LUSH without buying $100 worth of bath bombs (and then smelling $100 worth of amazing). It can be a problem. So this year, I'm creating a special account just for beauty treatments, to make sure my beauty spending doesn't interfere with my rent spending.
Stop picking off my gel manicures.
So bad for my nails, but so satisfying. Still, I'm going to leave this one to the pros in 2015.