Five Southern Sides that Deserve the Spotlight
BY: Patrick Winegar |
Jan 17, 2014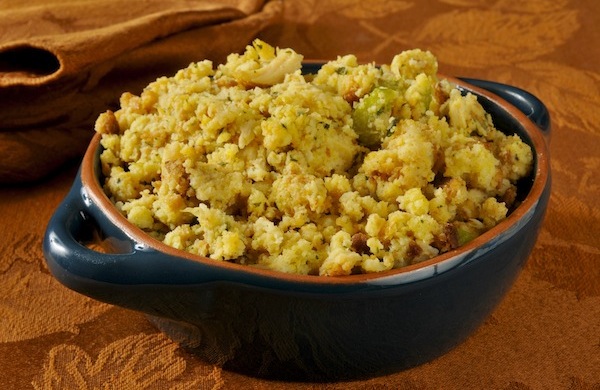 We in the Windy City love our Southern food. Barbecue has long felt as Chicagoan as the blues (which, by the way, also came here from the South). And in 2013, crowds queued up around the block for a taste of fried chicken at spots like
Parson's Chicken and Fish
(2952 W. Armitage Ave.) or
Honey Butter Fried Chicken
(3361 N. Elston Ave.). Still, many traditional Southern foods—especially desserts and sides—continue to fly under the radar. Here are a few of my favorites from around the city.
Cornbread Dressing
Eat it at:
Pearl's Place
(3901 S. Michigan Ave.) No holiday feast in the South is complete without a side of cornbread dressing. With its fluffy texture, it's almost like a savory cake, ideal for sopping up gravy and juices from a Thanksgiving turkey. The best versions get a kick from spices, onions, and celery. At Pearl's Place in the heart of Bronzeville, I found a sterling example of this classic Southern side. Every bite of the dressing was so buttery and rich, I didn't even glance at the main dish of baked chicken until all of the cornbread was gone.
Hoppin' John
Eat it at:
Heaven on Seven
(111 N. Wabash Ave., 600 N. Michigan Ave.) and
Wishbone
(1001 W. Washington Ave.) A stew of black-eyed peas, peppers, and bacon, hoppin' john is said to bring wealth and luck when eaten on New Year's Day. When I was growing up in Alabama, I ate it with my family almost every year (full disclosure—the magic beans have yet to make me obscenely wealthy). Near the Loop, both Heaven on Seven and Wishbone serve up their own versions of this special-occasion dish throughout the year. Heaven on Seven stays true to its Louisiana roots by adding spicy andouille sausage into the mix, and Wishbone tops a traditional black-eyed pea hoppin' john or a black-bean hoppin' jack with cheddar, tomatoes, and scallions.
Sweet-Potato Pie
Eat it at:
Jimmy Jamm Sweet Potato Pies
(1844 W. 95th St.) Long before
superfood
was a word, Southerners have been savoring the sweet potato's combination of vitamin A, beta carotene, antioxidants, and rich, creamy flavor. You're likely to find the nutritious root vegetable in pies at any Southern diner or meat-and-three in the city, but only at Jimmy Jamm Sweet Potato Pies in Beverly can you eat an entire meal made from it. After a main course of yams loaded with diced steak or a turkey sandwich between sweet-potato bread, stop to devour a side of sweet-potato fries before finally sinking your teeth into the eatery's titular pie.
Kool-Aid Pickles
Eat it at:
Lillie's Q
(1856 W N. North Ave.) Truth be told, I never even heard of Kool-Aid pickles until I moved to Chicago. The salty-sweet delicacy has its origins in the Mississippi Delta, though it's enjoying a wider audience up North thanks to a new garnish on the menu at Lillie's Q in Wicker Park. Chefs there marinate batches of kosher dills in a blend of bright-red cherry Kool-Aid and spices for up to two days. The brine infuses the sour, tangy pickles with a hit of sweetness and spiciness, as well as an otherworldly electric crimson color.
Hot Tamales
Eat it at:
the Mississippi Delta Hot Tamales stand (909 N. Laramie Ave.) or
Fat Johnnie's Famous Red Hots
(7242 S. Western Ave.) Most people don't think of tamales as a Mississippi dish. But in the early 20th century, migrant laborers from Mexico brought cornhusk-wrapped bundles to the Delta, where they caught on as an easy-to-transport lunch for workers of all backgrounds. Today, Mississippi native and tamale enthusiast Yoland Cannon serves the Mexican-Southern dish at his Mississippi Delta Hot Tamales stand in the Austin neighborhood. Fat Johnnie's Famous Red Hots in Chicago Lawn adds another layer to the cultural exchange through its Mother-in-Law sandwich: a hot tamale tucked inside a Chicago-style poppy-seed hot-dog bun and smothered in chili.
BY: Patrick Winegar
Patrick is an Alabama transplant to Chicago who writes about food and leisure for the Guide. He spends his free time writing sketch comedy and hunting for good barbecue.