How to Wear Cat-Eye Makeup
BY: Kelly MacDowell |
Dec 17, 2013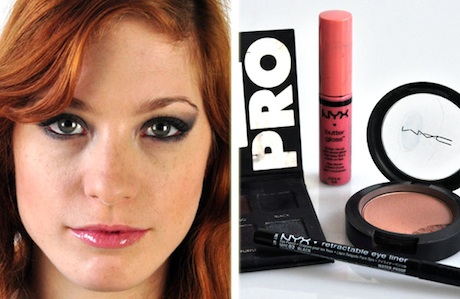 From Jason Wu to Michael Kors, the fall shows at this past year's New York Fashion Week predicted a big revival of cat-eye makeup. Though the look is on-trend—not to mention a worthy party look for New Year's Eve—makeup artist
Kat DeJesus
finds many women are hesitant to try the dramatic style. "I think a lot of times people are so intimidated by eyeliner, by color," said Kat, a FactorArtists Emerging artist who has worked in the industry for nearly 15 years. "But if you do it in little pops, it's actually probably the easiest thing you can do. And it's lazy because you don't have to use a lot of product." She also stressed that women shouldn't try too hard to make their cat-eye look perfect. "You have to be a little bit messy. That's the fun of it." Kat shared three modern takes on the cat-eye, all inspired by looks seen on the Fall 2013 runways.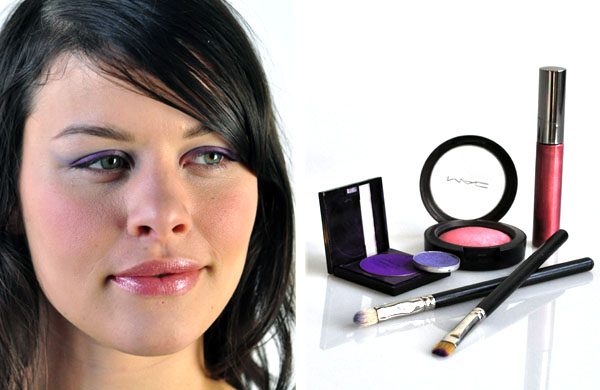 Colorful Cat-Eye
Runway inspiration:
Jason Wu
Makeup used:
MAC eye shadow
in Parfait Amour ($15) (pictured as palette refill);
Make Up For Ever matte eye shadow
in 92 Purple ($21 at Sephora);
Bdellium Tools 776 blending brush
($7.92);
Bdellium Tools 714 flat eye definer brush
($7.04);
MAC Mineralize blush
in Dainty ($25);
Ulta Brilliant Color lip gloss
in Berry 05 ($8)
The process:
Jasmine's lids are naturally dark, so Kat started by brightening them with some concealer. "If you
use a concealer that's a little lighter
[than your eyelid] it's actually going to make your eye color pop." Kat then selected two shades of purple shadow—one lighter, one more vibrant—which she chose to draw out the green tones in Jasmine's eyes. "When you're working with color, you want to go
lightest to darkest
so that you don't end up looking like you have a black eye," Kat said. With that in mind, she used the fluffy blending brush to lightly wash the Parfait Amour shadow all over the lid. To
create the winged effect
, she drew the shadow out and up, continuing the natural curve of Jasmine's lower lash line. "As long as you follow your [lower] lash line, there's no way you can make a mistake. It's pretty much foolproof." She kept the end of the wing in line with the end of Jasmine's brow. Then, using the definer brush and the brighter 92 Purple shadow, Kat lined Jasmine's upper lid by
lightly pressing the brush into the lash line
. To avoid creating a look that was over the top, she only used this color on the lash line, and not on the wing.
Neutral blush and gloss also keep the look grounded
: "When you're doing something this dramatic, downplay everything else," she advised.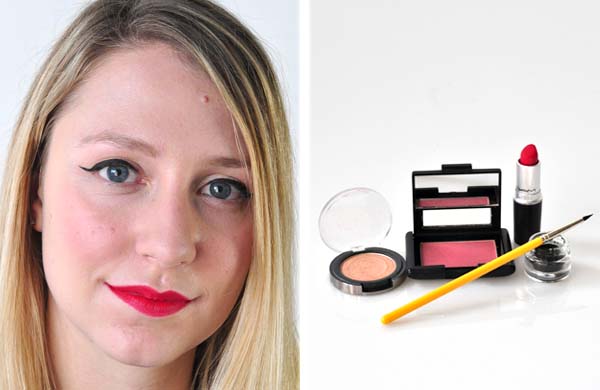 Classic Cat-Eye, Exaggerated
Runway inspiration:
Anna Sui
Makeup used:
NYX gel liner and smudger
in Betty ($8);
Bdellium Tools 710 eyeliner brush
($7.04);
ULTA eye shadow
in In the Buff ($7);
e.l.f. Studio blush
in Blushing Rose ($3);
MAC lipstick
in Ruby Woo ($15)
The process:
"Liquid liner scares the crap out of most people because it [has to be] so perfect," Kat said. "The easiest way to do it is to
line your lashes first
." She recommended looking into the mirror and tilting your head back "like you're conceited." This causes your eyelids to flatten, which will prevent skipping, but still allows you to see what you're doing. Kat then started by making a thin line on Colleen's inner eye and
gradually made it thicker as she approached the outer corner
. She prefers a thinner, pointed liner brush because you can lay it flat on the eye. "Don't use it like a pencil," she warned. "[Only] use the point to get into the little nooks and crannies between the lashes," which she says to do with
very light dots
. For the wing, don't attempt to draw one thick line right off the bat. Kat used a technique similar to the one she used on Jasmine,
extending the natural upward curve
of Colleen's lower lash line until she reached a spot that was in line with the end of the brow. From that spot, she
drew two thin lines
: one that connected directly to the end of the line she drew across the eye, and a second that connected a bit farther into the lash line. This created a sort of curved triangle,
which she then colored in with liner
. ("Don't be afraid to mess up. That's what Q-tips are for.") As far as the length of the wing, Kat recommended keeping it in proportion to the size and openness of the eye. Larger almond eyes like Colleen's can handle a longer wing, but those with hooded lids or smaller eyes should keep the line shorter. Though you don't necessarily need shadow with this look, Kat did use a shimmery shade close to Colleen's skin tone. To add some 1950s glam, she added a rosy blush on the apples of the cheeks, classic red lipstick, and lots of mascara, though she said false lashes would also look great.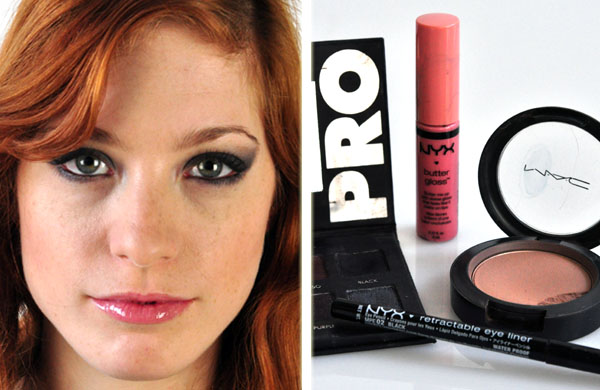 Smoky Cat-Eye
Runway inspiration:
Michael Kors
Makeup used:
Black and Slate shadows from the
LORAC PRO Palette
($42); Bdellium Tools 776 blending brush;
Bdellium Tools 780 pencil brush
($7.92);
NYX retractable eyeliner
in Black ($4.50);
MAC Pro Longwear concealer
($19);
MAC powder blush
in Taupe ($21);
NYX Butter Gloss
in Crème Brulee ($5)
The process:
"When you're doing anything that's smoky, do your eyes first," Kat said. "That way you can be messy. Don't worry about it being perfect until you've cleaned up underneath and put on a little concealer." To create this look, she started with the gray Slate shadow, a shimmery shade (Kat said she prefers shimmery shadows because they blend better than matte colors). Using the blending brush, she spread shadow across Shelli's entire lid by
moving the brush in small circles
. "Don't do a windshield wiper motion. [That] doesn't do anything, it just pushes stuff back and forth," Kat advised. She also noted that the circular motion prevents you from using too much color, as it keeps you from having to dip back in for more shadow. Next, Kat blended shadow all the way into Shelli's crease, then
created a teardrop shape
, positioning the "point" of the teardrop past the outer corner of the eye to get that cat-eye shape. To create the smoky effect, she then used the pencil brush to
dab the black shadow
into Shelli's upper lash line and along the wing. "When you do little dabbing motions with a deeper color, it actually pushes the color onto the eyelid and then you don't have a lot of fallout." If you accidentally end up with too much color, use a clean makeup brush and swipe it over the eye to erase excess product. Kat finished the eyes with some
black eyeliner on the lower waterline
, and also recommended using a bit of shadow under the lower lash line "if you really want to get sassy." She cleaned up Shelli's under-eyes with some concealer, and then contoured her cheeks with brown blush to balance the cool tones in the shadows. Lastly, she used a nude lip gloss one shade lighter than Shelli's lips to keep the look light without washing her out. Though the look seems complicated, remember Kat's final comforting tip: "It doesn't have to be perfect. I like when a smoky eye is a little off. I feel like it's more wearable." More Makeup How-tos:
How to Wear Red Lipstick
How to Wear Concealer
Photo: Genevieve Knapp, Groupon
BY: Kelly MacDowell
Kelly's first concert was Fleetwood Mac and her first career was in the beauty industry. Now a style and music writer, she loves Project Runway and her dog, Watson.