Never Look Like a Nerd in Rain Boots Again
BY: Kelly MacDowell |
Apr 9, 2015
In recent years, rain boots have gone from nerdy to necessity, thanks to Hunter's iconic design and high-fashion interpretations from labels like Prada. Figuring out how to style them has been fun for the fashion set, as evidenced by a casual scroll through the Pinterest results for "rainboots." We didn't even scroll that far, and we learned that there are electric-pink versions—and that rain boots have quietly taken over the Glastonbury Festival.
For anyone still unsure about how to wear rain boots, our main tip is this: don't be afraid to make them the centerpiece of your outfit. Here are three ways to do it.
1. Go graphic.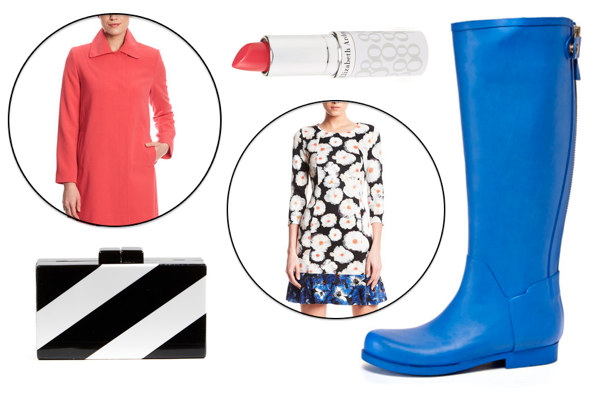 Clockwise from top left: Button-front crepe coat, T Tahari ($99.99); sheer lip tint in Blush, Elizabeth Arden ($12.99); Mistyy blue boot, Jessica Simpson ($39.99); floral boatneck dress, Philosophy by Republic ($29.99); diagonal stripe clutch, La Regale ($29.99)
Bright hues and black-and-white are two classic spring color stories. Marry the two for a graphic look that'll cheer you up on even the gloomiest days.
2. Go rocker.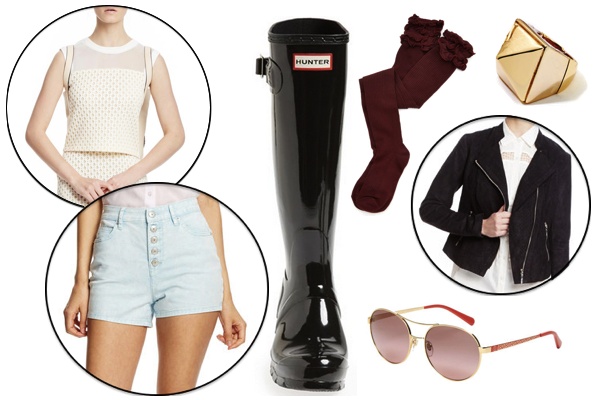 Clockwise from top left: Crop top with mesh neck, English Factory ($39.99); original high-gloss boot, Hunter ($148 at Nordstrom, find Nordstrom coupons); Fidler tall sock, Free People ($16.99); pyramid ring, T Tahari ($12.99); asymmetrical zip-front jacket, Kensie ($59.99); round aviator sunglasses, Tory Burch ($109.99); high-waisted short, BCBGeneration ($29.99)
For all intents and purposes, black wellies are shiny motorcycle boots. In that spirit, pair them with pieces fit for a rock concert, like a leather jacket, a crop top, and aviators. Perfect for a rainy day at a music festival or when rehearsing your karaoke version of "Rainy Day Women #12 & 35."
3. Go glam.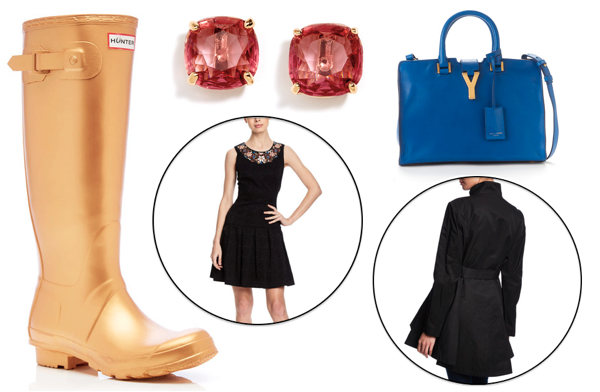 Clockwise from top left: Pearlescent gold tall boot, Hunter ($109.99); pink stud earrings, Kate Spade ($29.99); royal blue cabas, Saint Laurent ($1,899.99); funnel-neck trench, Betsey Johnson ($89.99); cocktail dress with embellished neckline, Nicole Miller ($129.99)
Who says rain boots can't be dressy? In black, tan, or the luxe gold above, they make a cheeky complement to designer pieces. (Plus you won't destroy your stilettos in a storm.)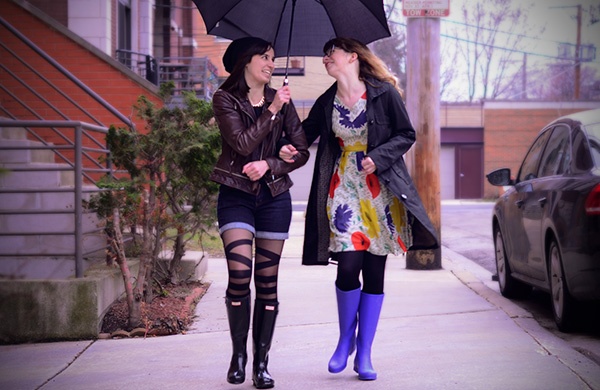 Photos by Mark Mills, Groupon

Jump-start your spring fashion update with these articles: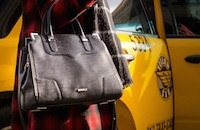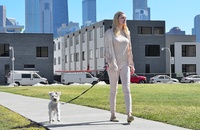 BY: Kelly MacDowell
Kelly's first concert was Fleetwood Mac and her first career was in the beauty industry. Now a style and music writer, she loves Project Runway and her dog, Watson.