Why You Should Go Nude This Spring
BY: Kelly MacDowell |
Mar 13, 2015
Last spring, it was all about the nude lip. That trend has only expanded since, giving way to more natural makeup and hair routines for the 2015 season. So to take it a step further, we're loving nude as the go-to color for spring wardrobes—here are five reasons why.
It transitions flawlessly from winter to spring.
A not-too-distant cousin of winter white, nude is the perfect next step for the upcoming season. Its more earthy hue vibes with spring's changing landscapes, but it's not too far off from winter's color palette, which means you can begin wearing it on those days when the weather hasn't quite made up its mind.
It's the perfect spring neutral.
The neutrals that dominate winter—black, gray, navy—all start to feel a bit dark once spring's sun starts shining. Match your wardrobe to the weather and embrace this lighter shade as a complement to anything from neons to earth tones.
There's a nude for nearly everyone.
Initially, nude may seem like a tricky color to pull off. But in reality, it appears in a broad subset of shades that can have white, pink, yellow, purple, or brown undertones. An easy way to figure out which nude works best with your complexion? Experiment with nail polishes.

It looks great against post-spring-break skin.
Whether you spent your holiday in Rio or Orlando, you've probably got a tan to show off. By choosing a nude that's a few shades lighter than your complexion, it'll pop beautifully against bronzed skin.
It vibes with the season's beauty trends.
As our trend forecasters told us earlier this year, natural hair and makeup are huge for spring. What better way to complement an au naturale look than with an all-nude ensemble? Going monochromatic feels very modern, especially with a color as chic and clean as this.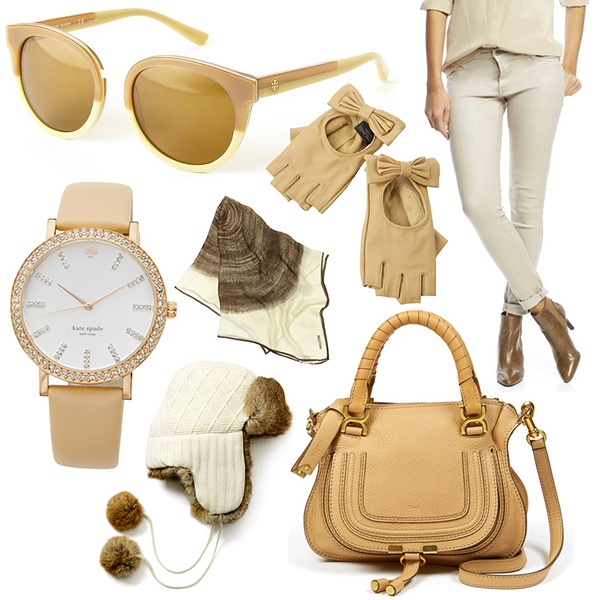 Clockwise from top left: Panama sunglasses, Tory Burch ($139.99); Leather bow driving gloves, Carolina Amato ($34.99); Bone skinny jean, James Jeans ($79.99); Mini Marcie leather satchel, Chloe ($1,249.99); Knit trapper hat with rabbit trim, Surell ($39.99); Metro Grand watch, Kate Spade ($189.99); Dark ash circle scarf, Halston Heritage ($29.99)
Master even more spring fashion trends: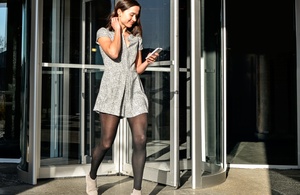 Broad shoulders? Small bust? Long torso? There's a jumper for you.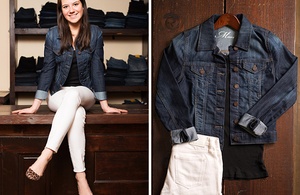 It can be done. Without a single "Canadian tuxedo" comment from anyone.
BY: Kelly MacDowell
Kelly's first concert was Fleetwood Mac and her first career was in the beauty industry. Now a style and music writer, she loves Project Runway and her dog, Watson.