Italian Patios for Summertime Pasta Sharing
BY: Alison Hamm |
Jul 15, 2013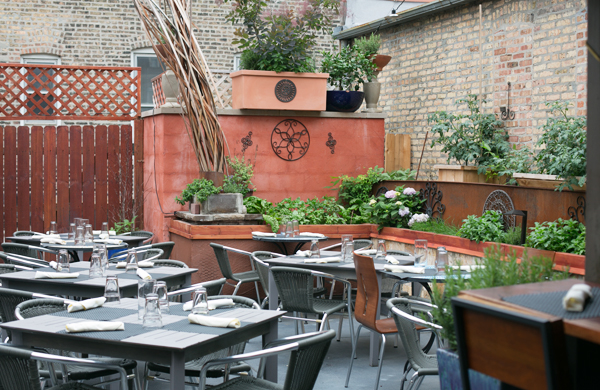 As two beloved cartoon dogs showed us with one incredibly long spaghetti noodle, an Italian meal is best enjoyed outdoors. Keep the candles and the pasta, but ditch the alley and head to one of the patios at these
Italian restaurants
instead.
To eat housemade gnocchi while literally sitting in the garden:
Antico
(Bucktown | 1946 N. Leavitt St.) The gnocchi is made in house daily and served three ways, with brown butter and sage as just one melt-in-your-mouth possibility. Eat it inside, and you're in a former antique shop; outside, and you're in the chef's garden. Wink at the sage next to you as you take a big bite out of the sage on your plate.
To pretend you've crashed a private Italian garden party:
Anteprima
(Andersonville | 5316 N. Clark St.) This trattoria's secluded, enclosed back patio feels almost as homey as the Italian homestyle cooking it serves. Anteprima's seasonally inspired menu changes weekly but always features regional dishes the chefs learned while visiting various homes throughout Italy. Start off with some house-flavored olives and artisanal salumi. The rest is up to you, but you should probably pair it with a quartino carafe of wine.
To drink wine on the sidewalk:
Letizia's Fiore
(Logan Square | 2456 N. California Ave.) Letizia's Fiore is a Logan Square spot from the same family as Wicker Park's
Enoteca Roma
and
Letizia's Natural Bakery
. Grab a seat on the sidewalk patio and try one of the wines from the all-Italian wine list. You won't find a bottle pricier than 40 bucks, so you might as well stick around until 11 p.m., when you can venture inside to the underground vino bar, accessible from the back speakeasy entrance.
To take a break from depressing lunches at your desk: 
Quartino
(River North | 626 N. State St.) Along with a street-level front patio, Quartino offers outdoor seating on its second-floor veranda. Take a friend and share a three-course
lunch
special for $25, or refuse to share your neopolitan pizze
,
whether it's the pepperoni or the Popeye, which is topped with baby spinach.
To get a champagne-fueled Italian brunch: 
Angelina Ristorante
(Lakeview | 3561 N. Broadway) For $21, you get bottomless mimosas with a choice of a brunch item, so pick something hearty. Luckily, there's plenty to choose from, including the frittata toscano, an Italian-style baked omelet packed with goat cheese and red-pepper purée. Breakfast croissant sandwiches take an Italian turn with smoked mozzarella piled on with canadian bacon and scrambled eggs. Is there even a patio here? Whatever. You're drunk.
To ignore the majority of the menu: 
A Tavola
(Ukrainian Village | 2148 W. Chicago Ave.) Chef Dan Bocik's gnocchi has received rave reviews for more than 15 years. In 1996,
Chicago Tribune
critic Phil Vettel
wrote
, "There's a lot of gnocchi in town, but these might be the best." Other
words invoked by critics
to describe the five-ingredient dish include "transcendent" and "pillow soft." But chef Dan isn't overly protective of his famed dish—he also makes packaged portions of it for at-home cooking and shares the simple yet treasured recipe at monthly
cooking classes
. Why do it at home, though, when you can have it served to you on A Tavola's patio?
To overshare with your friends: 
Taverna 750
(Boystown | 750 W. Cornelia Ave.) Taverna 750's small plates, ranging from pear and pancetta pizzas to the lamb and pappardelle, are designed for sharing and so delicious it's hard to stop ordering more. The specialty cocktails, served in generous pours—you practically get two for one, because half is kept chilled on ice—are as flavorful as they are strong. On my last visit, my friends and I passed our drinks around in a circle so we could get a taste of each. So maybe only go to Taverna 750 with close friends.