Left in the Lunch: Great Places for Lunching Alone
BY: Naomi Bishop |
Oct 3, 2013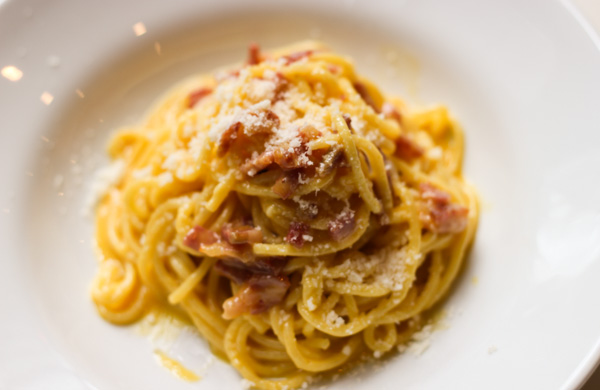 Despite the density of hungry office workers, downtown Seattle is still a difficult place to find a great solo meal. When eating alone, sometimes the best thing is the hustle and bustle of a busy place, where nobody minds the person in the corner, hovering over his or her rice bowl. Other times a salad at the bar of a casual bistro goes well with a good book—or just a few minutes alone with one's thoughts. On a sunny day, the options expand, with the influx of food trucks that are invading downtown on a daily basis. Great food for eating lunch alone in Downtown Seattle can be hard to find, but it exists, and here's where to find it.
Red Bowls
Forget 31 flavors, Red Bowls' menu lists 48 different rice bowls—which really becomes 96 with the option of white or brown rice. Lines often stretch out the door, but the pair behind the counter serves up the shockingly simple options (mostly some combination of meat or fish, vegetables, and rice) with a quickness and an array of sauces: savory, spicy, sweet, and everything in between.
Il Corvo
At the south end of downtown, chef Mike Easton is quietly serving up the best pasta in town. Every day he chooses a few shapes to make and pairs them up with a fitting sauce, usually crafted from local, seasonal produce, and transforms it all into his daily menu. Fitting for such a genius with Italian food, the crowds have followed him from his previous location in the Pike Place Market, but the communal feel remains, even with the hordes of hungry fans.
Food Trucks at 2nd and Pike
Food trucks have reached peak trendiness and might even be rolling down the other side in their refurbished airstream trailers. Even if the shine has worn off the idea of food from a moveable vehicle, the rotating cadre of trucks parked in the lot at the corner of 2nd and Pike has been a boon to great lunch food downtown. Japanese hot dogs (Dog Japon) hold down the fort on a daily basis, but local, seasonal How Pickle got out of a Jam, middle-eastern Hallava Falafel, and New Orleans-style Jemil's Big Easy all make weekly appearances, to name just a few players in the rotation.
Le Pichet
To pull up a stool at the bar of Le Pichet is to step across the ocean to France. The classic bistro serves impeccably French fare, like salads that work as a meal, even more so when combined with a crusty baguette and good butter, just-right-sized portions of quiche, and delicate sandwiches made with sliced charcuterie. The bar, with its high seating and array of French liqueurs to stare at, seems to almost beckon that one come and sit alone, to have a silent conversation with the food.
Mee Sum Bakery
A standout among the stands of tourist-centric, sub-par food in the Pike Place Market, Mee Sum lines their pastry cases with fresh Chinese baked goods. Each potsticker, each almond cookie, every meat-stuffed, sweet-dough humbao is made by hand everyday, right in the back of the tiny market stall. The care shows in the flavor of the goods, but nowhere in the prices. The budget-friendly handheld foods make a great nibble while spending a lunch hour wandering the city's treasured market.
BY: Naomi Bishop
In need of an outlet for her effervescent enthusiasm for all things edible, Naomi Bishop started sharing her thoughts on food at her blog, TheGastroGnome, in 2006. Her lack of fear—she'll eat anything and go anywhere—lead her to discover restaurants hidden in plain sight or find the most delicious needle in the haystack of a menu. Her writing appears on Serious Eats, Eat Your World, and in the Seattle Weekly. Download her app, Unique Eats of the Northwest to find the best restaurants you've never tried.