An Au Naturel Matte Makeup Look
BY: Favin the Maven |
Aug 19, 2014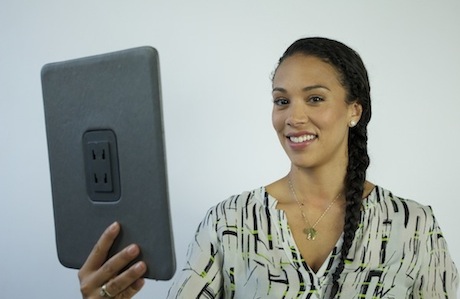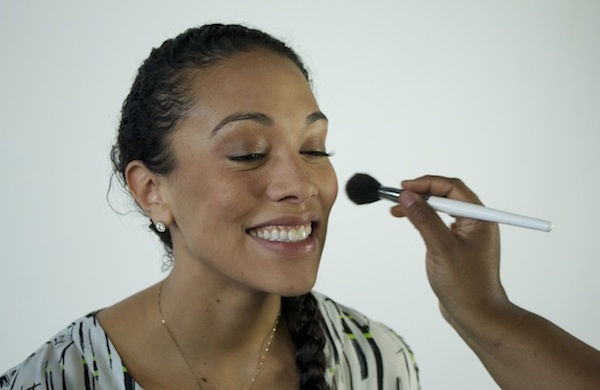 Matte makeup is slated to be the "it" look for fall, and I'm all for it. I love anything that might make my oily complexion look, well, less oily. There's only one problem: I haven't totally figured out how to wear matte products during the day. Matte lip for a night out? Check. Matte face for a sunny day, when my T-zone is shining bright? Um … . Luckily, I got a chance to talk with
Nika Vaughan
, a makeup artist who knows the trend inside and out. Not only has she been doing makeup for more than a decade, she even has
her own line full of matte cosmetics
. Last week, she stopped by the offices to give me a day-appropriate matte makeover, teaching me in the process that I don't have to bury my face in powder to achieve the look. "Matte doesn't have to mean 100% coverage," she assured me. "Matte can just mean no shine." Who knew?
The Matte Makeover, Nika-Style
The products Nika used, along with her tips and thoughts.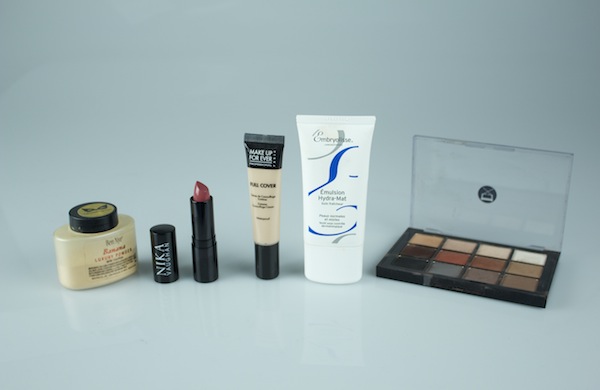 Nurturing Force Blot Out Offensive Shine + Oil Control Cream ($25):
Nika said to use this aloe-vera-based primer where your skin produces the most oil—for me, that'd be the T-zone. She recommends dabbing it on in "little pecks," not big swipes.
Make Up For Ever Mat Velvet Foundations in 40 and 55 ($36 each):
Matte foundation can have a flattening effect, "especially if you're in a photograph," Nika warned. So she created contours by using the lighter color in the center of my face and the darker color around the edges.
Read more about how to contour your face in four steps.
Obsessive Compulsive Cosmetics Crème Colour Concentrate in Grandma ($20):
Powder blush can slip off oily skin, so Nika applied this colored cream to my cheeks first as a base.
Viseart Matte Palette Eyeshadow #1:
 This is so new and professional-oriented, it only has a small cult following so far. "They're going around at all the makeup shows," Nika said. "The pigment is really out of control. It puts [Urban Decay's] Naked palette to shame."
NARS Bronzing Powder in Laguna ($38):
"Put it anywhere the sun kisses you," Nika said.
Ben Nye Banana Yellow Luxury Powder ($24.79):
Nika dusted this finishing powder (made famous by Kim Kardashian) all over my face with a fluffy brush. Its yellowish hue complemented my golden complexion nicely, but there are other shades available for different skin tones.
Make Up For Ever Waterproof Lipliner Pencil in 01 ($19 at Sephora):
Nika filled in my lips with this super-nude pencil to create a stain-like effect. She finds it more modern to start with a truly matte lip and then add shine as desired. After all seven of those products—plus a few extras touches—here's what I looked like. (That's Nika, on the left.)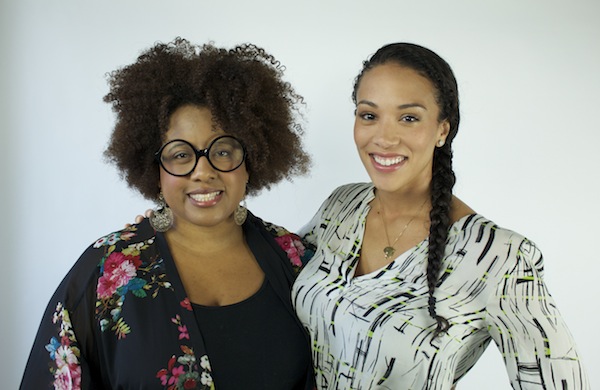 The Matte Makeover, DIY-style
The daytime starter kit Nika recommends for beginners. No foundation contouring—or 11 years of pro experience—required!
Bobbi Brown Long-Wear Cream Shadow ($25) in neutrals such as Cement and Stone:
You only need to dab on a bit with your ring finger, so these shadow pots last forever. If you prefer to use a brush, remember Nika's tip: "The shorter the hair of your brush, the more product it's going to pick up."
Embryolisse Hydra-Mat Emulsion moisturizer ($40):
Apply this mattifying formula under your foundation to prevent shine.
Illamasqua Matte Lipstick ($30.02):
This isn't actually Nika's pick—it's mine! I love that these come in funky colors like
Apocalips, a dark green
. For a natural look, though, Nika recommends matching your lipstick to your undertones—apricot-y shades if you're warm, and rose or raspberry shades if you're cool. (Neutral tones can usually go either way.
Learn how to identify your undertone
.) Matte lips are especially big for this fall, she said.
Check Goods for deals on cosmetics.
Photos by Collin Brennan, Groupon
BY: Favin the Maven
For me, both beauty and fashion need to be accessible and not intimidating. I love a great deal and a good DIY beauty treatment. I pride myself on trying new trends, being open minded and getting a great treatment without breaking the bank. In the name of beauty I will try anything once.