GROUPON GUIDE TO WASHINGTON-DC
An Epic Road to Visit 21 Michigan Breweries in 200 Miles
BY: Groupon Editors |
Mar 13, 2015
If the Mitten State was an actual mitten with an actual hand in it, we'd want to high-five it. In the southwest quadrant of the state alone, there are nearly two dozen craft breweries, many of which lay claim to some of the nation's most renowned beers.
Here, we've outlined a three-day Michigan road trip that allows you to hit 21 Michigan breweries about 200 miles—which takes just a tank of gas. (And thanks to to-go growlers at every single brewery, it's a drive you can make 100% soberly.)
Day 1: Ann Arbor & Metro Detroit (21 Breweries to Go)
Deal: $12.99 for flights of beer for two at Ypsi Alehouse ($20 value)
Brewers since before it was legal: Ypsi Alehouse is helmed by a Michigan microbrew pioneer: co-owned Ted Badgerow open a brewery in the early 1980s, a full decade before Michigan laws allowed beer to be sold on the same premises as it was brewed.
What to drink: Mishabooz Extra Stout, Blue Racer Michigan Blueberry Honeywheat
Tours? No
Deal: $28 for brewery tour for two, with two pints and a growler at Salt Springs Brewery ($43 value)
Blessed brews: This brewery serves its microbrews inside of a former church, circa-1899. It doubles as a restaurant, with mussels, ducks, and flatbread dishes enjoyed under the church's stained-glass window.
What to drink: Sister Ester's Saison and Heavenly Hefeweizen
Tours? Yes. Grab our deal for a tour. (Tuesdays at 6 p.m. and Sundays at 4 p.m.)
Deal: $15 for $22 worth of ales and lagers at Brewery Becker
Beer with a bellhop: Tucked inside a historic hotel from 1873, Brewery Becker specializes in cask-conditioned ales. Grab a pint inside the building or take it outside to the award-winning biergarden.
What to drink: Vargdricka Scandinavian farmhouse ale, Petite Saison
Tours? No
Deal: $18 for two pints and one growler at Tecumseh Brewing Company ($30 value)
He's made everything: Tecumseh Brewing Co. head brewmaster Tim Schmidt has crafted 45 highly rated beers while curating a beer list with 200+ options, including in 160 different styles.
What to drink: Red Wedding Shandy, Boston Cooler Cream Ale
Tours? No
Day 2: Grand Rapids & Kalamazoo (4 Breweries Down, 17 to Go)
Grand Rapids is blowing up thanks to its beer scene—USA Today called it America's Best Beer Town, and we named it the No. 1 place to visit in the United States in 2015.
Deal: $11 for a beer flight for two + one appetizer at OpenRoad Brewery ($20.75 value)
Small-town brewery: Need a break between Kalamazoo and Grand Rapids? OpenRoad Brewery offers a rotating series of brews, located in the small town of Wayland, halfway between the two microbrew-friendly cities.
What to drink: White Razz Raspberry Wheat, The Traveler Belgian Tripel
Tours? No
Fan favorite: Founders' motto may be "brewed for us," but the brewery's beers are loved by many others, including judges at the Great American Beer Festival and the hundreds of people who purchase tickets for KBS Week each year. As Michigan beers go, you won't find a better brew than Founders All Day IPA.
What to drink: All Day IPA, Red's Rye IPA, Breakfast Stout
Tours? Yes
Overachievers: Since opening in 1985, Bell's has amassed plenty of honors—including being named one of RateBeer's Top 10 Brewers in the World. Pair the award-winning beer with food from Bell's Eccentric Café. It's indisputably one of the best Michigan Breweries.
What to drink: Two Hearted Ale, Hopslam Ale, Black Note Stout
Tours? Yes
Old World meets New World: Housed in a former funeral chapel, the LEED-certified facility is reminiscent of a Belgian monastery, which is fitting, considering its specialty: Belgian- and French-inspired beers.
What to drink: Triomphe, Wizard Burial Ground, North French Style Ale
Tours? Yes
Take me out to the brewery: This Victorian-era firehouse is now a brewery and pizzeria decorated with vintage baseball decor. Before grabbing a seat in the taproom, check out the Tiger Stadium seats in the waiting area.
What to drink: Peanuts and Cracker Jack Porter, Maple Pecan Brown, Country Strong IPA
Tours? Yes; call to schedule
A pint and a pie: Draft beers and award-winning wood-fired pizzas have made this friendly Eastown brewpub so popular that they're adding a second location. The 300-seat, 30-tap "wonderland of beer," dubbed Harmony Hall, is expected to open in spring of 2015.
What to drink: Grapefruit Moon, Beer City Pale Ale, Black Squirrel
Tours? No
The comeback: Prohibition brought this brewery's first run to a halt until its reopening in 2012. Since then, it has enjoyed quite a renaissance, becoming the first USDA-certified brewery in the state.
What to drink: Rosalynn Bliss Blonde, Senator Lyon Stout, John Ball Brown
Tours? Yes; $10 and a reservation earns guests tours on Saturday and Sunday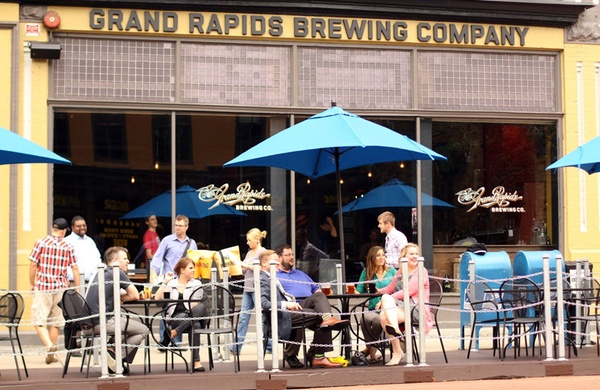 Basement beers: Downtown's B.O.B. (an acronym for Big Old Building) may stand four stories high, but we'd advise you head straight to the basement. That's where you'll find B.O.B.'s Brewery with 11 beers on tap.
What to drink: Spooky Action, Peanut Butter Porter, Robert The Barrel
Tours? Yes; call to schedule
Parlor games: At this speakeasy-like space, you can play chess or classic video games while trying to choose from a rotating selection of more than 100 brews.
What to drink: Smuggler's Hazelnut Stout, Citrus Pilsner, 9AM Hazelnut IPA
Tours? Yes; call to schedule
A drinkable feast: Considered one of the best craft-beer bars in the country, HopCat has received countless accolades since opening in 2008. While sampling from its 49 taps and 250-bottle list, try some of the beers made at its own small-batch brewery.
What to drink: Oil Rigger, Sage Against The Machine, Hoppopotamus
Tours? No
Day 3: Saugatuck, Holland & Grand Haven (14 Breweries Down, 7 to Go)
Three towns in one day might seem like a tall order, but Grand Haven's Old Boys' Brewery is open until midnight on the weekends. You can do it.
Deal: $19 for two tasting flights and one growler at Ridge Cider Co. ($33 value)
Cider Up to the Bar: Craft cider is a growing trend, and nowhere is better situated to capitalize on it than apple-centric Michigan. This rural cidery a short drive north of Grand Rapids is as charming as a winery, with a 100+ year old reclaimed barn.
What to Drink: Pitted (cherry/apple cider), Kong (banana hard cider)
Tours: No
A spirited brand: Not content to rest on its laurels, one of Michigan's most popular breweries took on the challenge of distilling spirits within a decade of opening. Its efforts have paid off, as New Holland Artisan Spirits have begun to rake in awards.
What to drink: Dragon's Milk, Cabin Fever, Mad Hatter, The Poet, Beer Barrel Bourbon
Tours? Yes
B(rew)YOB: Yup, you can brew your own beer here (though by reservation only). Many visitors use the 12–15 Saugatuck beers on tap as inspiration for their own creations.
What to drink: Serrano Pepper Ale, Neapolitan Milk Stout, Backyard IPA
Tours? Yes
"Small on purpose": Community is important in this cozy downtown brewery, where locals and out-of-towners alike are invited to pull up a bar stool and chat about experimental brews flavored with pickles, peanut butter, and coconut.
What to drink: Careless Whisper IPA, Coconut Porter
Tours? Yes; call to schedule
Big Lake Brewing
Strip-mall surprise: Not exactly where you'd expect to find a microbrewery, but Big Lake's strip-mall space belies their passion for producing classic beer styles. Owned by a pair of homebrewers and a winemaker, the trio's brews and fruit-infused wines are far more traditional than their storefront.
What to drink: Benevolence, Chinook Strong Ale, Lawrence Brown
Tours? Yes; call to schedule
Earn your own mug: By opting into an annual or lifetime membership, you get to decorate your own mug and fill it with discount beer on each visit. The display of colorful mugs matches the funky decor as well as the unusual flavor combinations in the complex brews.
What to drink: Citra Pale Ale, Hipster Brunch Stout, Java Chip Mint Stout
Tours? No
Roll dogs: Old Boys' is nothing if not loyal. In addition to using Michigan products in much of its pub fare and all of its beers, the brewery was named in memory of the owner's chocolate lab.
What to drink: Dogtail IPA, Kennel King Imperial IPA, Old Rabble Rouser
Tours? Yes; call to schedule
This article was originally written by staff writers Molly Metzig and Shannon Jewitt in 2015. It has since been updated.