GROUPON GUIDE TO WASHINGTON-DC
The Old-School Barbers of the Old-School Barber Shop
BY: John Flaherty |
Mar 14, 2016
About a dozen guys filled the old-school barber shop. Most came straight from work, security ID badges hanging off dress slacks. Some had plans afterward with wives or friends. But in the two hours I spent at Joe's Barber Shop in Chicago one Thursday night, nobody seemed to care about work or wives.
Joe's has five barber's chairs open on Thursday evenings, and they were full all night. Those waiting drank a complimentary can of classic Coors, stocked in a mini-fridge by the door. The conversations changed fast. So did the music (Pink Floyd bled into Motörhead), and so did the shaggy-haired men who climbed into the seafoam-green chairs, only to climb out with classic fades, slickbacks, or punkish Caesar cuts.
Because of that constant flux, time barely seemed to tick off the clock. And the vibe was hard to pin down. The barbershop felt part barroom, part bathhouse, part time warp. Though since the shop so intoxicates you (both figuratively and literally, thanks to that Coors), by the time you walk out you couldn't care less how to categorize it. You just got a great haircut, and you had a great time doing it.
There's a ton of energy bouncing off Joe's wood-paneled walls, some of it undoubtedly well-aged from the shop's nearly 50-year history, 30 spent at this location. It is perhaps the most old-school barber shop in what is America's most old-school town—Chicago.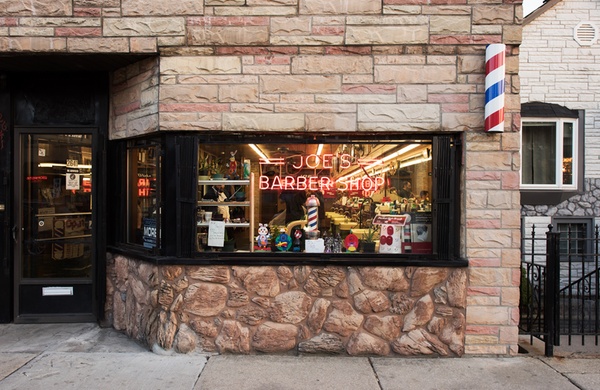 Joe Sr. was born in Italy, graduated from barber school in 1964, and opened Joe's Barbershop in 1968, after he got back from Vietnam. He's been at this location for 30 years, and in 2010, his son Joe Jr. joined him at the shop.
"There's not many places like this left. Maybe bars and pool halls. But that's it."
– Joe Jr.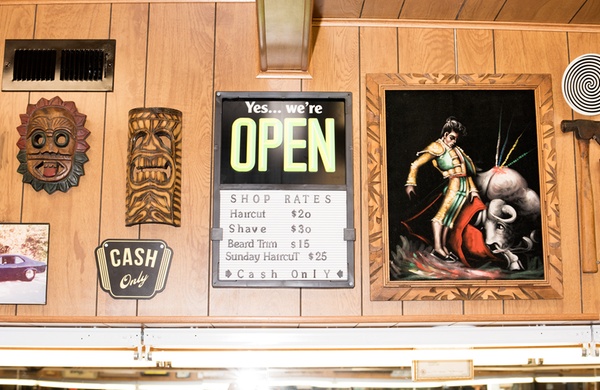 The menu of services is simple. Appointments are not accepted.
"The haircut is only [a tiny fraction] of it. People want to know if there's parking outside, if it's easy... I want people to put their phones down. I hate it when there's four or five guys sitting there staring at their phones. There's a reason there's no wifi here."
– Joe Jr.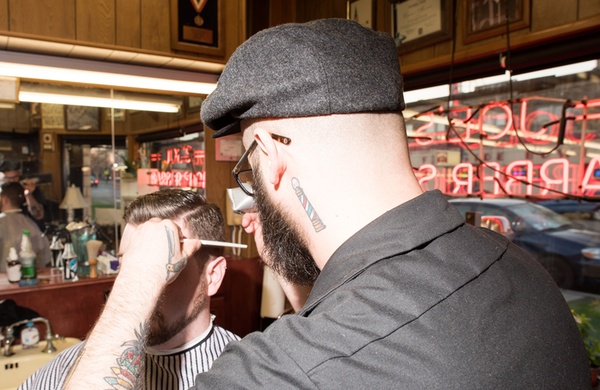 Above, Will trimmed a side-part. All licensed by the State of Illinois, the barbers are supremely confident in their abilities to cut men's hair—which they say is a completely different ballgame from cutting women's hair.
"Don't go to where your mom goes to get her haircut."
– Bo Rada, barber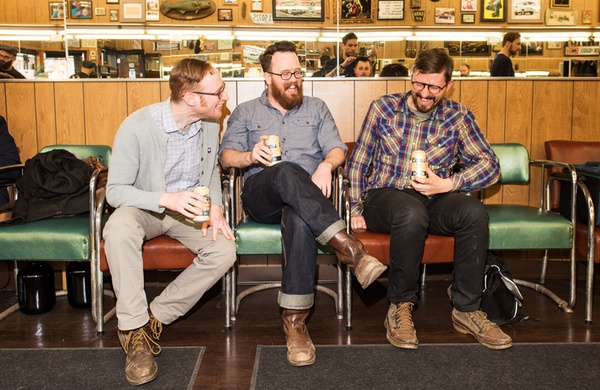 Three coworkers made a post-work trip for haircuts.
"I exude class everywhere I go," said one.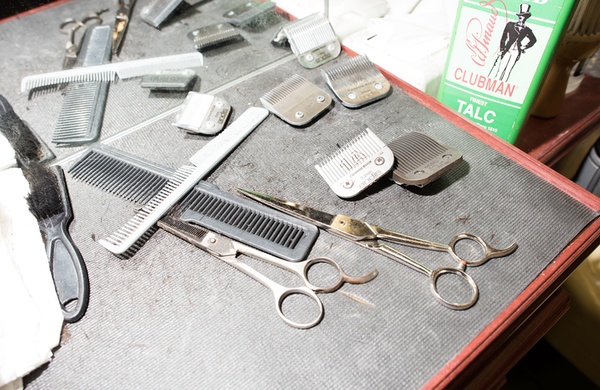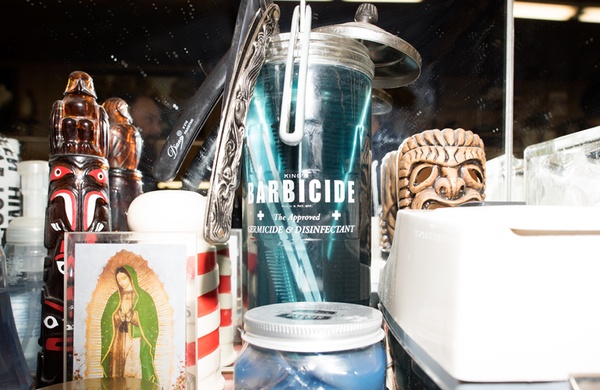 The tools of the trade. A typical haircut requires six:
The Cape, to shield the body from cut hair
The Neck Strip, to keep cut hairs from sticking to the neck. Barbers collect them to tally up their haircuts at the end of the night.
The Combs, to detangle and whetten the hair before the cut. They include taper and styling varieties.
The Clippers, to cut. They come in three varieties: the powerhouse, taper, and trim.
The Blades, to fit into the clippers. The quarter-inch is the closest cut next to bare clippers.
The Product, to style. At Joe's they use pomades and beard oils made by house brand Sixty8 Provisional Co.

, which Joe Jr. co-founded in 2013.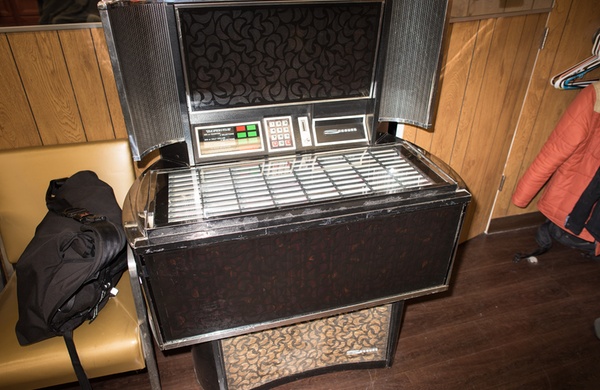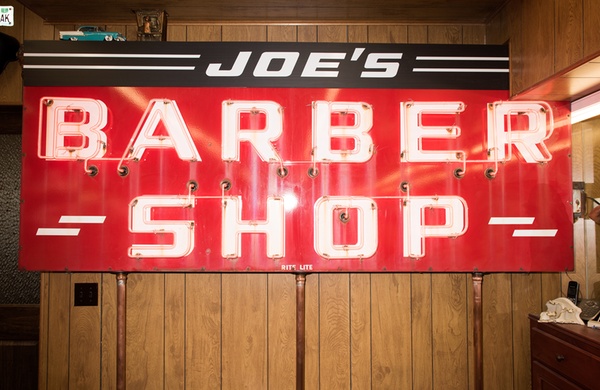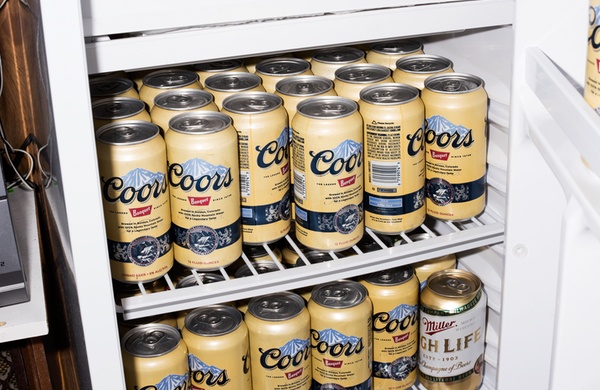 "There's a rogue High Life in there," one customer said.
"Of course," another replied. "You gotta keep the Coors honest."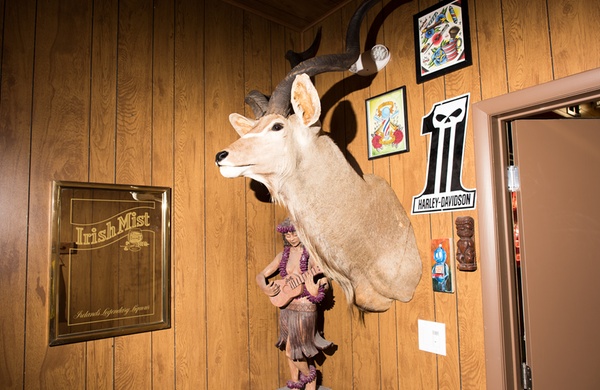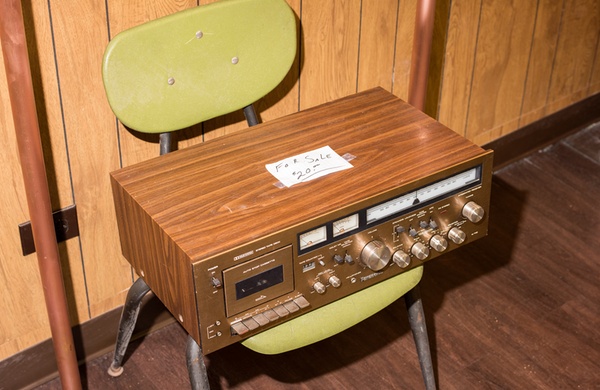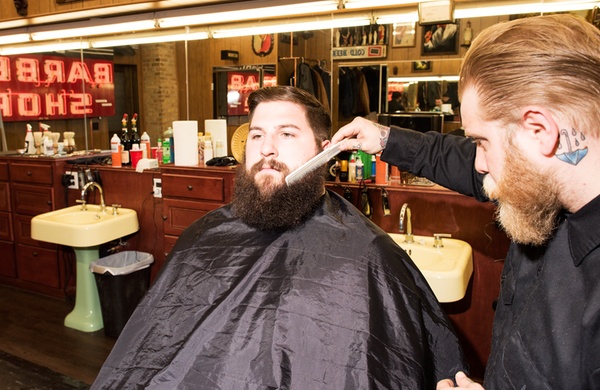 "Our Yelp reviews are hilarious. People say we all look like convicts, that we're rockabillys."
– Joe Jr.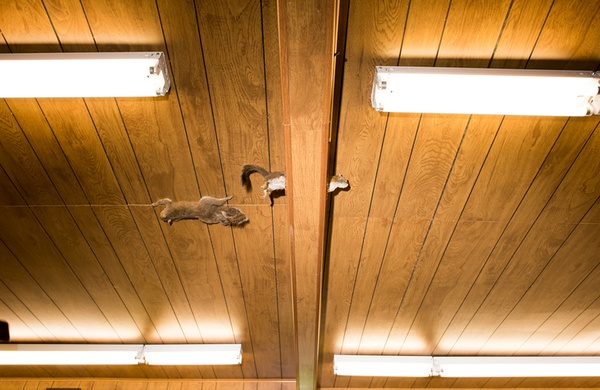 The ceiling beam pictured above is where the shop used to stop. Up until 2014, Joe's had just two barber's chairs. Around 2007, they began to see an uptick in business, something Joe Jr. recognized as part of a larger national trend toward traditional grooming, even referencing period TV shows Mad Men and Boardwalk Empire. The resurgence quickly led to two-hour waits. So they remodeled the shop, and now they have six chairs with room for a seventh. What remains is the wood paneling—except now there's twice as much.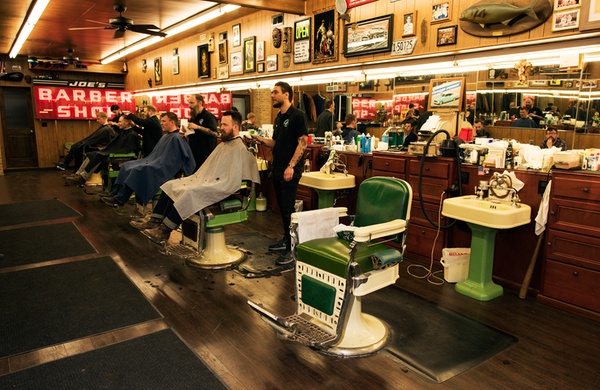 Joe Sr. doesn't work on Thursdays or on Sundays. No other barber is allowed to use his station when he's not there.
"My dad doesn't like change," Joe Jr. said about the shop's recent renovations. "He's had the same sock drawer for 50 years."
Not that Joe Sr. has lost his edge. "He was an army barber," Joe Jr. said. "He can do a flattop in 17 strokes."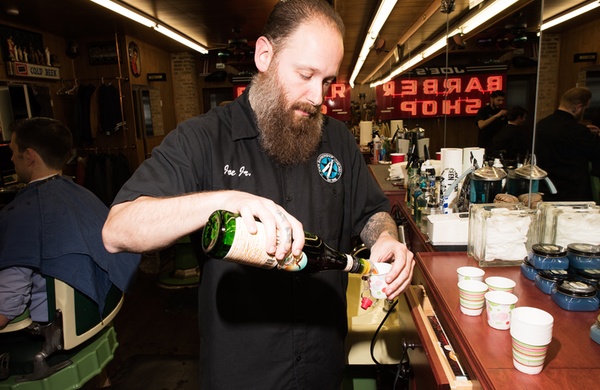 Joe Jr. poured customers complementary dixie-cup shots (or tastes, as he says) of Fernet, an Italian amaro whose sponsorship put a bottle at each barber's station.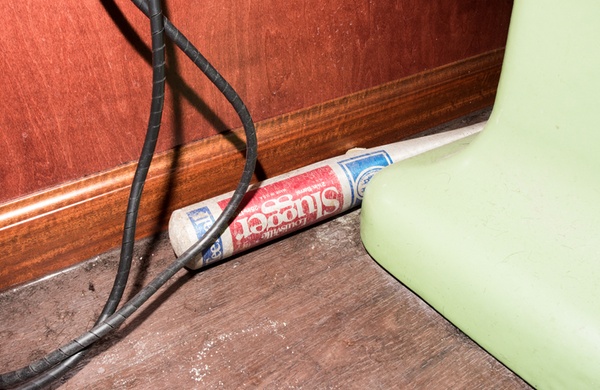 In case anything gets out of hand.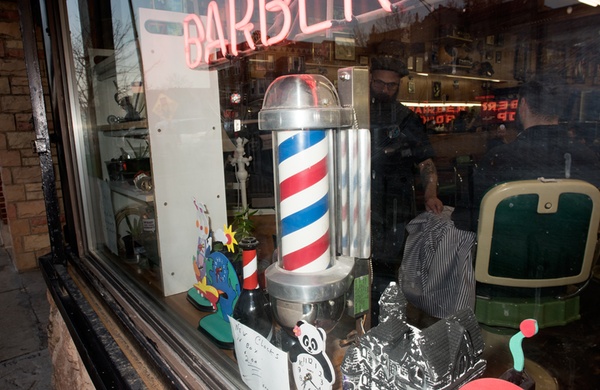 "We're a fabric of the neighborhood."
– Joe Jr.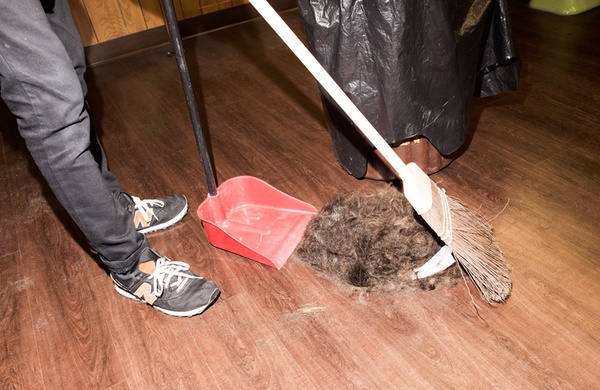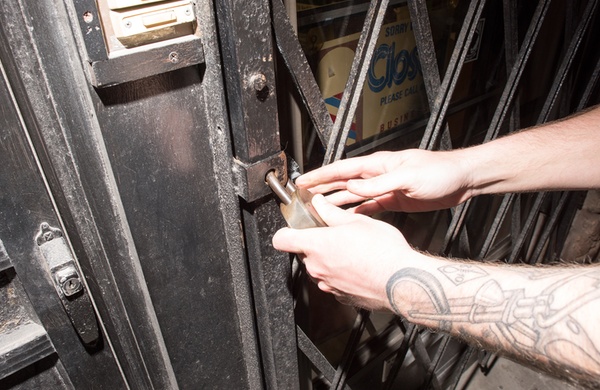 "Everyone wants to be a part of something... They all want to know that they got a guy."
– Joe Jr.
Photos by Andrew Nawrocki, Groupon
Get schooled on more men's grooming tips:
The products and time commitment required to pull off four trending styles. How does Don Draper do it?
We chatted about all things beard-related with a man whose beard was inspired by King Leonidas of 300.