Seattle's Top 10 Romantic Restaurants
BY: Editors' Picks |
Jan 29, 2014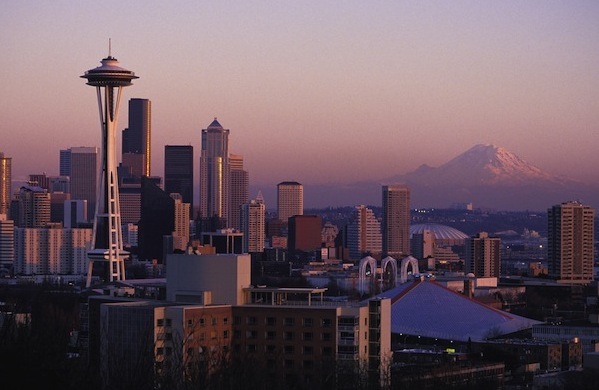 Sleepless in Seattle
was a classic case of romance complicated by geography: Sam (played by Tom Hanks) lived in Seattle, and Annie (played by Meg Ryan) lived in Baltimore. Despite the obvious complications, Annie writes Sam a letter, suggesting they meet on top of the Empire State Building on Valentine's Day, which (spoiler alert), they eventually do. Though inspired by the climactic scene in
An Affair to Remember
, it's really quite unfortunate that this part occurs in New York, because Seattle is replete with places romantic enough to be immortalized on film.
Fremont: A Menu That Changes With the Seasons
Art of the Table
|
1054 North 39th Street 
Meet a new couple at this spot's communal tables, or, if you prefer more privacy, grab a couple of chairs outside the open kitchen. Here, you can watch Chef Dustin Ronspies and sous-chef Phil Lehmann prepare local, seasonal dishes such as snap-pea bisque and smoked beef tongue.
Eastlake: Live Jazz Al Fresco
Serafina
|
2043 Eastlake Avenue East
It's hard not to fall in love on—or at least with—Serafina's backyard patio. The space is sequestered by foliage from vines, trees, and bushes, which camouflage the strands of lights that begin to twinkle as the sun goes down. Several nights a week, live jazz floats outside through open french doors.
Mann: A Feast for the Senses
Crush
|
2319 East Madison Street
James Beard Award–winning Chef Jason Wilson prepares French-American fusion dishes that the restaurant explicitly says are designed to "arouse the senses." Indeed, each menu item is a labor of love: everything is made from scratch (down to the butter) and plated beautifully upon stark white dishes.
Lower Queen Anne: Charming Farmhouse Vibe
Boat Street Cafe
|
3131 Western Avenue
Natural light spills onto whitewashed rafters in this cafe's dining room. The rustic atmosphere finds its match in dishes like roasted pork rib chop with black kale gratin and bread pudding with rum sauce.
Elliott Bay Marina: Sunsets by the Bay
Palisade
|
2601 West Marina Place
It's going to be impossible to choose between the steaks and the seafood, so don't. Just order the Palisade surf and turf, which pairs applewood-smoked prime rib with grilled salmon and jumbo prawns. The meal goes down almost as beautifully as the sunsets visible from this bayside restaurant's picture windows.
Pike Place Market: Candlelit Cabaret
The Pink Door
|
1919 Post Alley
There's no sign at the front door, which lends dates here a bit of mystery. And what's behind the door will be even more mysterious—the entertainment could be tarot-card readers, magicians, burlesque dancers, or even trapeze artists. But if you'd rather gaze at each other, take your Italian meal outside on the deck overlooking Puget Sound.
North Queen Anne: Modern American Cuisine in an Antique Setting
Book Bindery
|
198 Nickerson Street
If Jane Austen had been a modern-day restaurateur, her place might've looked like the Book Bindery. The menu has Old-World characteristics (bacon-wrapped rabbit loin, anyone?) and the candlelit setting is bedecked with wine casks, oil paintings, and vintage books. Bonus: a greenhouse dining room with views of the night sky.
East Queen Anne: Lake, City and Mountain Views
Canlis
|
2576 Aurora Avenue North
Renowned as the fanciest joint in Seattle, Canlis is certainly the only place that's ever made John Wayne wait an hour for a table as a joke. Its Wagyu steak, indoor gardens, and panoramic views are sure to impress your date—just make sure you're both dressed to suit the swanky 1950s vibe.
Wallingford: Like a Trip to Thailand
May Restaurant and Lounge
|
1612 North 45th Street
If you feel like you're on the other side of the Pacific when you step into May, you'd almost be right. The century-old teak house was shipped from Thailand, reassembled, and repurposed as a restaurant. Photos of Thailand's current royal family look upon couples as they nibble on scratch-made curries and pad thai.
Minor: Award-Winning Small Plates
Lark
|
926 12th Avenue 
Lark's menu is quite seductive: it's made up of intimately shareable small plates prepared by James Beard Award–winning Chef James Sundstrom. Just try not to fight over the last bite of wagyu steak tartare or the almond cookie that comes with the housemade malt ice cream.