Side Dishes that Remind Us of Sidekicks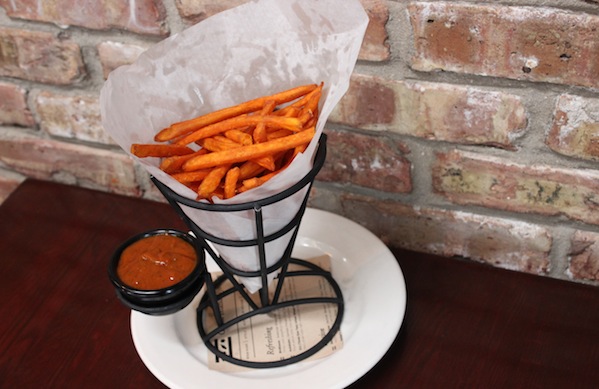 Four plates from Bistro Dré, The Bad Apple, Goose Island, and The Chicago Diner that loyally support the meal's entree protagonists.
1. Sweet-Potato Fries and Curry Catsup at Goose Island Brewpub Wrigleyville (Wrigleyville | 3535 N. Clark St.)
Though maybe better known for its overwhelming selection of craft brews, Goose Island's brewpub has got your sweet-potato cravings covered. These vitamin-packed tater alternatives arrive glistening orange with a spice-speckled curry catsup, into which I dunk my fries, my turkey burger, and my fingers. Honestly, the fries were my only easy decision. Packed with Old-World entrees skewed modern—such as walleye fish and chips with flaky ale batter—this is the kind of menu that keeps the waitress waiting. 
– Adam Bass
SIDEKICK: Donkey from Shrek.
 The spices in this side are as piquant as Eddie Murphy's wit—but still PG enough for a family dinner.
2. Fried Green Tomatoes at Bistro Dré (Lakeview | 2965 N. Lincoln Ave.)
It was with a hankering for comfort food that I found myself heading to Bistro Dré on a cool autumn night. The menu here is a bit of a jumble—traditional French meets flatbread pizzas and chicken-and-waffles—so I wasn't all that surprised to see fried green tomatoes in rotation. But what was surprising was the amount of flavor this Southern dish had. The creamy blue-cheese rémoulade and blue-cheese crumbles added a pungent kick to the unripened tomato. And the textures were spot-on: from the delicate crunch of the fried breading to the firmness of the green skin underneath. Adding to the warm experience was our waiter, who didn't let the full house detract from his hamming it up: "Are you happy?" he asked, in lieu of "Need anything?" or "Everything okay?" A glance at my near-spotless plate was answer enough.
– Carolyn Alterio
SIDEKICK: Truvy Jones from Steel Magnolias.
Like Dolly Parton's iconic hairdresser, this dish is down-home and Southern, but unafraid to get a little dressed up.
3. Seasonal Sides at The Bad Apple (Ravenswood | 4300 N. Lincoln Ave.)
This upscale burger joint's commitment to fresh, seasonal ingredients manifests itself in this quartet of autumnal side dishes. The brussels-sprout salad was my favorite, mostly for textural reasons: the crunch of its smoked almonds contrasted nicely with the springiness of the fried sprouts. Less robust options include a surprisingly light potato salad with truffled whole-grain mustard, a creamy but peppery horseradish coleslaw, and a pasta salad made with mortadella sausage, pistachios, roasted red peppers, pickled shisito peppers, and a tangy pecorino aioli.
– Randall Colburn
SIDEKICK: Niles, Xander, Cordelia, and Willow from Buffy the Vampire Slayer.
To help her save Sunnydale from demons, Buffy drew in a roster of sidekicks as diverse as these dishes, including a cheerleader and the school librarian.
4. Macaroni and Cheeze at The Chicago Diner Logan Square (Logan Square | 2333 N. Milwaukee Ave.)
This vegan dish didn't quite make the grade for me. Maybe it was that the slightly sweet cheeze lacked cheddar-y kick, but then, I really wasn't really expecting one. My problem was more one of texture. I missed the slightly grainy flour texture and crunchy oven-charred macaroni ends that mark truly great macaroni and cheeses, vegan or no. Still, the dish's oozy warmth was at least comforting on a cold winter's day.
– Nathalie Lagerfeld
SIDEKICK: Jimmy Olsen from old Superman comics.
Clumsy Jimmy was far from superheroic, but his antics were endearing all the same.
Photo courtesy of Goose Island Brewpub Wrigleyville