The 12 Most Festive Restaurants in Chicago
BY: Ashlei Mosley |
Jan 8, 2015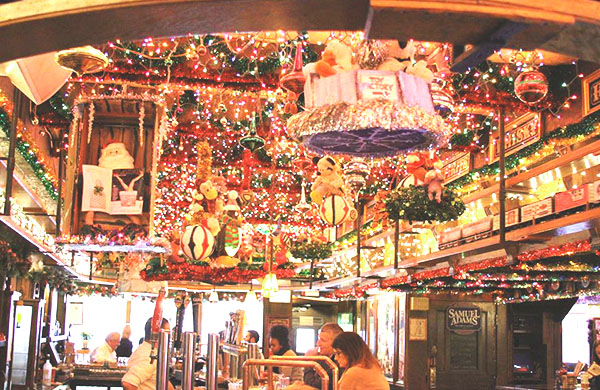 Being from Chicago may make us a little biased, but we think it's the best city to visit during the holidays. From the Christkindlmarket, to Zoo Lights, to ice skating under a snowy sky - there is no lack of festive activities for you to enjoy in the Windy City.
Chicago is also known for it's spectacular restaurant scene, and we're always happy to see our favorite eateries get in on the holiday fun by decking their places in twinkling lights, never-ending strands of garland, and 6ft (or taller!) evergreens.
So if you happen to be in the city this season and looking to fill yourself with some holiday spirit (both the figurative and boozy variety) - well look no further! We've gathered 12 of the most festive restaurants and bars located in the city. From those that look like the holidays literally exploded inside, to those that are more cozy and classic. You're guaranteed to be filled with holiday cheer at any of these local spots!
1. Lockwood Bar

Sink into one of their plush chairs or have a seat at the long bar and take in a classic Christmas scene in the lobby of one of Chicago's oldest hotels. A towering tree overlooks the space that's also filled with twinkling wreaths hanging from the banisters and polished pots full of holiday florals.
2. Lotties

A corner bar that has been a staple in the Wicker Park / Bucktown neighborhood for years, come December it is decked out in holiday lights and decor. They offer a dedicated menu of Christmas beers and festive cocktails. However, the best part of celebrating the holidays at Lotties? They have their very own Christmas tree lot! So you can stop by for some holiday ale and leave with a tree! How's that for Christmas cheer?
3. Butch McGuires

If you're looking for a serious shot of holiday spirit, look no further than Butch McGuires. This quintessential Chicago watering hole is famous for it's over-the-top holiday decor. In addition to over 100s of feet in garland and lights strung across the ceiling, there are also antique toys, ornaments, dozens of motorized mobiles, and even a train that runs length of the bar. No tour of the city's most festive restaurants is complete without a stop at Butch McGuires.
4. Atwood

A cozy haven of holiday cheer in the heart of the Loop, Atwood Cafe is the perfect spot to sneak into after shopping on State St. Adorned with glowing wreaths, Christmas trees, massive bows, and festive flowers - the cafe is only half a block from the open-air Christkindlmarket. Stop in with you souvenir mug from the market, buy an entree and they'll give you a free refill of the hot spiced wine. Happy holidays, indeed!
5. Club Lucky

Once the site of a local dance hall, Club Lucky still reverberates with the easy yet elegant feel of a 1940's supper club. They're famously known for covering the ceiling of their dining room and cocktail lounge with hundreds of handmade snowflakes. Stop in for a holiday martini and enjoy sipping in their homemade winter wonderland.
6. Augies Booze & Schmooze

Your warm and fuzzy corner dive bar, Augies loves the holiday season. Beyond your standby lights and greenery, Augies spends weeks putting together a vintage ceramic village and train that runs the length of the bar. Giving you the feeling of a small town holiday getaway in the heart of our big city.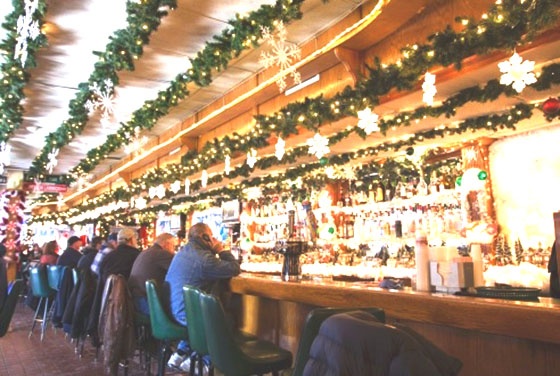 7. Pippins Tavern

Pippins has been a quintessential Irish pub on Rush St. for over 40 years. Their holiday lit sign has become an iconic Chicago symbol and invites patrons in to enjoy over 60 different Christmas beers and cocktails. Cheers!
8. Filini

When it comes to holiday decor, Filini makes everyone else look somewhat pedestrian. Glass blown ornaments deck the ceiling while a collection of modern spheres designed to replicate a Christmas tree light up the entryway. But the thing that just screams holiday celebrations? Eggnog kits. For $32 you get to build your own eggnog concoction - choose between spiced rum or whiskey, then pick from a list of garnishes including vanilla-infused whipped cream, peppermint sticks, chocolate shavings, cinnamon sugar rims, and more! It's enough eggnog for four people and it comes with four holiday cookies that you can totally dunk in your nog.
9. Jeni's Splendid Ice Creams

Not technically a restaurant or bar, this little ice cream shoppe does a splendid job of showing their Christmas cheer. Along with seasonal ice cream flavors, including buttercup pumpkin with Amaretto cookies, whiskey eggnog, cranberry parfait, & lemon buttermilk, they have an abstract snow fall window display and handmade colored streamers dangling throughout the store.
10. Blue Line

Stepping into Blue Line is like stepping into a train car from the 50's - it's the quintessential lounge experience. And when decorated for the holidays, it's even more cozy and inviting. With a massive wreath hung above the entryway and garland strung along the exterior, it looks like a holiday train arriving at the station.
11. The Lobby at The Peninsula

The Peninsula turns into a bona fide North Pole this time of year, most notably at the Lobby. Massive wreaths are hung from the window panes and a towering Christmas tree sits front and center to the decadent dining space. Book a time for Afternoon Tea, where you can sip, snack, and enjoy the spirit of the season amid strolling carolers.
12. Simon's Tavern

Some say it's not the holidays until the neon sign in the front window of Simon's Tavern proclaims "It's glogg time!". This 80-year old dive is where true Andersonvillites warm up with a glass of hot mulled wine known as glogg. A perfect way to end a day filled with holiday activities is cozying up to their wood burning fireplace with a steaming mug.
Cheers to the holidays!
BY: Ashlei Mosley
Ashlei Mosley is a writer & creative soul who strives to inspire others to stand out and embrace their unique differences. She is the author of personal life, style, and beauty blog Kinks are the new Pink where she shares her passion for creativity and seeing the beauty in diversity through everyday fashion and life. Find her on Instagram at @kinksarepink for her daily style & inspirations - it's her favorite place to hang out and connect!