The Five Best Veggie Burgers in Seattle
BY: Emily Malone |
Aug 7, 2013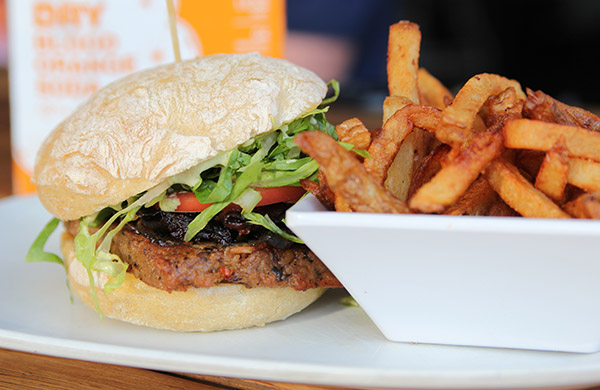 Since going meatless four years ago, I've learned to love many new-to-me foods like quinoa, tofu, and seitan.  And while I love to eat sprouted wraps, loaded veggie sandwiches, and all the other things people so often associate with vegetarians, there are still days when I crave a nice big burger and pile of fries just like everyone else. Lucky for me, I live in Seattle where vegetarian food – and the veggie burger! – is not only available, it's part of a booming culinary scene.  There is no shortage of veggie burger options here, but there are most definitely a few all-stars.  I've put in the hard work of testing many of them, and there is a handful I can't help but keep going back for again and again.  And you don't have to be a vegetarian or vegan to branch out beyond beef – many of my meat-eating friends agree that these are some of the best burgers in town. In no particular order, here are the five fantastic veggie burgers in Seattle:
Skillet Street Food
You can find this burger at their diner in Capitol Hill, their counter location at the Seattle Armory, or if you are lucky – rolling around in Seattle in their airstream trailer food truck.  The patty itself is made of seasonal vegetables, farro, and a mixture of shiitake and oyster mushrooms.  It is meaty tasting (in the best possible way) and holds together well – so often the downfall of many of its counterparts.  Topped with confit garlic aioli and pickled shallots, this burger is served with a side of greens and the need to keep taking bite after bite.
Uneeda Burger
Vegetarians take note: when you drive up Fremont Avenue on a warm summer evening, and see the garage doors thrown open and the patio packed at Uneeda Burger, know that there is something delicious for you, too, to enjoy at a breezy picnic table.  Uneeda Burger's menu includes the Crispy Emmer Veggie Burger – a delicious grain patty that is topped with portabella mushrooms, romaine lettuce, fresh tomato, and "special sauce."  But you also have the option to veg-ify any of the other burgers on their extensive menu, by swapping out the beef patty for the delicious emmer substitute.  Round out your dinner with sweet potato fries and a cold Dry Soda, and this is a meal not to be missed.
Blue Moon Burgers
Just down the road in Fremont is another Seattle burger institution – Blue Moon Burgers (also located in Capitol Hill and South Lake Union).  While they do have a selection of signature burgers to choose from, the real fun is in building your own.  While many burger joints leave the veggie crowd with just one simple patty, Blue Moon has several different options for plant-based diners.  In addition to their beef, turkey, and other meat-based burgers, Blue Moon offers a spicy black bean patty, a rotating seasonal vegetable patty, and often a third specialty patty (right now it's a falafel burger, omg!).  Choose your own bun (including a gluten-free option), patty, cheese, and an assortment of vegetables and other unique toppings like peanut butter, a fried egg, or grilled pineapple.  Insider tip – Wednesday night all burgers are ½ off after 4pm.  But you didn't hear it from me!
Chaco Canyon
This all vegetarian, certified organic café has an extensive menu of wraps, grain bows, soups, and sandwiches.  Their two locations in U-District and West Seattle often have customers lining up for tables – meat-eaters and vegetarians alike.  While not known specifically for burgers, their rotating seasonal menu always includes this customer favorite – the Lentil Burger.  Slathered with their secret special sauce, this lentil patty is served on a grilled potato roll with Vegenaise (that's vegan mayo to the rest of you), marinated onions, cucumbers, sprouts, and pickles.  Served with your choice of one of their homemade soups or side salads, this burger is the perfect indulgence that tastes so fresh it feels healthy (even though it probably isn't…).
Red Mill Burgers
Red Mill Burgers have been a Seattle staple since all the way back in 1937.  With two locations in Phinney Ridge and Interbay, this bustling burger joint has more than just beef.  The burgers are served in a fast-food-like environment, complete with foil wrapped burgers and competitive prices.  Veggie lovers will delight in three different options – the Garden Burger Deluxe, the Verde Veg Burger, and the Red Onion Garden Burger.  Their generous portions and delicious milkshakes leave you feeling like you've treated yourself to something special.  Diners take note: Red Mill is cash or check only, so come prepared.
BY: Emily Malone
Emily Malone shares her adventures in cooking and parenting on her personal blog, Daily Garnish. She spends most days chasing her toddler around Seattle parks and beaches, and searching for new favorite vegetarian eateries (preferably ones with high chairs).  If the sun is shining, she is outside. The other ten months of the year, she is cooking, writing, and exploring all that her great city has to offer.  She is also a die-hard Survivor fan (yes, it is still on).