Abita Brewing Company's Andygator: The Martini of Beers
BY: Shannon Jewitt |
Oct 10, 2014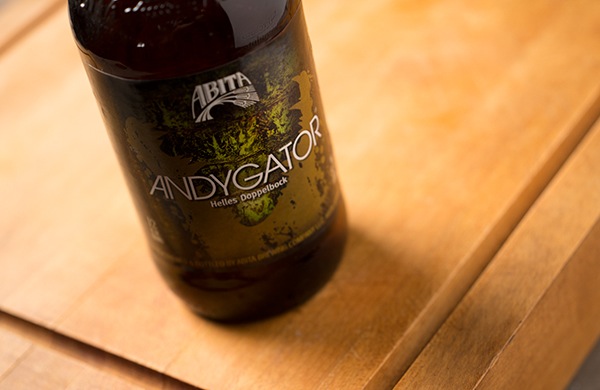 There are almost 3,000 craft breweries in the United States. In this edition of Beer Stalker, we investigate Abita Brewing Company's Andygator and learn about the origins of its name and why it's the martini of beers.
The beer:
Abita Brewing Company
's
Andygator
Hometown:
Abita Springs, Louisiana
Malts:
Pilsner
Style:
Helles doppelbock
Hops:
Perle
Color:
As golden as a sunset over Lake Pontchartrain

How did Andygator get its name?
"We had a homebrew competition," said David Blossman, Abita's president. "We decided that part of the prize would be that we'd brew the winner's beer." Andy Thomas's helles doppelbock came out on top, and the brew was named in his honor. "It was just a natural Andygator," Blossman said. Most people think the "gator" part of the name is purely a Louisiana thing, but as Blossman explained, that's not the case. "A lot of strong doppelbocks in Germany end with 'ator.' So we had thought, naturally, 'gator.'"
At 25 years old, Andygator is one of Abita's oldest beers. How was the craft-beer scene different back then?
"It wasn't called craft beer when we started," Blossman said. "We started brewing in '86, and we were just the local better beer, I guess we would call it. We were local, and we were trying to make more full-flavored ales and lagers and make them all naturally." "Then, they started calling us 'microbreweries.' And I guess when they made that definition, we all thought, 'Oh, OK, well this will cover us.' Well, [the designation carried] such a small barrelage that most of the industry passed that pretty quickly. So then came the name 'craft beer,'" he said. That seemed to better describe these independent, traditional breweries, who approached the process as just that, a craft. "We [aren't] owned by other large, conglomerate breweries; we [are] independently owned and operated. We [are] traditional in the sense that we don't use adjuncts like rice and corn in our beers that really just add alcohol, but no flavor to the beer, or any color."
One thing that hasn't changed is Abita's commitment to green brewing. Why was that such a priority, even in the early days?
"We just hate to waste. I guess we've always thought of it that way," Blossman said. "We never really looked at it as being green. … And we said, 'Well, you know what? I guess that makes sense.' We do choose nature over profit a lot of times and nature over return." Indeed, Abita has invested in a lot of
sustainable practices
. For example, in September 2013, it installed the largest commercial application of solar energy in the state of Louisiana.
Abita isn't the only craft brewery going green. Read our coverage of other craft breweries' sustainability efforts.
Back to Andygator—what's your favorite time of day to drink it?
"I love it as an an apéritif, before dinner," Blossman said. "Usually when you have something strong before dinner it helps create the appetite. So, in my mind, I call it 'the martini of beers' because it's very clean, easy to drink, but it's 8% [ABV]—it does have a punch to it." Because of that, Blossman doesn't recommend Andygator as a session beer. "I just wouldn't suggest somebody sit in the sun all day tailgating and pounding them down because they might not last the day," he said.
Photo by Andrew Nawrocki, Groupon
Shop Goods for kitchen and dining products:
Learn more about actual session beers and other brews:
| | |
| --- | --- |
| | |
| Session Beer Is Not Watered-Down Beer And Other Session-Beer Myths, Debunked | Flying Dog's Raging Bitch Is the Belgian Beer for Hopheads |
BY: Shannon Jewitt
Resident Beer Stalker Shannon has an insatiable thirst for craft beer. Despite being a vegetarian, she always makes an exception for fries cooked in duck fat.