The Mekons: Beloved by Lester Bangs, Jonathan Franzen, and (Soon Enough) You
BY: Kelly MacDowell |
Apr 24, 2014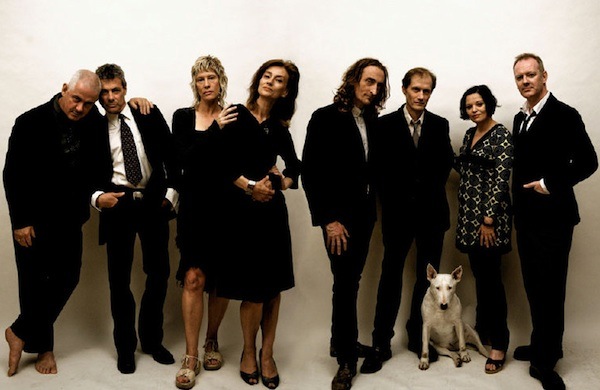 Prickly critic Lester Bangs had a love-hate relationship with rock 'n' roll. So when he called the Mekons "the most revolutionary group" in the history of the genre, it's no surprise that his compliment stemmed from an earlier insult. After listening to one of the band's first records, Bangs flat-out told founding member Jon Langford that it sounded awful. When Langford agreed, Bangs was taken aback. He had never met a band that embraced negative criticism with such aplomb—hence the "revolutionary" label. But even Bangs couldn't have guessed how remarkably the Mekons' real-life story would play out. Over the years, they've matured from a quintet of art-school punks into an eight-piece band that's branched out into country, folk, alt-rock, and even reggae. They're one of the only first-wave punk bands still going strong. Yet the Mekons have never gotten their due. Joe Angio is out to change that. The director, filmmaker, and enthusiastic fan debuted his documentary
Revenge of the Mekons
in 2013. Ahead of the film's screening as part of
CIMMfest
next week, we spoke with Angio about the difficulty of avoiding music-documentary cliches in telling the Mekons' story.
GROUPON: Obviously you're a fan of the Mekons. What else was it about the band that compelled you to make this documentary?
JOE ANGIO: The Mekons have managed to stay true to whatever you want to call it—that punk-rock ethos. And even though their music couldn't be any further removed from [today's] punk rock, the values and the politics and the social awareness is all still there.
G: Why would someone who doesn't know anything about the Mekons be interested in this film?
JA: It's about artists who aren't really concerned with the marketplace or what the prevailing trends are. We're in this era where we're all just kind of expected—with our
Facebook
pages and our Twitter handles—to [become] a brand. And I think that by becoming a brand and selling our goods … we lose sight of the art behind it. The theme of expressing yourself and what it is you're trying to say—that's ultimately what I hope audiences get out of this.
G: A lot of interesting people provided commentary for the film, including Fred Armisen and American Psycho director Mary Harron. How easy was it to get all of these people on board?
JA: Not one single person turned me down. When I was doing my initial research, I came across something Jonathan Franzen had said when he was being interviewed by the BBC. The interviewer asked him, "When you were writing this, was there any music that influenced it?" And he said, "Yeah, it was the Mekons, always the Mekons." I had no idea he was a fan. When I sought him out, he agreed instantly. The people who are in this film—whether they're commenting as critics, or whether they collaborated with [the Mekons], or whether, like Craig Finn of
The Hold Steady
or Jonathan Franzen, they're just fans—they all had something to say about the band.
G: You've talked a lot about your aversion to music-documentary cliches. What do you think those are and how did you avoid them?
JA: There are a lot of [documentaries] that I think follow a similar structural template. … I guess it comes down to the big points—how is anyone who isn't a fan of this band going to become a fan of this band, or more importantly, why should anyone care? I can't tell you how many music documentaries I've seen where there's the obligatory shot of fans outside a concert talking about the band. What else are they going to say other than, "Oh, they're great, I love them!" Things like that I see in music documentaries and I'm just like, "Can we move on? We're spinning our wheels."
G: You're a filmmaker, writer, and designer. Does that make it easy for you to relate to someone like Jon Langford, who is a painter, illustrator, and radio host in addition to being a musician?
JA: I don't overtly think that, but I guess it's unavoidable, right? I guess it's sort of true. I'm a little bit restless and don't like to do just one thing, ever. I don't purport to put myself anywhere near the level of creativity and work ethic of Jon Langford, [who] seemingly doesn't have anything but a fifth gear. At the end of the day, it's really more just my attraction to [the Mekons'] single-mindedness and determination. They're gonna do it—they're gonna create the work that they're gonna create. And let the world around them do what it may. Revenge of the Mekons
is screening at Lincoln Hall on Wednesday, April 30, at 7 p.m. Tickets are $10 and can be purchased here through CIMMfest.
Photo courtesy of the Mekons
BY: Kelly MacDowell
Kelly's first concert was Fleetwood Mac and her first career was in the beauty industry. Now a style and music writer, she loves Project Runway and her dog, Watson.