Eight Wedding-Makeup FAQs
BY: Liz Juranek |
Oct 15, 2014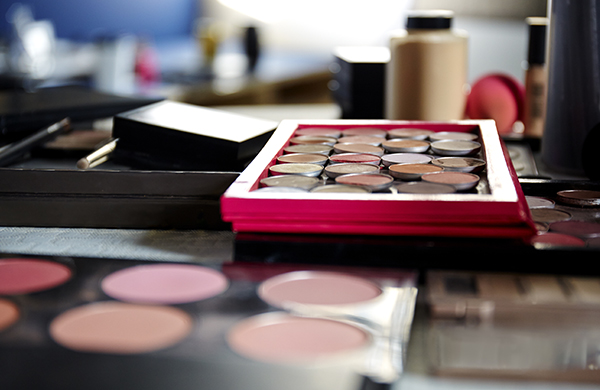 There are hundreds of creative ways to save money on your wedding. According to makeup artist Izha Zylvanni, however, there's one place where you probably shouldn't cut corners: your face.
"I have nothing against people who choose to do their own makeup," Izha said. "But … makeup artists know color theory and have product knowledge they can use to give you the best look."
Even so, the process is still a bit mystifying. What exactly goes on during a bridal-makeup application? And how can you ensure that your makeup looks just as dazzling in photographs as it did on the aisle? We asked Izha, who does makeup for Groupon photo shoots—and who formerly worked for MAC, Bobbi Brown, and NARS—for some inside info.
How do I get my vision across to my makeup artist?
"I recommend that my clients go through Pinterest or magazines, and bring images they like to the trial, or send them to me through email. They should let me know what they like about them: do they like the blush? The color? The theme?"
Check out Groupon's wedding and beauty boards on Pinterest.
What happens during my trial?
"We discuss what kind of makeup style you like, what you're looking for, and your expectations. We also discuss things that may be problematic. (Are you allergic to latex? I'll use latex-free eyelash glue.) I then do a full application of all the makeup, as if it were your wedding day. [That way,] you leave the trial knowing what your makeup will look like."
Airbrush makeup seems popular among brides-to-be, but it seems scary. What's it all about?
"It's lightweight, waterproof or water-resistant makeup that is applied with an airgun. It's a fine mist that applies evenly throughout the face, so it looks great on HD camera. It's not the best for every skin type, though! If you're someone who has really problematic skin, I wouldn't recommend using an airbrush."
I don't normally wear makeup and I'm not used to it. What are the wedding-makeup essentials and what can I skip?
"I would highly recommend foundation. My favorite is Studio Face and Body by MAC. I use it all the time, and it goes on flawlessly. It's water-based, so you won't even notice it's on. And I would finish with an HD powder that has no SPF in it.
Instead of eyeliner, I would use brown eye shadow that's gently rubbed in the lash line. (It's not so stark and dark.) I'd finish with a waterproof mascara.
I would recommend doing your brows, because it looks better in photos. A nice rosy blush and a lipstick that's close to your natural lip tone, and you're done. It's as easy as that; you don't need to go crazy with 20 eye shadows!"

What can I do to avoid a washed-out or too-shiny look in photos?
"If you wear foundation heavy on SPF, when you take a picture, the SPF will bounce back and appear lighter. SPF 15 is OK, but anything higher is not good … I [also] like to play up the eyes a little bit more [for nighttime ceremonies], because you do get washed out."
See how a smoky eye quickly adds elegance and learn to do it yourself.
How do I keep my makeup flawless throughout all the crying, dancing, and kissing?
"Use a waterproof mascara and pack eyelash glue if you're wearing false lashes—the edges may come up if you cry. I use any type of lipstick, but I apply a clear lipstick sealer to make it last. To set face makeup, I use oil-controlling Skindinavia finishing spray."
Besides browsing Pinterest, what else should I do before the wedding day?
"Most of my brides spray tan before the wedding, and I highly recommend it. But I do ask that they tell me, because sometimes they come to me very fair, and then on the wedding day they're three shades darker!
If you have problematic skin, see a dermatologist and do a few facials before your wedding day—but don't get a facial only a few days before the wedding, because your skin could start purging."
How do I find a makeup artist?
"A good way to find a makeup artist for your wedding day is to ask your friends for referrals. Do your research, go through the artist's website and images, and contact them to ask questions.
To compare different makeup artists, do a trial with each one to see who's best for you. Not every makeup artist caters to every woman! All of us have our own styles and our own techniques. For example, my most recent bride had six trials—and I was the makeup artist she finally picked."
Shop makeup on Goods:
| | | |
| --- | --- | --- |
| | | |
| Clinique Waterproof Mascara | Eye and Lip Crayon Set | Naturally Nude Eyeshadow Kit |
Read more wedding coverage on the The Guide:
| | | |
| --- | --- | --- |
| | | |
| Four Looks for Fall Wedding Guests | The Strange History of Wedding Traditions | Miss Manners Sounds Off on Wedding Trends |
BY: Liz Juranek
Liz is a beauty writer whose two greatest joys are red lipstick and her pet dwarf hamster.