Where's the (Raw) Beef?
BY: Naomi Bishop |
Mar 3, 2014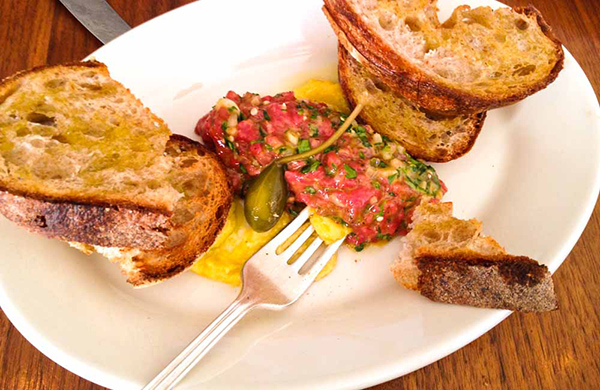 Raw beef has a silky texture and a deeply savory meat flavor, both of which go up in smoke, quite literally, when heated. There's no denying the thrill of charred crust on a steak or a juicy burger, but sometimes a more delicate and luxurious flavor can come from well-chopped uncooked beef that finds the perfect complementing ingredients. Many cultures around the world have a version of this, and while, sadly, soft Lebanese kibbe naya (raw lamb) or fiery Thai koi soi (raw beef salad) aren't on any menus in Seattle, there are a few places serving up a variety of excellent raw beef dishes.
Essex
At this sister restaurant/bar and neighbor to Delancey, the well-known pizza place, the chefs do the best traditional tartare version in town. Hand-chopped for ideal texture, it's woven through with hints of Meyer lemon for a unique touch. The acidity and mild sweetness of the citrus bring out the strong flavors of the meat, the caper berries standing in for the usual capers, and a farm-fresh egg yolk boasting the richness that drives people away from supermarket eggs.
Hae-Nam Kalbi and Calamari
Not all the meat served at this Korean barbecue spot is made for putting onto the grill in the center of the table. The
yuk hwe
is a traditional Korean raw beef dish, slightly sweetened with sugar, seasoned with soy sauce and sesame oil. Like traditional steak tartare, it is served with an egg yolk, but the Asian pear slices on the side serve to cut through the richness.
Meskel
Raw beef dishes are generally a contrast of rich meat and clean crunch, but the Ethiopian take, called
Kitfo
, contrasts the warm richness of beef with the cool richness of cheese. The raw beef is mixed with warm condensed butter spiked with spices, and then eaten with the accompanying fresh, soft, mild cheese. As the spice from the meat builds with each bite, the cheese clears the palate for the next one.
Ben Thanh
This is one of Seattle's better Vietnamese restaurants, albeit one which flies under the radar relative to fancier competitors such as Tamarind Tree and Green Leaf. Ben Thanh keeps a variety of harder-to-find dishes (see frog legs, alligator, and deer) on the menu, and one such dish is
Bo Tai Chanh
, a Vietnamese raw beef salad. On the menu it's listed as 'rare,' but, like ceviche, it is "cooked" mainly by the acid from citrus before being paired with traditional Vietnamese salad ingredients: Thai basil, Vietnamese herb rau ram, jalapeño, peanuts, and fried shallots.
Raw beef got you feeling a little queasy? Check out our restaurant deals, for something a little more cooked.
BY: Naomi Bishop
In need of an outlet for her effervescent enthusiasm for all things edible, Naomi Bishop started sharing her thoughts on food at her blog, TheGastroGnome, in 2006. Her lack of fear—she'll eat anything and go anywhere—lead her to discover restaurants hidden in plain sight or find the most delicious needle in the haystack of a menu. Her writing appears on Serious Eats, Eat Your World, and in the Seattle Weekly. Download her app, Unique Eats of the Northwest to find the best restaurants you've never tried.