The Surprisingly Dangerous World of Wine Fraud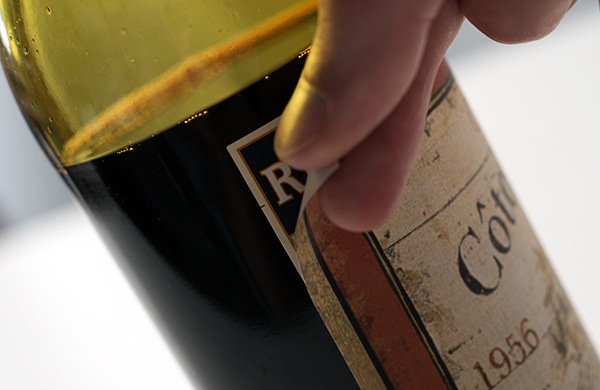 The world of fine
wine
often conjures images of black-tie galas attended by well-mannered socialites and moguls. In reality, tempers can flare in the big-money world of wine, leading to behaviors more befitting of a playground than a ballroom. Take it from
Maureen Downey
, a wine-fraud expert and the owner of
Chai Consulting, LLC
. "In 2013, a guy that doesn't like me, a retailer from New York, actually body-slammed me," she said. The body-slamming incident occurred at a ritzy wine lovers' fete that Downey described as a "big burgundy bacchanalia," and while it may be an extreme example, it certainly wasn't an isolated event. As an expert in wine authentication, she often finds herself the bearer of bad news, informing hopeful sellers that the rare vintage they're auctioning off is, in fact, virtually worthless. For someone hoping to net five or six figures for a bottle, the news can be hard to take. Downey was once lectured about how many people in the industry hate her; another time, she was told that a prominent wine expert was going to break her kneecaps. But after crusading against counterfeit wine for more than a decade, Downey hardly bats an eye. "I've been told that a lot of people hate me," she said. "I don't care."

Spotting a Fake
Drawing the ire of experts and auctioneers was never Downey's intention. In fact, she worked for auction houses herself when she began to study fraud. Though fakes pervaded the industry, she found that there were no dedicated experts on the subject. So she set out to become an expert herself. In New York, she went to the
Metropolitan Museum of Art
to ask specialists about historical paper and printing methods. She spoke with printers, glass experts, and glass blowers, refining her methods along the way. "I don't believe that wine tasting can be used to authenticate wine," she said. "And besides, if you taste it, there's nothing you can do after that. The cork is pulled." Instead, Downey makes deductions based on "all of the aspects of the outside of the bottle." A label purporting to be 60 years old, for example, may show faint traces of digital pixilation. Another false label could be sullied with tea or tobacco to imitate the effects of oxidation. Other times, an ostensibly old wine bottle will be filled to the brim even though decades in storage should have evaporated some of the product. Less scrupulous forgers, meanwhile, may simply try to alter a vintage, changing "1941" to "1944" if the latter fetches a higher price.
Wine Crime Doesn't Pay
This singular skill set places Downey at the center of investigations like the one surrounding recently convicted fraudster Rudy Kurniawan. In December 2013, Kurniawan was found guilty of selling fake wine that earned him millions of dollars. The repercussions: 10 years in prison, $20 million in fines, and $28.4 million in restitution. Downey's expert testimony in the trial helped shed light on Kurniawan's manifold missteps. For instance, in an email thread between Kurniawan and a collaborator, Robert Bohr, Kurniawan requests that Bohr ship him used wine bottles with their sediment still intact. "There's no reason, if you are just wanting to make a wall of bottles, that you would protect the sediment—unless you were going to resell the wine," Downey said. Sure enough, Kurniawan was using the sediment to give the illusion of age to newer wines he was blending together to imitate rarer, older vintages. "Wine fraud is not new," she noted. "The first law against wine fraud was passed in France in the 1500s, so this has been going on for quite a long time. … But I think [the Kurniawan conviction] sends out a very strong message that wine fraud is not OK."
Educating the Public
No matter how strong a message the Kurniawan trial sends, there will always be a need to educate wine connoisseurs and retailers on how to spot fakes. Recently, Downey has turned her interest toward the latter group. "One of the things that my team and I are working on right now is our new website called
WineFraud.com
," she said. "And that will have a really good, solid amount of tutorial information on it." Downey hopes that creating a transparent wine-fraud education program for retailers will also send a message to consumers about which wine vendors are exercising due diligence and which are not. As for consumers themselves, she offered this bit of advice: "If [people are] going to buy fine and rare wine, they need to make sure that they ask a lot of questions. And if people aren't willing to give good answers, then walk away. The most important thing is that you get what you pay for, and if a deal seems to be too good to be true, then it probably is."
Photo by Andrew Nawrocki, Groupon
Shop Goods for kitchen & dining equipment:

Shop for local deals in your city on wine tasting and tours of wineries. Or read our other wine articles:
BY: Charles Austin
Guide Staff Writer
Before writing for Groupon, Charles Austin was a Daily Show intern. Charles eats Iams® ProActive Health™ Adult Original cat food to maintain his active lifestyle.