Beef, Cheese, and Beyond with Amped Up Chicago Burgers
BY: Melanie Faetz |
Jun 12, 2013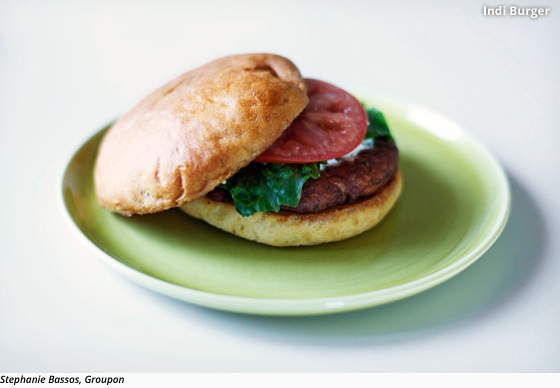 It's hardly as if burgers fall into oblivion during the winter, but summer is definitely when they move into the spotlight. For when your burger craving strikes and strikes—and strikes again—these Chicago restaurants can help keep the repeat meal exciting.
If You Like Refined Basics, Such as Silk Socks:
Trenchermen
(Wicker Park | 2039 West North Avenue) "Pickles, cheddar, chips" is how the bar menu describes the Trench Double burger. What the modest noun trio doesn't say is that the chefs grind the burger meat in-house—a blend of approximately 40% short rib and 60% sirloin—before laying two patties down on a housemade sesame bun with aged cheddar and housemade pickles.
Farmhouse
(River North | 228 West Chicago Avenue) The Farmhouse Classic rests grassfed beef and housemade condiments atop a grilled kaiser bun. The burger comes with tavern-cut fries, and you can add toppings, such as goat cheese, shaved ham, or a fried egg, for $1 each.
If You Relate to Sally, the One Who Met Harry:
Butcher & the Burger (Lincoln Park | 1021 West Armitage Avenue)
Take a deep breath as you step up to the register, because defining your order—picking the meat, bun, seasonings, toppings, and condiments—might take a few minutes. The hard decisions will pay off when you get your finished sandwich, because the burger café butchers its meats in-house. These made-to-order patties taste almost foreignly fresh.
Cody's Public House (Roscoe Village | 1658 West Barry Avenue)
Though this neighborhood bar doesn't have any food listed on its chalkboard menu, it welcomes you to BYO meats and grill them out back. If you wanted a medium-rare burger but find yourself eating char, it's nobody's fault but your own.
If You Might Be a Vegetarian Today:
Epic Burger (Seven Chicago locations)
Along with deliciously greasy beef and turkey burgers, Epic Burger serves up a mean portobello sandwich, which you can order with any of the classic burger fixins.
Indie Burger (Lakeview | 1034 West Belmont Avenue)
The organic chickpea burger is topped with lettuce, tomato, and tzatziki, offering a Greek take on an American classic.
If You're About to Rinse Off in the Lake Anyway:
DMK Burger Bar (Lakeview | 2934 North Sheffield Ave.; Lombard | 2370 Fountain Square Drive)
Every burger listed on DMK's menu is fairly robust, but #15 surpasses the rest with its messy tower of grassfed beef, canadian bacon, deli ham, sausage, fontina cheese, grilled onions, peppers, and sauce.
Fatty's Burgers & More (Lincoln Park | 2665 North Clark Street; Evanston | 1903 Church Street)
What sets the Lineman burger apart isn't its toppings, but its size—1 pound of meat beneath american cheese, lettuce, tomato, onions, pickles, mayo, and mustard. You can order it, or any other burger, in a lettuce wrap rather than on a bun—but really, what's the point?
If You've Been Known to Eat the Toppings Off Pizza:
Little Goat Diner (West Loop | 820 West Randolph Street)
The Burger Shoppe portion of the menu presents many options for tongue-altering patty toppings. The Wing toppings set includes wing sauce, blue cheese, celery, and crispy onion; the Korean set comes with kimchi, egg, spicy mayo, and bacon.
Bread & Wine (Irving Park | 3732 West Irving Park Road)
Served on a pretzel roll, the beef-and-chorizo burger comes with two patties—one made out of beef, the other out of spicy chorizo sausage. Organic cheddar and red-onion jam further garnish the meaty mass.
If You Think Burgers Deserve Their Own Day of The Week:
Owen & Engine (Logan Square | 2700 North Western Avenue)
On Tuesday night, this British-style pub offers a cold beer, a shot of bourbon, and a burger made with Slagel Family Farm beef ground in-house for $15.
Bad Dog Tavern (Lincoln Square | 4535 North Lincoln Avenue)
With a breezy patio and a Wednesday-night burger special, Bad Dog Tavern makes it easy for guests to get over the week's hump. The special gets you fries and one gourmet burger, such as the bacon and brie, for $6.
Fizz (Lincoln Park | 3220 North Lincoln Avenue)
Monday night means half-price burgers out on the patio, whether you want a basic cheese-topped patty made from ground sirloin, or one of the more creative options, such as the thai turkey burger slathered with peanut sauce.
BY: Melanie Faetz
Guide Staff Writer
Friendly but generally nervous 20-something who prefers to be holding a cold beer so that she can blame her sweaty palms on the condensation.