GROUPON GUIDE TO WASHINGTON-DC
Tramp Stamp, a Belgian-Style IPA Inspired by a Misguided Tattoo
BY: Shannon Jewitt |
Jul 25, 2014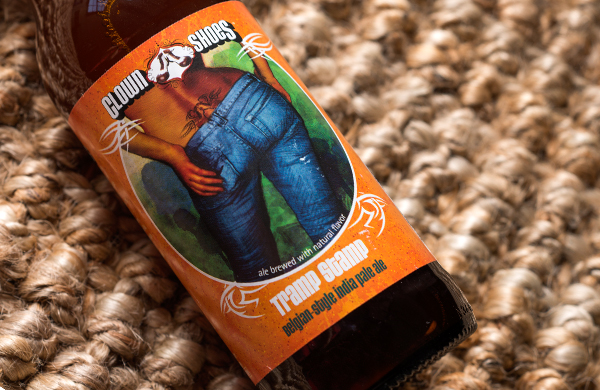 There are almost 3,000 craft breweries in the United States. In this edition of Beer Stalker, we investigate Clown Shoes Beer's Tramp Stamp and learn plenty about its brewing style, and find out more than we cared to know about lower-back tattoos.
The beer: Clown Shoes Beer's Tramp Stamp Belgian India Pale Ale
Malts: Pilsner, belgian special aromatic, and caravienne
Style: Belgian-style IPA
Hops: Simcoe, amarillo, columbus, and Falconer's Flight
Color: A deep bronze, almost orange hue, like skin that's been in the sun too long
What was the inspiration for this beer? Gregg Berman, Clown Shoes Beer's founder and owner, wanted to blend American hops with Belgian yeast to create a fun, playful beer. "The goal with Tramp Stamp was to give it a little bit of a West Coast, kind of floral, fruity hops profile while having somewhat of a traditional yeast," he said.
How did the name Tramp Stamp originate? "My creative process truly is random," Berman said. "The idea came one day while driving when I heard the phrase on the radio. It stood out as fun to say and culturally significant, and somehow my brain decided a Belgian IPA would be a good complement to the name."
What does this beer have in common with a tramp stamp? "For me, a Belgian IPA should balance traditional and innovative elements," Berman said. The Belgian yeast creates a fruity, feminine, funky element, and the hops add an aggressive bitterness to it. Belgian-style IPAs are playful and seductive, he said, much like tramp stamps.
How many of these would you need to drink to think that getting a tramp stamp was a good idea? For Berman, "I don't think there would be a number. I would pass out before that would ever occur," he said. He did concede that, at 7% ABV, it's a relatively high-alcohol beer. "So, it doesn't take too many of them to give someone a strong buzz." And perhaps not too many more to give them a tramp stamp.
Where should you drink this beer? The beer is pretty versatile, so it would be good in various locations, from a bowling alley to a craft-beer bar, Berman said. It also pairs well with cheeses and burgers and other grilled meat, making it great for a summer barbecue.
What other Belgian-style IPAs would you recommend? Clown Shoes makes a double Belgian-style IPA called Muffin Top, which is less malty and more traditionally Belgian, but heavily hopped, which Berman recommended. If you're looking for a beer with "an even more out-there name," he suggested Flying Dog Brewery's Raging Bitch Belgian-Style IPA. He also recommended Houblon Chouffe Dobbelen from Brasserie d'Achouffe. "That's one of the best in the world," he said.
Photos by Andrew Nawrocki and Timothy Burkhart, Groupon
Shop for local deals in beer, wine, or spirits.
Read more to build a six-pack of refreshing beer stories.
BY: Shannon Jewitt
Resident Beer Stalker Shannon has an insatiable thirst for craft beer. Despite being a vegetarian, she always makes an exception for fries cooked in duck fat.