Arcadia Ales' Loch Down Scotch Ale Is All About the Malt
BY: Shannon Jewitt |
Sep 8, 2014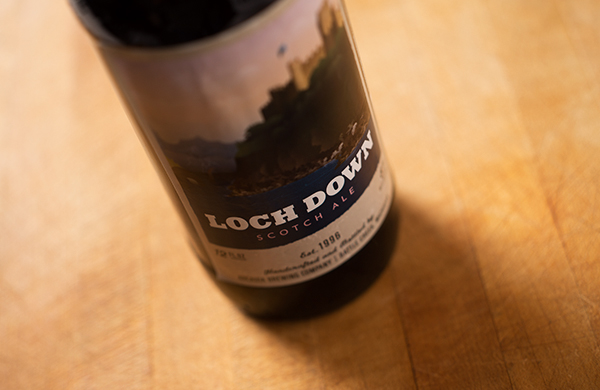 There are almost 3,000 craft breweries in the United States. In this edition of Beer Stalker, we investigate Arcadia Ales' Loch Down Scotch Ale and learn why it has its competitors on lockdown.
The brewery:
Arcadia Ales
of Kalamazoo, Michigan
The beer:
Loch Down Scotch Ale
Malt:
Maris otter
Style:
Scotch ale
Hops:
Willamette and fuggle
Color:
An impossibly dark garnet. If the Loch Ness Monster exists and gets manicures, her nail polish would be this color.

How did the name of this beer originate?
Loch Down's original name was Arcadia Scotch Ale, which quickly proved too boring for such a robust beer. "So we got to thinking about what made this product distinctive," said Tim Suprise, Arcadia Ales' founder and president, who copped to a "rather unscientific" renaming process. "This beer has a tendency to lock down anything that's in the [scotch-ale] category when it comes to just consistency and quality. Loch Down just seemed to flow off the tongue."
Generally, malts are central to scotch ales. Is that the case with Loch Down?
"This particular beer is really all about the malt," Suprise said. And that malt is maris otter. Regarded as some of the finest malted barley in the world, Arcadia sourced it to give Loch Down the rich, aromatic, British-style flavor the team is so inspired by. Maris otter is responsible for the beer's full mouthfeel, rich taste, and shortbread and biscuit characteristics.
What do Loch Down's fans have in common?
"They like malt. They like the sweetness. They like a full, rich beer that's not overly assertive with hops but has a rich fullness that's really diverse," Suprise said. He recommends Loch Down to those who like Scottish beer styles and even those who like scotch whisky, as maris otter is used by many single-malt distillers.
What food pairs well with this beer?
Due to its rich nature, Loch Down stands up well to spicy, grilled dishes, such as pork chops and chicken wings. "[The flavor] is really great to counter and balance that heat in your mouth," Suprise said. "It also goes tremendously well with a nice leg-of-lamb dinner with mashed potatoes and gravy. … It's really a nice complement to a salted-caramel ice-cream bar, too."
Now that Arcadia Ales is 18 years old, what are the brewery's plans for adulthood?
Suprise told us that first, Arcadia Ales wants to celebrate. Its outdoor beer garden along the Kalamazoo River should be complete come late September—just in time for Oktoberfest. When the party is over, though, the brewery will head back to work, with plans to experiment with Belgian-style beers some time next spring.
Shop for local deals in beer, wine, or spirits.
Read more to build a six-pack of beer stories:
BY: Shannon Jewitt
Resident Beer Stalker Shannon has an insatiable thirst for craft beer. Despite being a vegetarian, she always makes an exception for fries cooked in duck fat.