Groupon GUIDE TO MINNEAPOLIS
Four Year-Round Ways to Rock Fingerless Gloves and Fresh Manicures
BY: KELLY MACDOWELL | 7.8.2015 |
There's no denying that Prince helped make fingerless gloves cool. Along with black eyeliner, meticulously manicured facial hair, and face-melting guitar riffs, they're one of the Purple One's signature accessories. Between the abundance of great Minneapolis nail salons and the unpredictability of Minnesota weather, adopting the local legend's style is the best way to show off manicures year-round. We took to our Fierce Nails board on Pinterest to inspire four ways to rock this look—one for each season.
Winter: Glittens + Glitter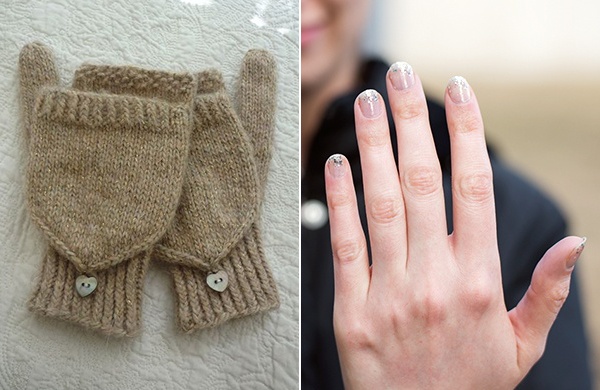 Knit gloves via Pinterest; sparkly manicure by CiCi Nails, photo by Groupon
Minneapolis winters are too cold for going completely fingerless. Go for the glove-mitten hybrid in a colorful wool so you can cover your hands when the wind picks up and free your fingers when the group texts are going down.
More importantly, the glitten (as it's apparently called) allows you to reveal your glamour nails in dramatic fashion. We like sparkly nails for the winter season—they coordinate with tinsel, twinkle lights, and the glitteriest ugly Christmas sweaters.
Spring: Leather and Graphic Design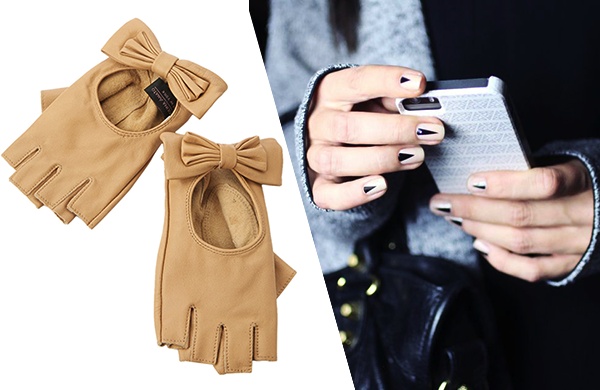 Leather bow driving gloves, Carolina Amato ($34.99); manicure from pshiiit via Pinterest
Leather gloves in a lighter hue—like our go-to spring color, nude—feel perfectly on point for spring's milder temps. (Especially with adorable details like the cutouts and bows on the pair pictured above.) Pair them with a cropped-sleeve coat to keep it really seasonal.
Play off this sophisticated look with a graphic manicure. Black and white is a classic spring color combo, or try an interesting twist on the classic french manicure.
Summer: Lace and Negative Space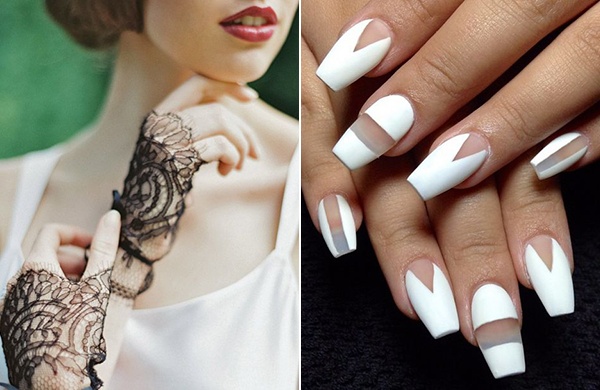 Black lace gloves by Enchanted Atelier via Pinterest; manicure by yesicanails via Pinterest
If you're really committed to rocking this look year-round, lace gloves are a super-glam, super-lightweight option for summertime. In white, they could not be more darling with a vintage dress and a sun-shielding parasol. In black and with a couple of midi rings, they add steampunk edge to festival fashion.
To match the open weave of the lace, try a negative-space manicure. The effect of leaving portions of the nails unpolished is modern and fresh, and looks especially cool with acrylic nails.
Fall: Handwarmers and Harvest Hues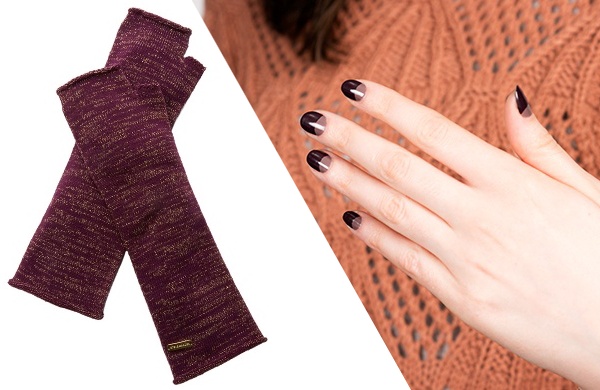 Glitter-azzi arm warmers, Steve Madden ($4.99); manicure by CiCi Nails, photo by Groupon
Autumn brings the year's most striking color palette—bright oranges, deep burgundies, and rich purples. So why not incorporate these hues into your next manicure? For bonus chic points, try a shade of marsala, Pantone's 2015 Color of the Year.
It hasn't reached tundra temperatures yet, so show off your digits with some hand warmers. The open-ended design maintains dexterity for apple picking, pumpkin carving, and picking all the best candy out of your kid's trick-or-treat bag.
BY: Kelly MacDowell
Guide Staff Writer
Kelly's first concert was Fleetwood Mac and her first career was in the beauty industry. Now a style and music writer, she loves Project Runway and her dog, Watson.