GROUPON GUIDE TO WASHINGTON-DC
One Man's Trash Is Another Man's Innis & Gunn Original
BY: Shannon Jewitt |
Jul 11, 2014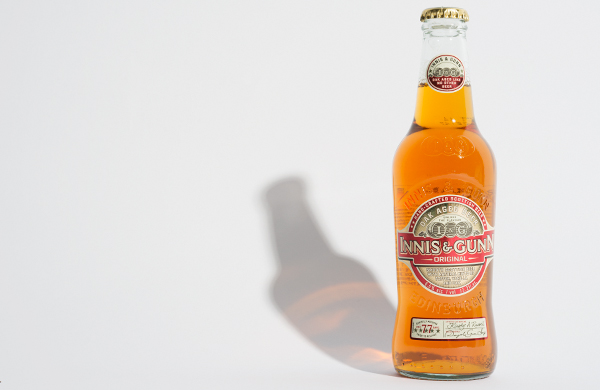 There are almost 3,000 craft breweries in the United States. In this edition of Beer Stalker, we investigate Innis & Gunn Original and learn about both its accidental discovery and very intentional maturation process.
The beer:
Innis & Gunn
 Original
Malts:
Scottish barley, crystal malt, raw wheat
Style:
A Scottish ale matured using a blend of barrel-ageing and a specialty Oakerator process
Hops:
 Super Styrian
Color:
The amber hue of Scotland's
other
prized nectar
They say "one man's trash is another man's treasure." How true is that of Innis & Gunn Original?
It couldn't be more true, as Innis & Gunn Original was an accidental discovery. Dougal Sharp, Innis & Gunn's founder and head brewer, was working in his family's brewery in Scotland when a distilling company came to him wanting to make an ale-finished whiskey. "In order for them to make that, we sent them some beer, which they filled into their barrels in the distillery," he said. Once the beer soaked into the wood of the barrels, the distillery threw the beer away so whiskey could mature in the barrel and absorb the flavor of the beer. The whiskey was a success, so the distillery purchased more beer from the family brewery. As production increased, the distillery employees charged with throwing away the beer started bringing in empty bottles and other containers so they could take home the beer and drink it. Eventually, this got back to management, who called up Sharp and said "You're not going to believe this, but that beer that we've been throwing away is actually outstanding!"
As the brewery's flagship beer, how does the Original exemplify the brewery's qualities?
"I think it typifies our approach to beer-making," Sharp said. "Innis & Gunn is all about balance and depth of flavor." The Original has both of those, and, like all of the brewery's beers, it isn't hoppy. Instead, the brew gets a lot of its flavors—vanilla, toffee, hints of citrus—from the oak it's aged in. The oak also helps mellow the beer. That's why, despite being 6.6% ABV, the original is still smooth.
Where should you drink this beer?
"It's for sipping, savoring, and enjoying," Sharp said. He likes to drink it at home, while he's cooking or just before dinner. "It actually matches very well with food, too. Particularly things like steak, grilled seafood."
Beyond sounding like a tree-themed superhero, what role does the Oakerator play in Innis & Gunn's brewing process?
It provides an alternative to barrel aging. "When we started Innis & Gunn, we barrel-matured everything that we brewed. And that continued right up until 2010," Sharp said. That's when the brewery ran out of barrels to use for barrel aging. Rather than decrease demand for its beer, the brewery worked with nearby Heriot-Watt University to develop a new production technique. "We take all the same things that you find in the barrel. We take American white oak, and we air-dry that for 24 months, then we turn it into pieces, and we then toast those pieces up to three separate levels," Sharp said. The different levels of toasted-oak pieces provide different flavor characteristics. They then place the pieces in the Oakerator, which the brewery's website describes as "an oak percolator rather like an old-fashioned coffee pot." "Then we put a spirit in there," he said. "And what happens is the spirit soaks into the oak, and it starts to react with the wood and starts to chemically change the oak. So it starts to draw out and change the flavor compounds in the oak and make it available for the beer then to extract." Finally, they circulate the beer in the Oakerator, "and the flavor in the oak is transferred into the beer," Sharp said.
Photo by Andrew Nawrocki, Groupon
Shop for local deals in beer, wine, or spirits.
Read more to build a six-pack of refreshing beer stories.