Pampering Gifts for Every Person on Your List
BY: Favin the Maven |
Nov 4, 2014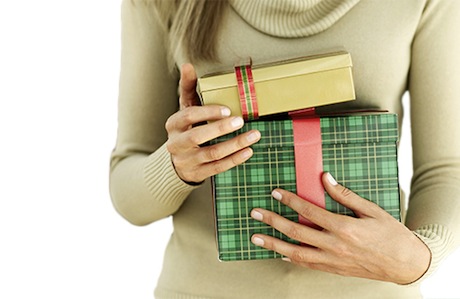 This list was the inspiration for my Merry Makeover Contest! Now through December 12, you can nominate any deserving person you know to win a custom spa package designed by yours truly! Click here to nominate someone, and read on for more pampering gift ideas.
Obviously, I'm a firm believer in the importance of pampering yourself. But as the holidays approach, I'm trying to get into a more giving state of mind. And because relaxation is something that
everyone
enjoys, I've been brainstorming a lot of
spa
-related gift ideas for people—even the ones that don't get massages regularly. If you want to pamper your friends and family this year, find the perfect treat for their personality type below!
THE BOOKWORM
|
They've always got their nose buried in a book … or pressed against the screen of a Kindle.
The perfect pampering gift:
A literary-themed
mani-pedi
. They'll see their lovely nails every time they turn the page! There are even nail colors named after books, including all of the polishes at the
Literary Lacquers Etsy shop
. Or you could always get
story-inspired nail art
.

THE TECHIE
|
They got their hands on the latest phone—and knew all its keyboard shortcuts—before it was even released.
The perfect pampering gift:
A microcurrent
facial
. It uses small, carefully controlled amounts of electricity to increase circulation and tighten the skin for a youthful glow. It's a whole new high-tech trend for your friend to obsess over.

THE ECO-WARRIOR
|
They don't like to buy anything with ingredients they can't pronounce.
The perfect pampering gift:
An organic spa treatment. Many spas are embracing all-natural
skincare
treatments these days.
Read up on a few in your area
, and see where you can find a
pumpkin facial
, sugar scrub, or mud bath that fits the bill.

THE FITNESS FAN
|
If they're not at home or work, they're at the gym. They definitely know what a deadlift is.
The perfect pampering gift:
A
sports massage
. These massages focus on overworked or injured areas and are great for anyone who pushes their workouts to the limit. They may even help sore muscles heal faster!

THE BEAUTY GURU
|
They've memorized their local Sephora's layout and have more eye-shadow colors than you can count.
The perfect pampering gift:
Real-hair
makeup brushes
. They last longer and apply makeup more evenly than synthetic ones. Even if your friend already has
the nine essential brushes
, there are so many specialized ones out there you can surprise them with! (And don't forget to pick up some
brush cleaner
, too.)

THE BUSY BEE
|
Their calendar is insanely cluttered. You've never seen them sit still for more than 10 minutes.
The perfect pampering gift:
A spray tan. Even if they refuse to take time for a vacation, people will
think
they did. Some automated tanning booths can even spray you down in
fewer than five minutes
, so your friend won't lose precious time on their way to looking good.

THE OUTDOOR EXPLORER
|
They go on camping trips in any weather. They know the right way to run from a bear.
The perfect pampering gift:
A foot massage or
reflexology
treatment. All that hiking is bound to wear on their soles, and reflexologists know the best spots to hit for full-body relaxation.

THE ARTIST
|
They draw, write, act, or create in some other way—all the time.
The perfect pampering gift:
A meditative
yoga
class. Self-reflection is one of the best ways to overcome creative blocks. If your friend is really starved for ideas, consider a gift certificate for a session in a
flotation tank
, which is also supposed to spark the imagination.

THE DAREDEVIL
|
To them, skydiving is as easy as reading the paper. They could probably do both at the same time.
The perfect pampering gift:
Acupuncture
or cupping. Both treatments might seem a little scary at first, but they aren't actually painful—or at least, they weren't when
I tried
them
. But if your friend really wants a challenge, maybe schedule
a massage with live snakes
?

THE KID
|
They might be 8 going on 38, but they're still too young for an adult spa treatment.
The perfect pampering gift:
A children's spa party. Kids' spas are becoming more and more popular, with their age-appropriate versions of mani-pedis, makeup applications, and updos. It's a great way to practice pampering yourself from a young age!

BY: Favin the Maven
For me, both beauty and fashion need to be accessible and not intimidating. I love a great deal and a good DIY beauty treatment. I pride myself on trying new trends, being open minded and getting a great treatment without breaking the bank. In the name of beauty I will try anything once.