Rockin' Raw Bars: Where to Get Seattle's Freshest Oysters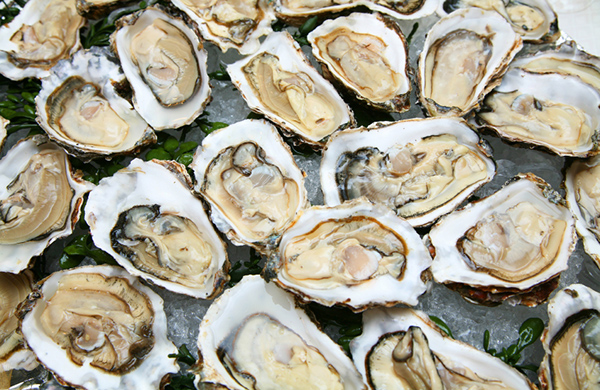 The Pacific Northwest is rightly famous for its seafood. This is especially true of the pristine shellfish, which is carefully tended to in the chilly waters around the Puget Sound. In Seattle, the love-'em or hate-'em oysters are given superstar treatment at restaurants and raw bars, served chilled on crushed ice and shucked to order.
At Elliott's Oyster House, the dazzling display of nearly two-dozen different oysters greets diners as they walk in the door at this popular waterfront restaurant. Friendly, well-informed servers provide a tasty road map of where the oysters are grown; important information to have, as many of the Pacific oysters are named for the places they're from, including the locally native Olympia oysters.
Taylor Shellfish in the Melrose Market, with a vibrant oyster bar nestled on happening Capitol Hill, also owns many farms around the sound, where they harvest their own shellfish. In fact, the Taylor team helped pioneer a current trend in the oyster world, known as tumbling. Pacific oysters are raised in bags that have been suspended on pilings, which tumbles each of the bivalves around, chipping the shell's edges and encouraging the oyster to grow a deeper cup. The result is a firmer, plumper oyster, which Taylor Shellfish proudly serves at their neighborhood raw bar. And with deliveries made daily, these are also some of the freshest oysters in the city. Purists slurp them directly from the cold shell, sans garnish, though a tart mignonette is served on the side.
Elsewhere, Blueacre Seafood has an award-winning team of shuckers and a loyal following for its daily happy hour, which lasts from 3 to 6 p.m. Besides offering oysters for a dollar a piece, a menu of savory starters and signature cocktails is available for those looking to get an early start on the evening. Ask the savvy bartender to suggest an oyster-friendly wine, if you're so inclined.
One of the city's newest destinations for oyster lovers is on the shores of Lake Union. The horseshoe-shaped raw bar at Westward is tended to by swift oyster shucking pros and features an attentively sourced run of fine shellfish. When the weather's fine it's even possible to dine outside, while relaxing on the restaurant's colorful collection of Adirondack chairs. Yes, oysters always taste better al fresco.
BY: Gayot
Gayot
GAYOT.com serves as a leading worldwide authority on the good life. Millions of readers turn to Gayot's savvy, professional reviews on dining, travel and lifestyle. From "Best of" lists and travel guides, to a searchable restaurant and hotel database, Gayot provides dependable coverage while keeping up with the latest trends and news.