GROUPON GUIDE TO WASHINGTON-DC
The Best Tacos in America
BY: Halley Lawrence |
Oct 3, 2014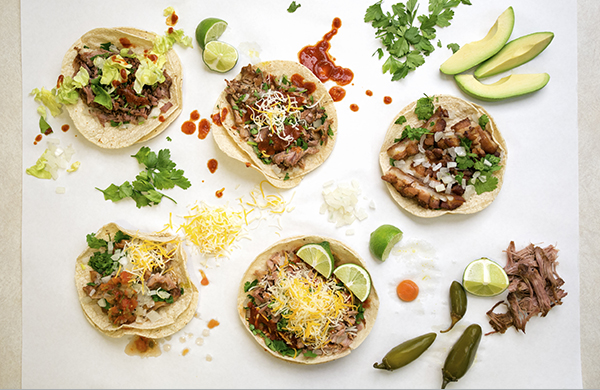 What goes into the perfect taco? That depends on the place (which doesn't
necessarily
have to be a
Mexican restaurant
) and the person who's ordering. Some stomachs grumble for traditional carnitas, whereas others growl for trendy food-truck tacos. With so many mouthwatering styles available, we found it impossible to name just one best taco in America. So we picked eight. Without further ado, we present our taco dream team.

Best Gourmet Taco:
Agridulce Taco at
Pinche Tacos
in Denver When the Pinche Tacos truck rolls through Denver, it tempts full-grown adults to follow as though they were children racing after an ice-cream truck. That's partially thanks to the intoxicating scent of the Agridulce Taco, which pairs mouthwatering sweet-and-sour braised pork belly with candied garlic, cabbage, and cilantro slaw.
Best Seafood Taco:
Scallop and Shrimp Taco at
Señor Fish
in Los Angeles

"Not too many people have ever had a scallop in a taco," said Enrique Ramirez, Señor Fish's owner. "We use 10 to 20 scallops, which means there are 10 to 20 per pound, so it's kind of jumbo scallop. And all of our seafood is wild—free-range from the ocean—as opposed to farmed."
Best Tex-Mex Taco:
Tupy Taco at
Tupinamba
in Dallas Tupinamba's Tupy Tacos, which have been served since the spot opened in 1947, brim with Tex-Mex flavors. Meat and beans are encased in a soft tortilla, which is then deep-fried for a subtle crispiness.
Best Vegan Taco:
Vegan Jalisco Taco at
The Vegan Nom
in Austin With components including chicken faux-jitas, caramelized onions, fresh lime, and cilantro, this vegan taco delivers all the taste of a Mexican street taco without the meat or animal byproducts.
Best Ethically Sourced Taco:
Carnitas Taco at
Regalito Rosticeria
in San Francisco

Chef-owner Thomas Peña is known for responsibly sourcing his ingredients, and this taco is no exception. He and his team use pork from Niman Ranch's humanely raised hogs to make the sumptuous specialty.
Best Fusion Taco:
Grilled Brunkow Cheese Taco at
Takito Kitchen
in Chicago Takito Kitchen is known for its creative yet functional flavor pairings. The Grilled Brunkow Cheese Taco is a perfect example. It seamlessly brings together Wisconsin-made cheese with morita salsa, chayote, peanuts, sofrito, and kale.
Best Breakfast Taco:
Egg and Chorizo taco at
Tacos Tierra Caliente
in Houston Egg-stuffed tacos are a go-to breakfast in Houston, so there's no shortage of options. But this popular food truck's tacos get our vote for their deliciously griddled flavor and their affordable $1 price tag.
Best Taco for a Good Cause:
Any Taco Served During
Charity Taco Night
at
Jaco's Tacos
in Jackson, MS

Cooks fold bison, sashimi-grade ahi tuna, and other delicacies into tortillas during charity nights that benefit Jackson-area organizations such as the Epilepsy Foundation of Mississippi and the Mississippi chapter of Prevent Child Abuse America.
Satisfy your appetite for more Mexican-food stories:
| | | |
| --- | --- | --- |
| | | |
| Cuitlacoche: The Specialty Corn Truffle That's Mexico's Favorite Fungus | The Secret to the Perfect Salsa | A Tamale That Shucks the Cornhusk |