Tasting Menu: Chicago Restaurant Picks from Chez Moi Chef Dominique Tougne
BY: Halley Lawrence |
Jul 8, 2014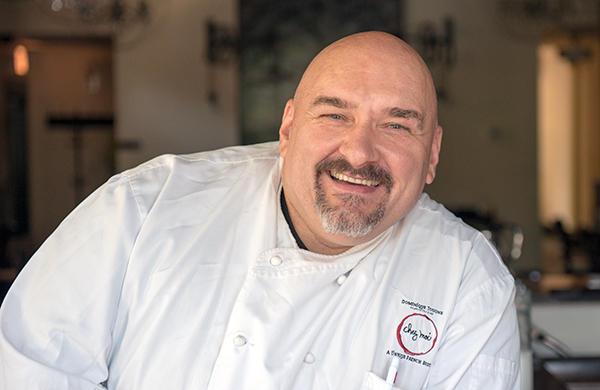 Stepping aboard airplanes that soar between Chicago and France is a regular custom for Dominique Tougne, the Alsace-born chef behind Chicago
French restaurant
Chez Moi
(2100 N. Halsted St.). If the chef had his way, he'd probably pack suitcases of French cheese and wine before each return flight, the better to stock his bistro with. Customs laws prevent him from doing so; however, no law can stop him from bringing a bit of the French dining scene back to Chicago inside his brain. "When I go [to France], it's to try to find the new ideas, the new trends," he said. On his most recent trip, for instance, he noticed French nationals sipping a unique drink. "Right now, they are drinking a lot of rosé pamplemousse—rosé wine mixed with grapefruit juice. It's very popular in summer. Very fresh, very refreshing." When Tougne isn't acquainting diners with French food and drink trends, he can often be found exploring the culinary scene around Chicago. We asked him about some of his favorite spots in the city.
For French cuisine (outside of Chez Moi):
"To me there is not one—it's more what you're going for. For more fancy, I go to
Everest
(440 S. LaSalle St.). [My favorite was] the dish they made with squab, long time ago. It's always very good."
For the flavor of another culture:
"I'm definitely attracted by Thai food—I love their flavors. I like
Arun's
(4156 N. Kedzie Ave.). It's not about the specific dish, it's the flavor and [the way] it's very fresh."
For mixed drinks:
"I go for cocktails more than wine. I like a cocktail made with rhum, like a Ti' Punch from Tahiti. I like
The Violet Hour
(1520 N. Damen Ave.). They have great service and cocktails."
Chef's portrait by Andrew Nawrocki, Groupon
Shop for deals at French restaurants and at other Chicago restaurants.
Curious where other Chicago chefs eat and drink when they're out of their kitchens? Check out our other Tasting Menu features: