Tasting Menu: Chef Carol Wallack of Sola Restaurant
BY: Aimee Algas Alker |
Jun 24, 2014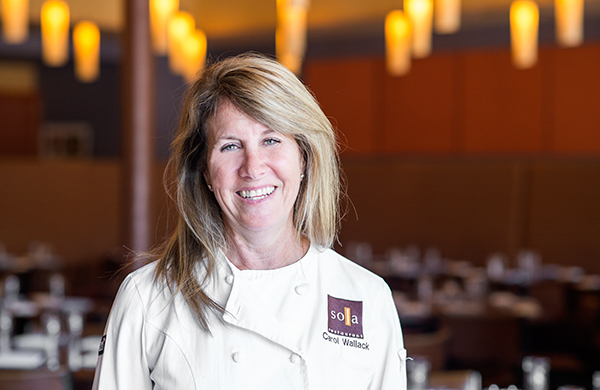 Though she makes her home in Chicago far from the big blue, Chef Carol Wallack can't escape the pull of the Pacific Ocean. She keeps a second home in Maui so she can scratch her surfing itch, and even the menu at her
Chicago restaurant
Sola
(3868 N. Lincoln Ave.) is truly an expression of her love of the islands and its cuisine. She's the first to admit that she works out "a ton," not just to keep in surfing shape, but to prolong her life. Her fitness habit compels her to keep a healthy diet, along with a childhood diet of avocados and other fruits straight from her mother's garden. So where does one go in the city of big shoulders and even bigger belts to satisfy cravings for something healthy?
The Sushi Bar
Possibly related to her love of Hawaiian cuisine, which heavily influences the menu at her own eatery, Carol's got a bent toward Japanese fare, especially sushi. You might spot her at
Kai Zan
(2557 W. Chicago Ave.), as well as old standbys
Bob San
(1805 W. Division St.) and
Sushi Naniwa
(607 N. Wells St.).
Fresh Fish
Sticking to seafood is a great way to eat healthy in the Midwest, and many places in Chicago do great fresh fish, Carol says. On Sola's super-seasonal menu, diners should snap up the halibut with curried baby artichokes—those tiny veggies aren't around for very long. Aside from that, Carol regularly ducks into
Nico Osteria
(1015 N. Rush St.) for the crudo or
GT Fish & Oyster
(531 N. Wells St.) for just about anything that's not fried.
At the Supermarket
When one city block can sometimes hold three different hot-dog stands, it can be difficult to find a balanced meal when schedules are tight. However,
Whole Foods
' sprawling mega-locations in
Lincoln Park
(1550 N. Kingsbury St.) and
Lakeview
(3640 N. Halsted St.) boast several made-to-order food stations, making them a good choice for a quick yet nutritious meal.
Gone Hawaiian
Okay, so Hawaiian food isn't
always
the healthiest, but from time to time, Carol can't resist a plate lunch at
Aloha Eats
(2534 N. Clark St.). "Makes me feel at home!"
Chef's portrait by Andrew Nawrocki, Groupon
Shop for deals at Chicago restaurants.
Curious where other Chicago chefs eat and drink when they're out of their kitchens? Check out our other Tasting Menu features: