The Seven Most Dog-Friendly Restaurants in Chicago
BY: Jorie Larsen |
May 22, 2014
There's an element of frenzy to the way Chicagoans embrace warm weather. We don't know how long it's going to last, only that it's here—gloriously, finally here. As soon as the mercury tips 60 degrees, the tank tops and short shorts come out.
And so do the puppies.
After the recent spate of good weather, I wasted no time introducing my new pup, Winnie—acquired in frozen February—to the great Chicago outdoors. So I began a quest to find the most dog-friendly alfresco dining at Chicago restaurants.

Here are my findings.
1. Parson's Chicken and Fish | Logan Square (2952 W. Armitage Ave.)
From the restaurateurs who brought us Longman and Eagle comes Parson's Chicken and Fish, an old-school fried-chicken shack with a sprawling outdoor patio that's equal parts Southern charm and industrial chic. Dogs can escape the heat beneath a cluster of picnic tables, each adorned with a red-and-white striped umbrella.
Best time to go: Dusk.
Be sure to order: A Negroni slushy (lauded by the Chicago Reader, among others) and a basket of hush puppies. Slip one to your dog and see what undying gratitude looks like. [Read more about the pimiento-cheese snacks, peppered with radishes and microgreens.]
Meet the dog who… is the Blackhawks' biggest fan on the patio: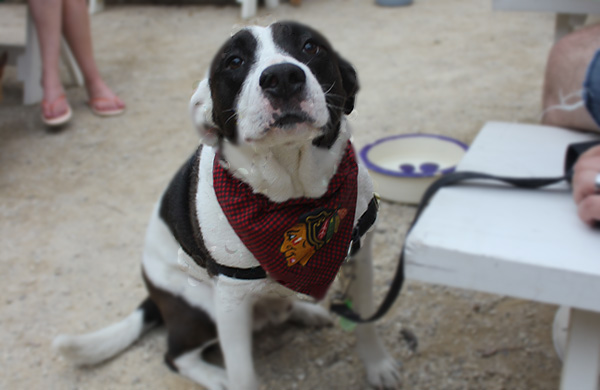 Charlie, a pitbull mix, sported a Blackhawks emblem on his handkerchief.
2. Jack and Ginger's | Bucktown (2048 W. Armitage Ave.)
This unassuming sports pub has a surprisingly delicious menu and enticing weekday specials, such as $5 pizzas on Thursdays that are damned tasty. In the fall, Iowa Hawkeye fans flock there. In general, this place knows how to treat a pooch—waiters deliver water bowls, treats, and lots of belly rubs.
Best time to go: Weeknight, preferably when your favorite Chicago sports team is playing (the patio has an outdoor TV).
Be sure to order: Spinach and goat-cheese pizza and a craft brew, such as Allagash White.
Meet the dog who… has a cooler name than you: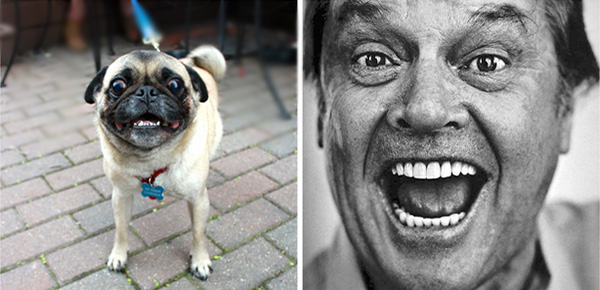 The name's Nicholson. Jack Nicholson. "My boyfriend thought [our pug] kinda looked like him," explained Tiffany, Jack Nicholson's owner and a Bucktown resident.
3. Frasca | Lakeview (3358 N. Paulina St.)
Historically, in Italy, farmers hung a wreath of branches, or a frasca, over their farmhouse door to signify that they sold food and wine inside. This Lakeview pizzeria and wine bar carries on other Old-World traditions with a menu of artisan pizzas—cooked to a golden brown in an 800-degree oven—and pastas, as well as an extensive wine list. The breezy sidewalk patio is perfect for a leisurely weekend meal with a furry companion at your feet, waiting patiently for scraps.
Best time to go: Weekday dinner (fewer crowds), or brunch on the weekend.
Be sure to order: Cinnamon-sugar donuts as a brunch appetizer, or an oven-fired pizza for lunch or dinner.
Meet the dog who… you shouldn't challenge to a footrace: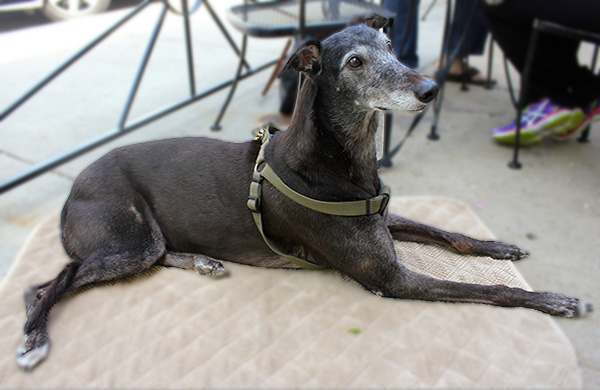 Mehmet, a 9-year-old greyhound; in peak form, greyhounds can reach speeds up to 45 mph. The fastest human, by contrast, tops out at a piddly 28 mph, and that's without a belly full of mimosas.
4. Waterfront Cafe | Edgewater (6219 N. Sheridan Rd.)
Waterfront Cafe is a hidden gem in Edgewater, situated within grassy Berger Park in a converted coach house. Tables offer views of Lake Michigan, and the patio has plenty of room for pups to romp. On weekends, their escapades can be set to a soundtrack of live music.
Best time to go: Sunset. Think lit tiki torches and the soothing sound of lapping waves. Is this Hawaii or Edgewater?
Be sure to order: Fish and chips if you're hungry, or a pitcher of sangria if you just want to unwind and heckle passing seagulls.
Meet the dog who… has impressive ancestors: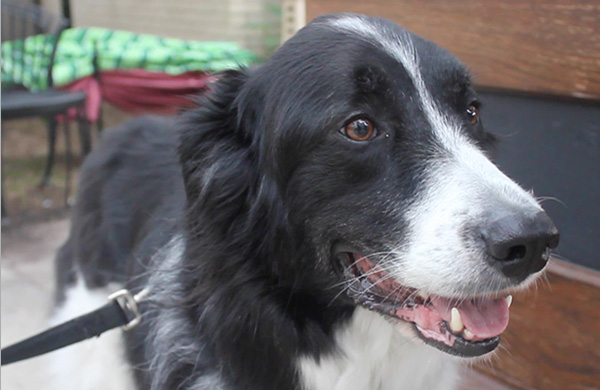 Clancy is half-Landseer Newfoundland and half-Great Pyrenees. But 100% handsome.
5. Big Star | Wicker Park (1531 N. Damen Ave.)
The Tex-Mex joint is the brainchild of the guys responsible for Avec, Blackbird, and the Violet Hour. Come for the gourmet tacos, stay for the single-barrel Kentucky bourbon, the spiced-up micheladas, and the California honky-tonk vibe. The patio is always packed, so only bring your pup if he's comfortable around large, tequila-swigging crowds.
Best time to go: Happy hour or dinner; the earlier you get there, the shorter the wait.
Be sure to order: Taco al pastor and a $3 whiskey shot.
Meet the dogs who… are the cutest pair of sisters: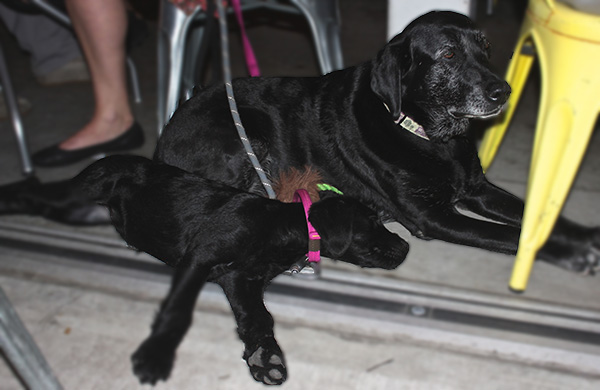 Cole is 11 years old. Betty is just 11 weeks.
6. 90 Miles Cuban Cafe | Logan Square (2540 W. Armitage Ave.)
It's roughly 90 miles from the southernmost point of the US to the island of Cuba, hence the eatery's name. The food is great (everyone raves about the churrasco skirt steak) and authentic—the restaurant's owners are from Cuba. The patio is dog-friendly, as long as you know the trick: ask for a seat along the outer edge, and tie your pup up outside the railing, which is only about thigh-high.
Best time to go: Dinner.
Be sure to order: It's BYOB, so bring along a bottle of rum or wine and the cafe will provide you with a pitcher of sangria or mojito fixin's.
Meet the dog who… has separation anxiety: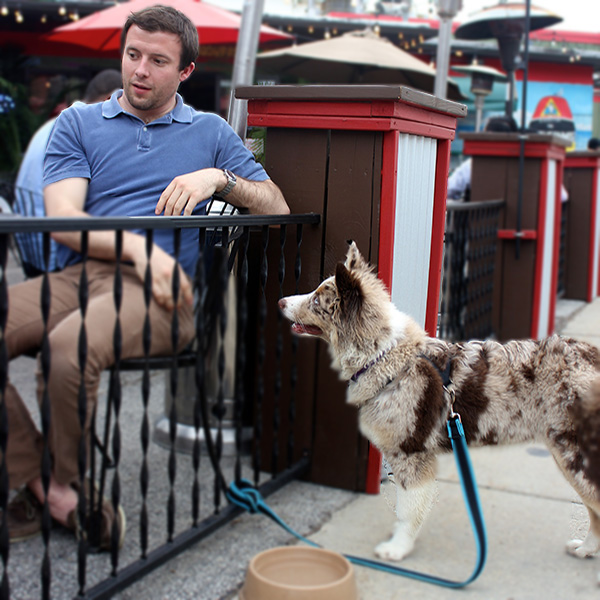 Winnie, the 5-month-old Australian Shepherd puppy, did not appreciate the 6 inches of space separating her from her dad.
7. Lizard's Liquid Lounge | Irving Park (3058 W. Irving Park Rd.)
Lizard's Liquid Lounge might be the most dog-friendly restaurant in Chicago. There's no outdoor patio, but pups are free to roam wherever they like inside. One bartender told me several of her regular four-legged customers even sit on the vinyl stools at the bar. On Wednesday through Saturday, you can order in Southern-style barbecue from Smalls Smoke Shack, located next door.
Best time to go: Happy hour.
Be sure to order: A craft beer on tap, like Abita Purple Haze.
Wild antics: Sadly, there were no dogs in the bar when I visited, but off-duty bartender Cuauhtemoc relayed a story about one of his wildest four-legged patrons: an enormous Great Dane who once leapt from the floor straight up onto the bar during a Christmas party.
Shop for local deals at Chicago restaurants. Dog lovers too can shop for pet deals.
Photos and video by Jorie Larsen, Groupon
BY: Jorie Larsen
Guide Staff Writer
Jorie would love to bend your ear about historic cities, national parks, and wildlife encounters. She's determined to visit Louisiana soon—her 50th state.