What We Learned About Food at the IACP Annual Conference
BY: Hillary Proctor |
Mar 18, 2014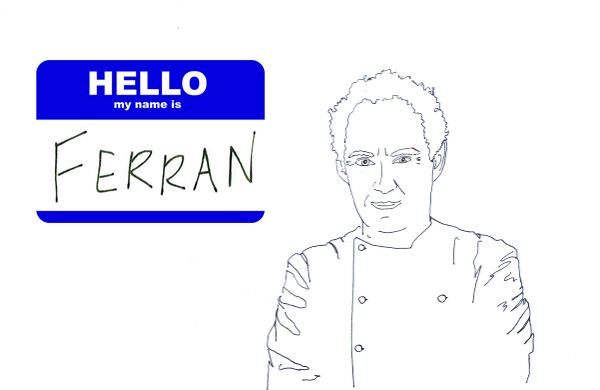 The International Association of Culinary Professionals held its annual conference in Chicago this year, hosting three days of educational sessions led by some of the food world's best and brightest.
Culinary Innovation
The main speaker of the first plenary session was Ferran Adrià, who's basically the Steve Jobs of modern cooking. There was a standing ovation from the audience before he even began speaking. Between 1987 and 2011, he ran the kitchen at Spain's elBulli, arguably the most influential restaurant in the last century (here's a timeline).
"Why did we close [in 2011]?" he said. "To keep doing what we love and create and share in different formats."
In 2013, Adrià founded the elBulliFoundation to take on major innovation projects, applying to food the same systematic methods used in scientific, historical, and business fields. Perhaps the most impressive project is Bullipedia, an effort to "decode the culinary genome" and create an official taxonomy for all of food.
Vegetable Power
Vegetables are here to stay. Two panelists, Chris Pandel (chef of Balena and The Bristol) and Marty Travis (Spence Farm), said they discuss the farm's crops nearly every week, always looking for new uses. "We look at every vegetable at every physiological stage," Travis said, which results in some unique discoveries.
For example, a recent fava bean crop didn't produce the actual bean pods very well, but Pandel still used the leaves as an unlikely pizza topping. He was wowed by their "really intense spinach flavor" and impeccable wilting ability in a 700-degree oven. Another panelist, Jared Rouben of Moody Tongue brewery, incorporates seasonal produce into his beers, such as the baby carrot, green coriander, and orange peel that enhanced a recent belgian wit.
Food Trendspotting
Based on Food IQ's recent studies, 2014's main theme for food is discovery. Rather than the traditional "trickle-down" effect, the market is instead seeing a "bubbling-out" effect driven by new experiences, cultural exploration, and "less is more" (in other words, the balance of quality and value). Because today's world is completely connected by social media, food consumers are much more educated. View the panelists' 10 predictions for 2014's top food trends.
Literary Bites
In a more whimsical take on food history: two experts provided historical context for foods that were featured prominently in works of literature (think meat pies in Hamlet and collard greens in Adventures of Huckleberry Finn). To bring the concepts to life, attendees could also taste samples the panelists had prepared using period recipes. Read more about their four selections.
Lexicon of Sustainability
Douglas Gayeton discussed his Lexicon of Sustainability, a fascinating project that dissects vague and potentially misleading vocabulary terms in the sustainable food world—e.g., fair trade, food desert, non-GMO. The project included informational artwork to demonstrate nearly 30 concepts.
Connecting to Culinary Roots
Ben Reade's research on edible insects took the topic in an unexpected direction. He was representing Copenhagen's Nordic Food Lab, which was founded by Chef René Redzepi to study new and underused foods—helping them flourish to create a more diverse culinary landscape. Tobacco crickets, for example, are already part of the food traditions of a small Aboriginal community in Australia that Reade recently visited. Since that community has already decoded how to properly catch, cook, and serve the crickets, why wouldn't we apply their knowledge just as with any other ingredient? He also predicted that insects will start entering into fine-dining settings as a delicacy—think East African termites instead of foie gras or truffles.
Vendor Samples
During a break, I checked out some of the exhibitors at the culinary expo, which was ongoing during the conference. I tasted everything from cold-smoked salmon with maitake mushrooms and lentil salad to an apple fritter made with panko bread crumbs and crispy english-muffin strips with cinnamon sugar and chocolate.
The New Food Fight
"Cooking is potentially our greatest weapon for eating healthy in an affordable way," said Sam Kass, a former Chicago chef who's now the executive director of Michelle Obama's Let's Move! campaign and the White House's senior policy adviser for nutrition policy. He and other panelists engaged in a heated discussion around food reform and the obesity epidemic, with topics ranging from calorie labeling and financial implications for packaged-goods companies to farm-bill regulations and positive incentives for SNAP and WIC users to buy healthy foods.
Chicago as a Culinary Capital
This session explored why Chicago has become a dining destination over the past 10 years. "Service to me in Chicago feels very different than it does in another city," said Plate magazine editor Chandra Ram, who moderated the session. Chefs and restaurateurs talked about the importance of a welcoming Midwestern spirit in tandem with excellent food and design. "We want to make sure that the technical aspects are there, but that's it's 'with a hug,'" said Donnie Madia, a managing partner in Blackbird, Avec, The Publican, The Violet Hour, Big Star, Publican Quality Meats, and Nico Osteria. Panelists also offered a few recommendations for visitors wanting to truly experience Chicago cuisine:
* Homaro Cantu (chef, iNG Restaurant): Freddy's Pizza
* John Ross (restaurateur, The Bristol and Balena): Avec and Yusho
* Bill Kim (chef, Urban Belly, Belly Shack, and BellyQ): La Bomba
* Donnie Madia: Jimmy's Red Hots, Gene & Jude's
Illustration by Lisa Ladehoff, Groupon
BY: Hillary Proctor
Hillary blogs about restaurants in Chicago and beyond at http://www.hillaryproctor.com/. She loves salted caramel, smoked salmon, and avocado-specific kitchen utensils.