You Can Take "Community's" Danny Pudi Out of Chicago, But You Can't Take the Kolacky Out of Danny Pudi
BY: Aimee Algas Alker |
Oct 17, 2013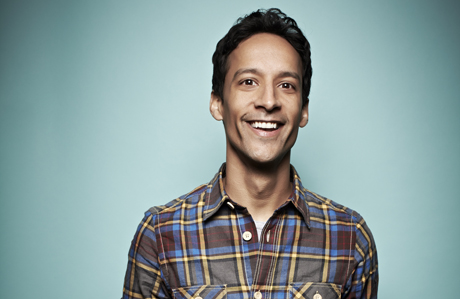 Is Danny Pudi a mama's boy? You might think so when you hear him wax poetic about his mom's specialty, homemade kolacky. Raised in the deeply Polish neighborhoods of Brighton Park and Jefferson Park, Danny's comfort foods are stick-to-your-ribs Eastern European fare. We chatted about his early days in Chicago, his go-to spots for Polish food, and who he'd want on his side in a food fight.
GROUPON: So where did you hang out when you were in high school?
DANNY PUDI: I would hang out in my garage a lot with my friends. Or I would hang out in my friend Jabar's basement or my friend Matt O'Grady's basement. Basements were where all high-school boys would hang out. And parks. Brooks Park, I would hang out a lot at. Oriole Park. So parks, basements, and garages… And Taco Burrito King on Harlem (5509 N. Harlem Ave.). Also Superdawg (6363 N. Milwaukee Ave.).
G: I love Superdawg!
DP: It's the best. The best. Me and my buddy Chris would go there all the time. For their shakes, fries, and hot dogs. Now I wanna go.
G: So when you're in the old neighborhood, where must you go to eat? DP: My immediate cravings are pizza, so we have to get some kind of pizza. My in-laws live near Barnaby's (several locations, including one in Des Plaines), which is really good, but my mom and I would probably get Dino's (7004 W. Higgins Rd.) or Suparossa (4256 N. Central Ave.). I do crave some Polish food, so something on Milwaukee Avenue would be good. And [first I'd go to] the deli, get some giardiniera. We can't get giardiniera out here [in LA], so I'd sneak in a bottle of giardiniera.
G: What do you put giardiniera on?
DP: On everything. On eggs. Scramble some eggs, put a little giardiniera on it; you're good for a while. Your breath is great for a while. In Chicago, you can get it anywhere. You can go to Potbelly's and get giardiniera. That's the great thing about Chicago; they value giardiniera. Any city that values giardiniera is a great city in my mind.
G: How does the Polish food in LA compare to Chicago?
DP: There isn't that much; there's like two restaurants here. In Chicago it's pretty ubiquitous; you go around every corner, especially on the Northwest Side or the South Side, you know, there's Polish restaurants everywhere. There's a larger community to appreciate it in Chicago, so I miss home. My mom was just visiting, and she brought me some good Polish bread. I miss the bread in Chicago. Chicago has some pretty good bread.
G: Where would you tell me to go for some good Polish food?
DP: Where my family frequently goes is Old Warsaw (4758 N. Harlem Ave., Harwood Heights), but there are a lot of places that are very good. Anywhere on Milwaukee Avenue, really. For me though, honestly, there's nothing like my mom's Polish food. That's the best.
G: What's the dish your mom makes that will bring you home every time?
DP: There's a whole list. The one thing that she probably enjoys making the most is—what are they called? A dessert. Hold on a sec...We'll get back to that. Bigos is my #1 meal. If she makes bigos, I'm in a very happy place. It's a polish stew with sauerkraut and vegetables, probably some sausage in there, and it's one of those things that the longer it sits on the stove, the better it gets. That's probably my favorite thing, with just a good piece of Polish dark bread. Especially because Polish food is designed to help people face the harshest winter, so it's really great for Chicago. So if I come home around Christmastime, I'm always looking forward to that. [Read about the bigos at Smak-Tak in Jefferson Park.] And then barszcz with pierogi, that's something we have on Christmas, and that's a red beet soup with these little dumplings that you can throw in there. That's another favorite meal, barszcz with pierogi. If my mom makes that, I'm ready to come home.
G: Can you share a story about a time that you freaked someone out because you broke out in fluent Polish and they weren't expecting it?
DP: Yeah, every time I go to Poland. Period. (Laughter) I've been to Poland five times, and literally every time I go there, I surprise pretty much everyone. You know, the customs people, the first cab driver I see, the first waiter, the hotel clerk, some of my old relatives that forget that I do speak Polish. It's kind of just a fact of life. There aren't many Indians who speak Polish, you know? I understand that you're going to be surprised, and I actually kind of enjoy it. Polish people are very welcoming, so they're always very impressed when you speak their language, especially because it's not easy to just pick up. It's not one of those languages that just rolls off your tongue. So I'm very thankful that I grew up with my grandparents, went to Polish school, and grew up with that foundation. It really comes in handy for me. There's nothing better than walking through Krakow and being able to order your bigos in the Polish language. It's an adventure for me. But yeah, I surprise many people.
G: What's a typical reaction?
DP: When I went to Poland with my wife for the first time—my wife's Irish, so she looks more Polish than I do—pretty much every restaurant we'd go to, I'd start ordering in Polish. One time in particular, the waiter kept responding to me in English and talking to my wife in Polish, as if she had taught me. And my wife would kind of shrug her shoulders. And he still went on—I would say something in Polish and he would look at me, and then sort of look to my wife before he responded in Polish, and she doesn't speak any. When I get to speak Polish, immediately I can't help but think of my grandparents, I can't help but think of my mom, I can't help but think of going to Polish school on the South Side of Chicago every Saturday morning, being forced to Polish dance, getting yelled at by my babysitter in Polish, being forced to eat another bowl of sauerkraut. Those things, they're a huge part of my upbringing, so for me it's a way to re-explore my childhood. I love telling people I grew up Polish. Then like five minutes after the bewilderment is finished, we're having shots of vodka and polkaing all around the room, so it's always exciting.
G: Can you talk about happy memories of celebrating a good show with Stir-Friday Night [Pudi's old comedy troupe]? Where would you go to eat afterward?
DP: That was one of the best parts about Stir-Friday Night. I almost couldn't wait to get the shows over with so we could all go and eat some good food afterwards. We would go to Chinatown or we would go to get good Indian food at Hema's Kitchen (two locations, including 2439 W. Devon Ave.). That's the nice thing about being in an Asian American comedy group: you will always eat well after a show no matter if it was good or bad. I remember one show almost crying afterwards because I was so disappointed in my performance, and Jennifer Liu and Ranjit Souri comforted me. And you know afterwards we went for Indian food at Hema's and immediately I forgot about my terrible performance on the stage. I think the key to good comedy is a good meal afterwards, just to put it in perspective. And even if you were bad, there's always the next show.
G: If you were in town, who would you have to go see perform?
DP: I would see TJ & Dave at the iO (3541 N. Clark St.). That's my favorite show in the world. It's a mind-blowing hour of improvisational comedy. It's a good reminder of why we do the work we do. It's a reminder of the places you can go.
G: My coworkers were wondering where you'd send Troy and Abed if they were to visit Chicago?
DP: We just went to the Kohl Children's Museum (2100 Patriot Blvd., Glenview), that'd be a good place for Troy and Abed. They'd probably have a great time at the Bean [at Millennium Park].
G: People often visit Chicago in the summer, because Chicago in the summer rules. But where would you take someone in the winter, so they don't leave hating our city?
DP: Chicago to me is the best food city in America. So I would go eat. I mean that's the great thing about Chicago: there are a lot of great hearty food options. Pizza. I like Pizano's (several locations). You could also do Lou Malnati's (several locations) or Pequod's (Lincoln Park and Morton Grove). Chicago also has some really good coffee. I would go to Julius Meinl, that's a great spot. There's just a lot of good restaurants. I go to Nightwood Restaurant (2119 S. Halsted St.) in Pilsen. So I would eat there, and then if you get a chance, go to a Bulls game. That would be a perfect day.
G: What food in your opinion makes the best food-fight ammo, and who would you want on your team?
DP: Noodles I think are fantastic. They're very difficult to throw, and it's kind of a wide spread; you can cast a wide net with it. So I would use noodles. I would throw them. And it's also pretty funny when you hit someone with a noodle. And who I'd want on my team, to throw stuff? Anybody who has three arms—or anybody who's really tall. Anybody who's not really allergic to any foods either. You don't want anyone who has a lot of food allergies.
G: Do you remember what you were talking about before, that your mom likes to make the most?
DP: Yes! My mom's famous desserts, kolacky. That's like her specialty, they're freaking amazing. When I get home and I can smell them, and they're like freshly baked and flaky, and she makes them with different kinds of jam in the middle, it's phenomenal. I'm gonna go cry now. I'm hungry. I miss Chicago.
Photo by © Dan Busta