Restaurants in Green Valley
---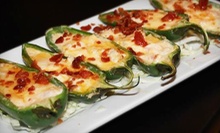 Beer, wine, and cocktails made with house-infused vodkas wash down jalapeño poppers with shrimp and gooey chicken quesadillas
---
Recommended Restaurants by Groupon Customers
---
As co-owner Chris Yap told Tucson Weekly in 2006, "We want to establish Malaysian cuisine as world-class, affordable cuisine." To introduce diners to the gustatory mélange of Malaysian culture, which includes influences from southeastern Asia, India, and China, the chefs rely on generations-old family recipes. Coconut cream, turmeric, cumin, ginger, and spicy shrimp paste lend these recipes their distinctly pan-regional flavors, appearing in fiery curries as well as savory orders of lemak. Brimming with meats such as beef, scallops, or salmon, the generously portioned dishes are served family style, which allows them to better feed small groups of diners or wind-up chattering teeth. The atmosphere in which diners enjoy this globally inspired fare features mellifluous background music and dim lighting, an aesthetic unity that makes the ambiance elegant and comfortable.
6133 E Broadway Blvd.
Tucson
Arizona
520-747-7811
Beneath the gaze of the numerous chimps painted on Nimbus American Bistro N' Brewery's walls, the Tuscan-based brewery's craft beers mingle with gourmet versions of pub favorites. Chef Josh Tomczyk and his kitchen crew simmer fresh seafood and meats in beer-based sauces before transforming them into burgers, pasta dishes, and steaks. Their wood-fired oven bakes artisanal pizzas, pairing with specialty cocktails or pints of Nimbus pilsners, stouts, and ales. In the expansive dining room, warm lights and vibrant brewery-inspired murals dazzle eyes from the ceiling, and rows of tables and booths scatter the hardwood floors. A patio hosts outdoor dining, welcoming patrons to bring along their dogs or goldfish disguised as dogs. The restaurant hosts special events throughout the week, including pool tournaments on Tuesdays and live entertainment on Saturdays.
6464 E Tanque Verde Rd.
Tucson
Arizona
520-269-6309
A mohawked mannequin casts its empty gaze over locals exchanging banter at the bar. A prop mermaid becomes a conversation piece in a smoke shop repurposed into a laid-back sitting room. A giant, velvet Elvis figurine reminds live rock 'n' roll bands who's still the king. [-[Tucson Underground](http://bit.ly/M6Fx8i) describes Surly Wench Pub's one-of-a-kind atmosphere as "a great cross between a dive bar and a rock club," while others relate the pub's unique embellishments to the aesthetics of the Pirates of the Caribbean and The Haunted Mansion thrill rides. Aside from acquiring a treasure trove's worth of lowbrow art, absurd memorabilia, and creepy Victorian collectables, the lively pub fuels all-night revelry with pool tables, frosty brews, and a jukebox that spins everything from Patsy Cline to Joan Jett.
Surly Wench Pub's calendar of live entertainment allows it to transition from chill weeknights to raucous weekends that draw crowds as diverse as a rally to make Mondays illegal. Regularly scheduled special events––such as burlesque performances and eclectic art shows––fill the uniquely festooned haunt with new and regular visitors who don't care what label you want to put on a good time.:m]]
424 N 4th Ave.
Tucson
Arizona
520-882-0009
For more than 20 years, the chefs at Ali Baba Restaurant have churned out healthy and flavorful Mediterranean and Lebanese meals. They pile plates with traditional Mediterranean specialties, including seasoned gyros and beef shish kebabs, and Persian delicacies such as lamb filet steak and joujeh kebabs, each served with basmati rice and spiced onion. Turkish coffee and Persian iced tea lend every dish an authentic edge. With a private event area capable of seating 90, a resident hookah lounge open every day, and weekend belly-dancing shows, the spacious eatery possesses more entertainment value than an ice-skating rink populated by overcaffeinated cats.
2545 E Speedway Blvd. , Suite 125
Tucson
Arizona
520-319-2559
---