These Wellness Retreats Make the Best Vacations
BY: Editors |
Dec 26, 2018
In a way, relaxing vacations have similar benefits to wellness retreats in that they offer a chance to reboot the mind and body and escape the workaday routine. But for those looking for a more focused way to push the reset button, wellness resort programs that instill balance, healthy habits, and other keys to a better life are the way to go. Here are three additional reasons why a yoga retreat, spa vacation, or meditation resort could be worth your vacation time and money.

Sycamore Mineral Springs Resort & Spa, San Luis Obispo, California
Yoga Retreats Help You Reconnect with Nature
Though your days will be structured, the setting is tranquil and spiritual, and you'll likely be given time to explore the natural surroundings (many resorts are located near the beach or in tropical jungles). Yoga classes are a given; they're usually paired with instruction in balance-instilling techniques like meditation.
Other benefits of a yoga retreat

: Rejuvenation, relaxation, and a chance to hone your practice

Who should go

: Anyone serious about yoga, even if you're a beginner still collecting the

right gear

We recommend

:

Though not explicitly a yoga retreat, the

Sycamore Mineral Springs Resort & Spa in San Luis Obispo, California

, offers daily yoga classes that guests can enjoy in between dips in its healing mineral springs. The classes are included in every stay.
Thinking about trying yoga for the first time? Read our yoga guide for beginners.
CLICK HERE TO GET A DEAL FOR SYCAMORE MINERAL SPRINGS RESORT & SPA IN SAN LUIS OBISPO.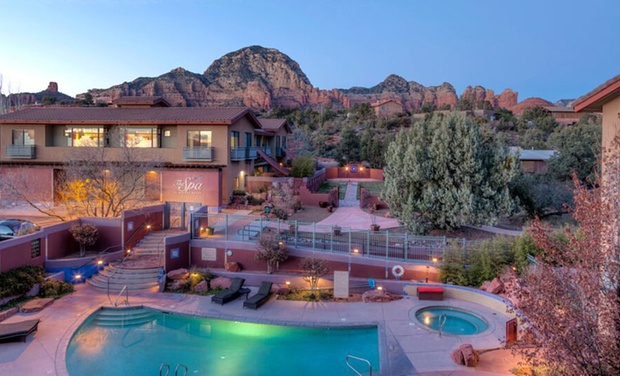 Sedona Rouge Hotel & Spa, Sedona, Arizona
Spa Vacations Help You Reconnect with Yourself
While you won't be without opportunities for socializing, the main draw of a wellness spa retreat is the opportunity to enjoy peace and quiet while getting pampered. Many of these wellness retreats are at least semi-secluded, surrounding visitors in nature and allowing them to totally tune out from the outside world.
Other benefits of a spa vacation

: From facials to massages to one-of-a-kind beauty treatments, a spa vacation might leave you feeling

and

looking better than you ever have before.

Who should go:

Anyone who needs a break from their emails or those in need of some major muscle un-knotting

We recommend

:

Sedona Rouge Hotel & Spa in Sedona, Arizona

, a four-star hotel in a gorgeous setting among the red rocks. If you opt for our deal, you'll get a $20 per day spa credit to use toward such treatments as a Wildflower West facial using local plants and a massage using hot stones and warm oil.
CLICK HERE TO GET A DEAL FOR SEDONA ROUGE HOTEL & SPA IN SEDONA.
Travaasa Hana, Maui, Hawaii
Meditation Retreats Help Clear Your Head
The daily routine at a meditation retreat is probably the least physically rigorous of any of the wellness resorts we've examined. Instead, the focus here is on mindfulness and spiritual renewal, offering you a chance to clear your head, reconnect with yourself or a loved one, experience nature, and unplug from technology.
Other benefits of a meditation retreat

: Mental renewal, stress relief, and spiritual nourishment

Who should go

: Anybody who feels stressed out by the rat race—which should cover just about all of us

We recommend

:

Travaasa Hana in Maui, Hawaii

, where guided meditation sessions teach breathing and visualization techniques in a so-lovely-it-almost-hurts Maui setting. Travaasa was recently voted the No. 1 Maui experiential retreat in the 2018

Hawai'i Magazine

Best of the Best readers' choice awards.
Our editor talks trying guided meditation for the first time and the importance of self-reflection.
CLICK HERE TO GET A DEAL FOR TRAVAASA HANA IN MAUI.
RELATED READS:
BY: Editors
The Guide: we cover the coolest food, beauty, and entertainment trends happening nationwide.