Deschutes Brewery's Mirror Pond, the Most Northwestern of Pale Ales
BY: Shannon Jewitt |
Jun 13, 2014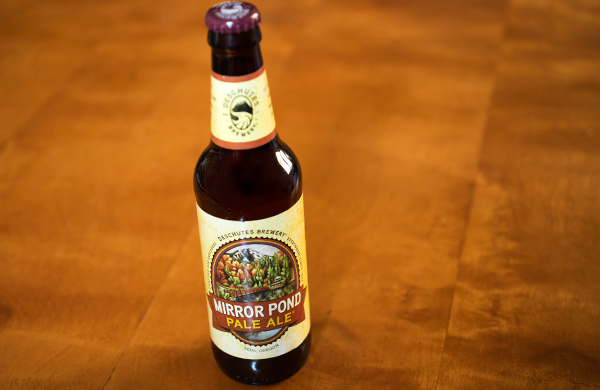 There are almost 3,000 craft breweries in the United States. In this edition of Beer Stalker, we investigate Deschutes Brewery's Mirror Pond Pale Ale, the beer's commitment to its Northwest roots, and Oregon's outdoor activities.
The beer:
Deschutes Brewery
's Mirror Pond Pale Ale
Malts:
Pale, NW Pale, Crystal, Carapils
Hops:
Cascade, Munich
Style:
Deschutes's website describes it as the "quintessential Northwest pale ale"
What makes Mirror Pond so Northwestern?
It uses Cascade hops from the area, malted barley from the Northwest, and water from the Cascade Mountains, said Cam O'Connor, one of Deschutes's brewmasters. It's also a Northwest drinker's type of ale, he said, because with a 5% ABV, people can drink more than one.
Why is Deschutes Brewery's location so great for brewing beer?
Deschutes is located in Bend, Oregon, southeast of Portland. "We're in a pretty good spot," O'Connor said. The brewery is a few hours away from both the Yakima and Willamette Valleys, which are two of the country's top hop-growing regions. The Yakima Valley also grows grain used by Deschutes. In addition, right across the river in Vancouver, Washington, is Great Western Malting, which sells local malts to Deschutes.
If Mirror Pond were an outdoor activity, what would it be?
"A nice hike up in one of the Cascade Mountains, just one of the trails," O'Connor said. Perhaps near a waterfall, with a nice pond at the end of it. Because it has such a low alcohol content, people can enjoy one while hiking through the mountains.
What food pairs well with Mirror Pond?
O'Connor has tried the pale ale with various dishes, ranging from spicy meals to soups. He also suggested drinking Mirror Pond with chicken or pork chops because of its citrus and floral notes. The beer is well balanced, so it's versatile when it comes to food pairings, he said.
What are some other good pale ales?
O'Connor previously worked at Sierra Nevada Brewing Co., so
its pale ale
was on his list of suggestions. "It's a great American classic pale ale," he said. He's also a fan of nearby BridgePort Brewing Company's Blue Heron, another american pale ale.
Photo by Andrew Nawrocki, Groupon
Shop for local deals in beer, wine, or spirits.
Read more Beer Stalkers and check out more craft-beer coverage on the Guide.
BY: Shannon Jewitt
Resident Beer Stalker Shannon has an insatiable thirst for craft beer. Despite being a vegetarian, she always makes an exception for fries cooked in duck fat.