GROUPON GUIDE TO WASHINGTON-DC
Remember When Men Wore Nightgowns?
BY: Michelle Schuman |
Aug 11, 2014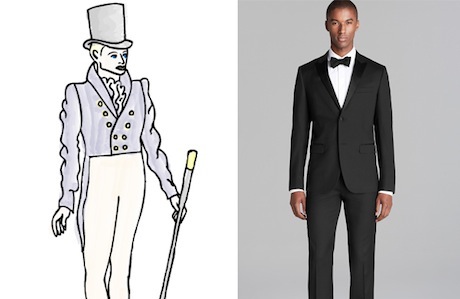 At the spring 2014 runway shows, designers proved that men's fashion can be
just as cyclical as women's fashion
. Raf Simons showed
collared onesies
reminiscent of Victorian-era jumpers, and Dries Van Noten revisited the
short shorts
of the mid-20th century. These looks may not appeal to today's everyman, but there was a time they did. When looking back through the history of men's fashion, one would have to wonder if past generations wouldn't find jeans and business suits more radical than, say, a cape or a neck ruff. To illustrate just how much (and how often) men's fashion really changes, we revisited some common garments from the last 150 years and compared them to their modern alternatives.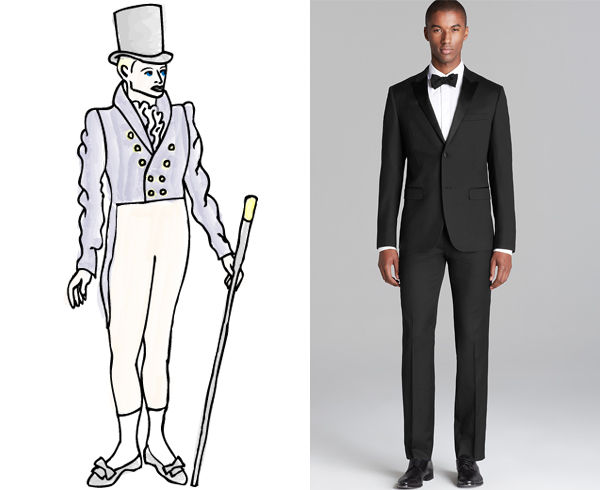 Formalwear
In the 1820s:
During this time, dandyism made it fashionable for men to create an almost hourglass silhouette with puffed shoulders, corseted jackets, and pleated trousers that flared at the hip. Evening shirts were heavily pleated or frilled, and collars stood tall and stiff. A cravat or stock (a band of fine, pleated linen) was often fastened around the neck for extra flourish. French top hats also became increasingly popular.
The dandys weren't the only ones to bend gender norms. Read more about androgynous fashion.
Now:
Today, the tuxedo reigns supreme. While black is still the classic option, more recent designs have introduced
contrasting lapels
and even
shorts
.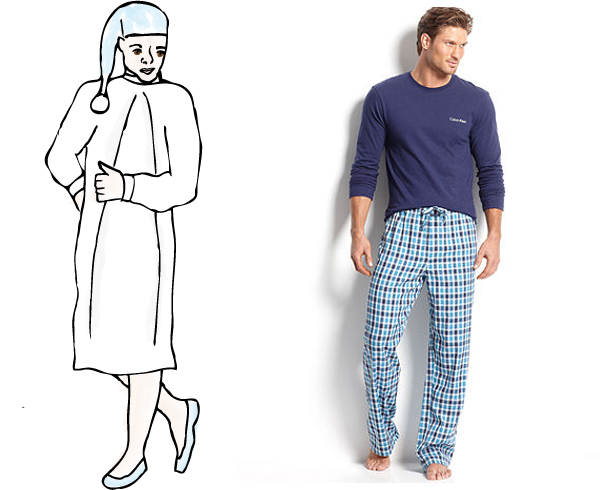 Pajamas
In the 1870s:
Though more popular with women these days, nightgowns were once gender-neutral. Often worn with a nightcap, these historical garments (also called nightshirts) usually featured a button placket that extended from the hem up to the plain, turned-down collar. Slitted sides and gussets made it easier for men to move about.
Now:
Unless they're
Karl Lagerfeld
, most modern men have abandoned nightgowns in favor of T-shirts, shorts, underwear, or sweatpants. For men with significant others, may we also suggest classic two-piece sets? You can sport the bottoms and share the top with your partner.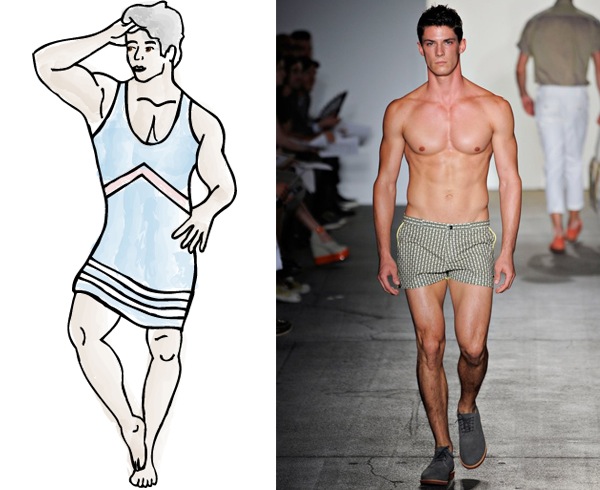 Swimwear
In the 1910s:
Though these skirted tank suits abided by the era's modesty standards, they actually showed
way
more skin than their predecessors, which extended to the elbow
and
knee. If a man didn't like the tank suit, his only recourse was a pair of flannel, knee-length pants and vest.
Now:
Attitudes toward swimwear have become far less prudish over the past century. Not only are today's board shorts reviving the mid-20th century's shorter hemlines, but international designers have popularized swim briefs and thongs. French brand Alter even debuted a single-strap thong that wraps around only one hip.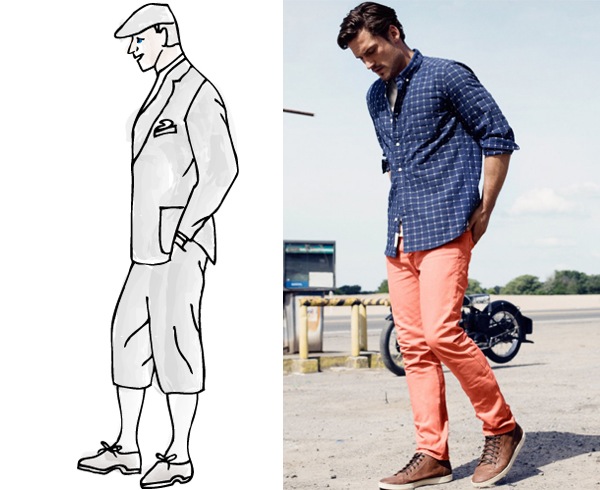 Casual Attire
In the 1920s:
The modern suit started gaining popularity during the 1920s, with one big difference—knickers were more popular than full-length pants. These short pants banded just below the knee and were traditionally paired with high socks and
golf
or
Norfolk
coats.
Now:
While staples such as khakis, sneakers, and jeans remain the norm, casual attire is perhaps where men's fashion has become the most experimental. Not only are bright colors more common, but unisex designs such as leggings and harem pants are increasingly popular.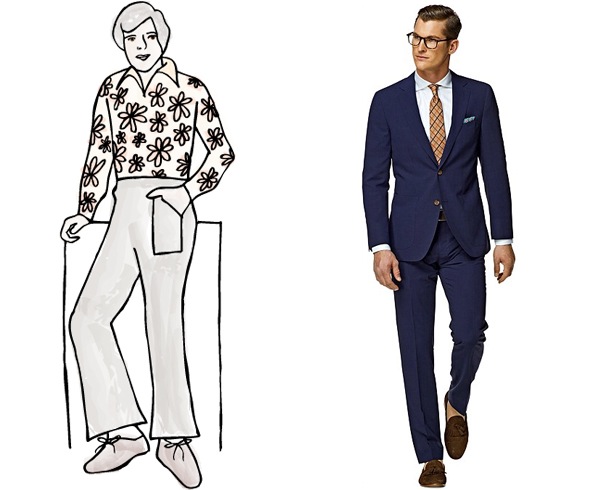 Business Attire
In the 1970s:
Like most things in this decade, businesswear was bold. Suits were popular, of course, and they were often cut from colorful textiles in bell-bottomed silhouettes. Slim-cut shirts were clingy, with large collars and attention-getting patterns.
Now:
After the more conservative suits of the '80s, '90s, and '00s, designers like Tom Ford are helping to
make color workplace-appropriate again
. This trend seems to be somewhat relegated to the runways for now, though brands such as
Suitsupply
are starting to offer designs in bright colors and bold patterns.
Shop for these men's trends on ideeli.
Illustrations by Jessica Duff, Groupon; Photos from Bloomingdale's, Macy's, Parke & Ronen, H&M, and Suitsupply.