Things to Do in Tonawanda
---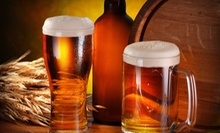 Tour buses shuttle guests to three nearby microbreweries and two wineries for trivia and tastings, with a stop for lunch in the middle
---
Recommended Things to Do by Groupon Customers
---
The Lackawanna headquarters of Phoenix Scuba and Water Sports is situated so that it attracts both Canadian diving enthusiasts who drop in from the Niagara Peninsula as well as divers from throughout western New York State. Recreational-minded beginners hop into the facility's indoor pool to build skills and underwater experience before venturing out to the open water on one of the company's scuba charters. Meanwhile, Phoenix's veteran instructors work with professional divers-in-training who are trying to become certified. Instructional programs are also offered in adaptive diving, which trains those with physical disabilities to safely enjoy the joys of scuba. Through the years, the resident community of adaptive divers has made trips to exotic locales such as the Cayman Islands, where divers explore the ocean's depths and play Battleship underwater.:m]
619 Ridge Rd.
Lackawanna
New York
716-822-2816
The 12-foot-wide vertical wind tunnel at Niagara Freefall Indoor Skydiving & Interactive Center stretches 20 feet to the ceiling. Inside, it churns with currents of recirculating air—a system that allows its operators to control the wind conditions and temperature regardless of outside weather. Padded walls and floors, as well as trained instructors, keep those inside safe as they're borne aloft by currents of up to 120 miles per hour. Instructors prepare adventurers—who may be as young as 7 years old—for these turbulent conditions during preflight training sessions, during which they divulge flight physics, safety, and communication hand signals. They also encase their visitors in all necessary safety gear, such as helmets, pads, flight suits, and invisible force fields.
6357 Stanley Ave.
Niagara Falls
Ontario
905-356-9764
A trio of 18-hole miniature-golf courses, more than 60 interactive arcade and ticket-rewarding games, and a teddy-bear factory beckon kids to all of the varied activities at Adventure Landing. Siblings can wager their Monopoly winnings on hitting below par at their choice of lushly landscaped mini-golf greens studded with tunnels and waterfalls, or challenge parents in the arcade. Before fielding slow, medium, and fast baseballs or softballs at Adventure Landing's seven batting cages, guests can fuel their bat-swinging biceps at the themed snack bar. Creativity also comes into play at the teddy-bear factory, where visitors can make plush friends according to their personal specifications.
2400 Sheridan Dr.
Tonawanda
New York
A massive glass dome reminiscent of the Victorian Crystal Palace and verdant plant life stretching their green leaves toward the sun attract visitors to the Buffalo Botanical Gardens. The gardens span 11 acres and include three glass domes and nine greenhouses full of re-created tropical and subtropical climates. In the Fern House and tropical rainforest, banana trees surround a 30-foot waterfall as large dinosaur topiaries roam across a backdrop of hanging ferns.
Called a living museum, the botanical gardens is dedicated to enriching lives with nature and teaching guests to appreciate the natural systems and diverse plant life the earth sustains. Visitors can soak up Mother Nature's splendor in addition to manmade wonders such as the 67-foot-tall Palm Dome.
2655 S Park Ave.
Buffalo
New York
---