There's More to Wearing All White Than Not Spilling
BY: Kelly MacDowell |
May 21, 2015
Shop the look: Chalk-white Talco tote, Prada ($2,109.99); White cork-wedge sandal, Carrini ($29.99)
Memorial Day is nearly upon us, which means it's time to raid your wardrobe and start wearing white. (And to read up on tips for keeping your whites white.)
We love the idea of rocking the color head to toe, but it's not quite as simple as it sounds. Below, we break down four tricks to going monochromatic this summer.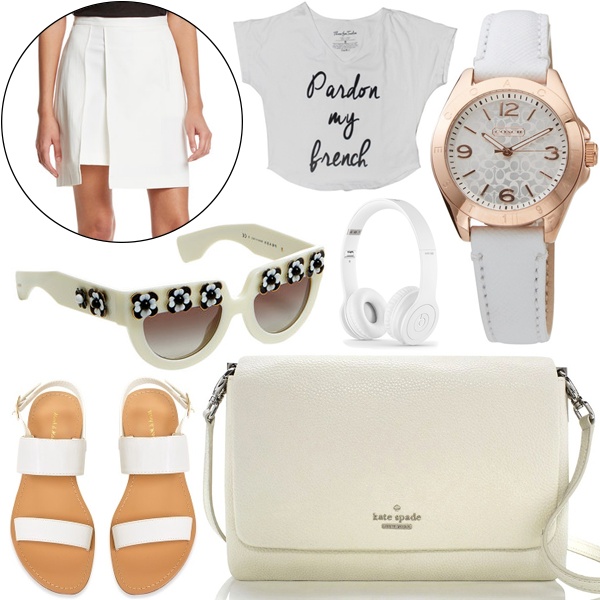 Clockwise from top left: Isabela A-line skirt, French Connection ($34.99); Pardon My French white crop top, Devine79 ($9.99); Tristen watch, Coach ($149.99); Gramercy Drive bright white crossbody, Kate Spade ($299.99); Strap sandal, Mark & Maddux ($12.99); Flower sunglasses, Prada ($229.99); Beats Solo HD headphones with mic, Beats by Dre ($119.99)
1. Wearing white doesn't have to be boring.
There's nothing wrong with a white tee, but a little bit of structure or texture (think pleats or lace) can go a long way with adding visual interest. So can unexpected silhouettes, as with the asymmetrical skirt above.
2. A (tiny) pop of color is OK.
Especially classic colors like red or black. The black details on the sunglasses and tee above don't detract from the all-white vibe, and neither would a great red lip.
3. Don't overdo it on accessories.
Try not to think of an all-white outfit as carte blanche for piling on accessories. Less is still more—opt for a simple watch, handbag, and shoe to keep this look really clean.
4. The matching game doesn't have to end with your outfit.
To take your ensemble to the next level, think about incorporating other personal items into the color story: headphones, tablet covers, phone cases… the possibilities are endless.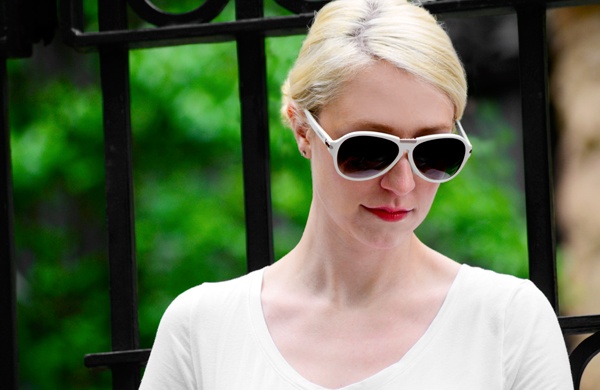 Read more style tips: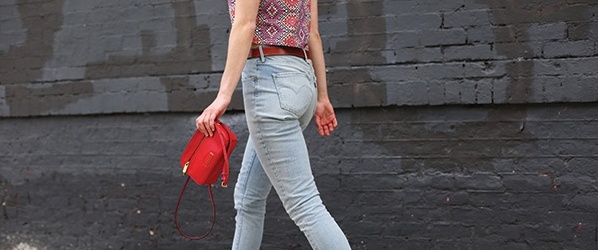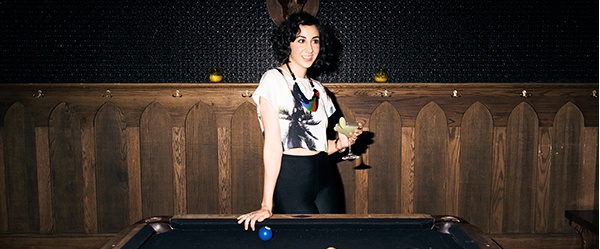 BY: Kelly MacDowell
Kelly's first concert was Fleetwood Mac and her first career was in the beauty industry. Now a style and music writer, she loves Project Runway and her dog, Watson.