Things to Do in Elyria
---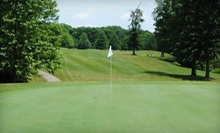 18-hole course established in 1925 sprawls across hilly, densely wooded terrain
---
Recommended Things to Do by Groupon Customers
---
Summertime breezes wander from the shores of Lake Erie to whistle through clinking glasses at the Lake Erie Wine Fest, where casual and seasoned sippers alike gather annually to discuss, learn about, and taste-test different wines. Throughout the weekend, participating wineries showcase products to festival attendees, who can take their grape-fueled zest to the next level by absorbing viticulture lectures or promising to name their next child after a favorite sample. Food and wine demonstrations dish out tips for palatable pairing, and bands and craft stands amplify festive airs with live tunes and wine-related wares.
5481 Lake Rd. E
Geneva-on-the-Lake
Ohio
A 6-inch perch strikes a baited minnow, and then a 26-inch walleye inhales them both. The boy landing this prize catch—who also happens to be a first-timer—reels as his teammates cheer so loudly that Captain Alan Maier isn't even sure that his handling tips are audible over the excitement. Once the fish reaches the boat side, the captain nets the walleye and encourages the boys—all members of his grandson's little league baseball team—to capture the moment with a picture.
Maier charters fishing excursions for perch and walleye so that anglers of all ages can have memories like these, which prompt Maier to recall all of the trips he had with his dad that ended with one of them saying, "let's catch just one more." Welcoming parties aboard his roomy Thompson Fisherman boat—measuring 27 feet long by 10 feet wide and equipped with a sun-shielding hardtop—the licensed captain launches from various docks in the area and then heads toward the western basin of Lake Erie. Trips furnish all equipment, including bait, ice, and coolers to hold catches. Guests are also welcome to bring their own rods, reels, and lures shaped like BLTs.
6965 E Harbor Rd. , Slip 16
Marblehead
Ohio
330-414-7125
Gravity loses its grip near the shores of Sandusky, Ohio. Here, certified instructors strap customers into a water jetpack's five-point quick-release harness, which uses twin streams of high-pressured water to elevate adventurers up to 30 feet in the air. Attached to a nearby boat, the system's 200-horsepower engine pumps water through a 30-foot hose and churns through a staggering 1,000 gallons per minute. This allows jetpack pilots to run along the water, speed through smooth turns, and dive below the surface. Back on the shore, instructors can remotely control the jetpack's throttle, which allows beginner pilots to stay focused on games of extreme Marco Polo.
1615 First St.
Sandusky
Ohio
US
740-359-8463
North Coast Parasail lofts guests high above the freshwater majesty of Lake Erie with gravity-defying parasailing excursions. Drift kite-like through the atmosphere during a 10-minute parasailing experience, which safely suspends adventurers at the end of an 800-foot towline. Breeze cruises deliver picturesque panoramas of Sandusky, Cedar Point, and the rarely seen tops of tall beachgoers' heads. Participants snag a complimentary T-shirt as well as a disposable camera good for capturing images of your feet dangling several hundred feet above the water.
1 Cedar Point Dr.
Sandusky
Ohio
---