Shopping in Goshen
---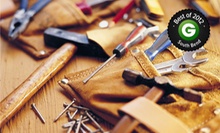 Dedicated handypeople equip homeowners with tools and supplies for protecting homes against seasonal changes
---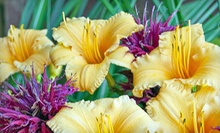 Gardeners cultivate bare-root hostas, daylilies, Japanese maples & ornamental plants to buy online or at nursery in Walkerton
---
Recommended Shopping by Groupon Customers
---
At Northside Galleries, $90 worth of services goes a long way, approximately furnishing a black-framed single mat for an 11"x14" diploma ($95), a single floated mat and mounting for a framed 10"x12" piece of art ($89), or a double-matted glossy 8"x10" ($99) for a portrait of a cow balancing a papaya on its nose. Northside has more framing options than even Teddy Roosevelt can shake a stick at, though 30 framing profiles are handy for quick project solutions. Standard and acid-free mountings are available, along with stretching for jerseys and glass with reflection control and UV reduction. Frames range from plain to museum quality in a variety of styles ($3.50/foot to $70/foot), so take your time while perusing the chevrons of potential style.
335 E. State Blvd
Fort Wayne
Indiana
Since Dr. Stanley Pearle opened the doors to the first Pearle Vision in 1961, the franchise has expanded to more than 800 stores nationwide. In these stores, optometrists assess the ocular health of patients before onsite opticians help them navigate the assortment of frames from brands such as Versace, Ray-Ban, and DKNY. If they're not in the store, clients can utilize the Try-On tool, uploading a photo to see what they or their dog looks like in different types of glasses. Pearle Vision also helps focus the world with contacts from Acuvue and Biofinity.
6410 S Westnedge Ave.
Portage
Michigan
The staff at Wisman's Appliance Service has kept kitchens running smoothly with appliance sales, repairs, and parts since 1952. The shop carries a fleet of fridges, microwaves, and freezers by name brands such as Frigidaire, Maytag, GE, Amana, Whirlpool, and KitchenAid. In addition to new and used machines, they carry discounted "Scratch and Dent" models that garnered minor bruises while being shipped or accidentally used as a piñata.
242 Fernhill Ave.
Fort Wayne
Indiana
Wedding parties. Families. Graduating seniors. These are just a few of the subjects that attract the lenses of Classic Image Photography's resident artists. After free consultations, photographer Nicole Waldron and videographer Mike Trentacosti capture still and moving images with a combination of photojournalistic, traditional, and artistic styles. They then edit video and transform images into everything from custom storybook albums to metal prints.
When not at the studio, Ms. Waldron and Mr. Trentacosti hone their skills by snapping photos all over the country. In fact, customers can purchase some of Ms. Waldron's favorite images from her travels, such as the back roads of Utah or the spaghetti mountains of Colorado.
311 Florence Ave.
Granger
Indiana
574-855-1435
MustHaveShoes.com's interactive site pairs feet with stylish new friends, crunching metrics that include size, price range, and style before suggesting pairs that match your ultra-specific criteria. Enter in a keyword or characteristic such as "sexy" or "Paleolithic," then page through options such as Madeline Gabean's glam sidewalk stompers in chili-pepper red ($59). Typing in brands such as Poetic Licence brings up more than 100 different styles of heels, flats, and sandals, and keying in cryptic words such as "weird" returns a mishmash of ocular delights, including Electrica Love in silver pink ($146). MustHaveShoes.com speeds its carefully packaged cargo via domestic UPS ground shipping free of charge or passive-aggressive Post-it notes.
1501 South Clinton Street
Fort Wayne
Indiana
US
When bikes fall ill, they can drag themselves over to The Avenue Bicycle Station and ask for John and Margie Hall, who not only sell bikes but repair and restore young and old two-wheelers alike. The Halls—whose shop is an outlet for Schwinn, Mongoose, and GT velocipedes and their closest relatives, Star Trac spinner bikes—have the chops and tools to fix up even the most busted of bicycles while extending the legacy of former store owners, Scott and Hanna Kelsey. Their pick-up and drop-off service lends a helping hand to busy riders on Tuesdays and Thursdays. To aid home bike technicians and entrepreneurs looking to invent Bike 2.0, they've amassed piles and piles of hard-to-find and vintage parts in a special salvage yard.
2716 Mishawaka Ave.
South Bend
Indiana
574-855-2453
---