Shopping in Lubbock
---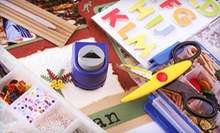 Paper, stamps, stickers, and other scrapbooking essentials as well as custom quilts made from T-shirts
---
Recommended Shopping by Groupon Customers
---
Party Plus Warehouse supplies the necessary ingredients for memorable events. Hosts can pick up hats, paper goods, and custom-designed banners to add colorful accents to birthday parties or baby showers, and find graduation-themed accessories to celebrate scholastic achievements. Staff members can string balloons in shapes such as palm trees or archways to grant attendees both an eye-catching setting and a reassurance that no porcupines RSVP'd. Party Plus also supplies Halloween costumes for spooky revelries, and rents popcorn machines and arcade games to amplify festivities.
66th & University Ave.
Lubbock
Texas
806-795-1443
Katrina Kohnle and her husband had always talked about opening their own business. So in 2006, the mother of three left her job as a dermatology sales rep and founded Out on the Patio. Initially, Katrina envisioned her store as a place where customers could simply gather design ideas for outdoor projects or connect with design vendors. She soon discovered, though, that with furniture as with flamethrowers, people enjoyed testing items in the store before buying them. Katrina obliged by adding more and more furniture lines to her show room, which now contains everything from tables and bar stools to fire pits and heaters.
5308 Country Rd. , Suite 7550
Lubbock
Texas
806-777-5461
Run by a crew of board-sport enthusiasts, Riptank Boardshop outfits riders with wakeboards, skateboards, snowboards, and tons of auxiliary accessories and gear. Along with T-shirts, thermals, and hoodies for both men and women, the shop stocks Billabong vests for wakeboarders, wheels for skaters, and goggles that shield snowboarders from snow powder and the kisses of overly affectionate yetis. Meanwhile, outside the shop, Riptank hosts numerous events, such as contests and pro demos.
2400 Glenna Goodacre Blvd., Suite 106 B
Lubbock
Texas
806-799-8265
Knowledgeable staffers roam the aisles of family-owned Natural Health Market's two locations, ready to recommend the proper protein supplement, vitamin mix, or health and beauty aid to customers. Fish oils from Nordic Naturals and Renew Life provide much-needed omega-3 fatty acids, boosting heart health and making you irresistible to merpeople. Meanwhile, Nature's Gate lotion, toothpaste, and other body products work in tandem with Vita Logic and New Chapter multivitamins to give skin and hair a radiant glow that comes in handy when reading in the dark.
3833 50th St., Suite 4
Lubbock
Texas
806-788-1424
Helmed by a family of triathletes and swimmers, Hydro-Train Outfitters unites land and sea with shelf after shelf of swimming, cycling, and running gear. The Speedo logo flashes across hydro-speed swimsuits and jammers, accompanied by goggles and masks by Aqua Sphere. Polar Tech sunglasses and TYR visors shade eyes from harsh sun rays, and Swimovate stopwatches help to track swimmers' strokes, heart rate, and gill production.
5701 Slide Rd.
Lubbock
Texas
806-780-2938
Along Benisse's abundant shelves and racks, a kaleidoscopic amalgamation of clothing, jewelry, and home ornaments illustrates the vintage inspirations that yielded the boutique and gift shop's extensive inventory. Staffers cull a diverse collection of elegant accessories, such as necklaces and bracelets, alongside wardrobe staples such as tops, jackets, and Jacobean ruffs. A smattering of original artwork punctuates the colorful inventory, which also includes a flurry of home accessories such as wine glasses and candles.
2610 Salem Ave. , Suite 3
Lubbock
Texas
806-292-6587
---