I'm Turning 30 Tomorrow. Here's What My 20s Taught Me About Beauty.
BY: Favin the Maven |
Oct 20, 2014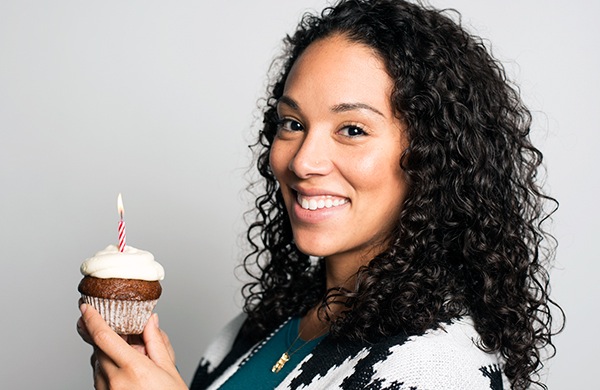 I'm turning 30 on October 21. It's a big milestone, but so far, I don't feel
that
different—just a little more curious about
anti-aging skincare treatments
. And, well, a little wiser! I've learned a lot about beauty in the past 10 years or so, mostly because I was willing to make mistakes along the way. Here are the top lessons that I'm bringing with me into my 30s.
1. Bold is beautiful.
I've always been intimidated by bold lipstick colors, but after experimenting with them a bunch, I'm so excited to incorporate
colors like lavender and gray
more often. That said, pairing bold eyes with a bold lip? Overkill, in my book. At least at work.
See my take on fall's purple lip trend here.
2. Trying makeup on before you buy it will save you some major hassle.
One time, I got some glittery eye shadow. I thought it would be shimmery and chic, but it ended up flaking all over my face—and into my eyes. Don't worry about inconveniencing the good people at Sephora by asking for a trial, and don't get pressured into buying something you're iffy about! Learning to say "No thanks, I don't think that's for me," is a valuable skill. (I still could use some practice.)
Read more about how to navigate Sephora like a pro.
3. Using toner is actually an important step for moisturizing your skin.
I didn't understand why until LUSH and its skincare specialists explained it to me. Basically, it primes your face, so your moisturizer can penetrate deeper. Now, I can't skip LUSH's
Eau Roma Water Toner
!
How crazy am I about LUSH? Let me count the ways.

4. Wash your pillowcases.
Seriously, I can't emphasize this enough. I wash mine at least once a week. It's probably the biggest skincare life hack that I know of, besides not smushing your phone against your face when you take a call. It's significantly cut down on my breakouts.
Check out 60 more of my beauty life hacks!
5. I might sound like a broken record when it comes to sunscreen, but wear sunscreen.
It's especially important if skin cancer runs in your family, like it does in mine. Everyone should do it, though. Slather it on. Fill a bathtub with it. Why are you still reading this?
Go put on some sunscreen
.
Here's further proof of my sunscreen obsession
.
6. Beauty accidents are a chance for change.
I learned this after a stylist cut off 6 inches of my hair even though I only wanted a trim. I left the salon in tears and called my mom to cry it out. Since then, I've accepted that I can't make my hair grow overnight (
even if I put a ton of Monistat in it
). More than that, I'm trying to embrace the new look. New decade? New hair.

7. The biggest lesson I've learned? Trying for perfection isn't worth it.
Looking "perfect" requires you to compare yourself to everyone else and then aim to be better. Instead, I'm going to try and define beauty for myself, which means loving my
eyelash extensions
as well as the fact that I'll never be a size 4. It's been said before, but beauty really does come from confidence. Speaking of confidence—I'm confident that my 30s will be just as awesome as my 20s and that I'll learn just as much from them!
BY: Favin the Maven
For me, both beauty and fashion need to be accessible and not intimidating. I love a great deal and a good DIY beauty treatment. I pride myself on trying new trends, being open minded and getting a great treatment without breaking the bank. In the name of beauty I will try anything once.