Our Top 60 Beauty Hacks
BY: Favin the Maven |
Jun 23, 2014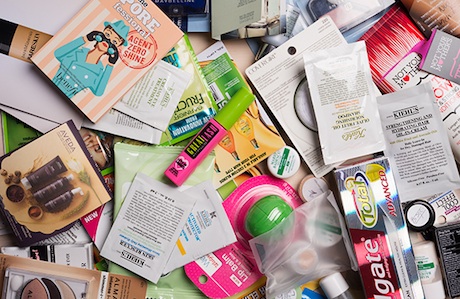 Everybody has a few weird but helpful beauty tips that they're dying to share. I asked my coworkers for theirs, and soon enough, we had a gigantic list.

1. Mascara drying out? Add a few drops of saline to help it
last a little longer
. 2. Never pump your mascara wand—it makes mascara dry out faster. Spin the wand instead. 3. Once mascara
is
spent, clean the wand and keep it as a brow-grooming tool. 4. If your pressed powder or eye shadow shatters, pour rubbing alcohol over it, mix it until it makes a paste, flatten it back out, and let it dry overnight. By morning it'll be solid again.

5. Before putting on lipstick, exfoliate your lips by lightly brushing them with a wet, soft-bristle toothbrush. 6. When lipstick dries out and becomes hard to apply, put on a bit of balm first to help it go on more easily. 7. Lip balm can also remove smudged mascara without affecting eye makeup or foundation. 8. Clean up fallen eye shadow or sparkle by tapping your cheeks with scotch tape. 9.
Fill in brows before you tweeze them
so that you can see exactly which hairs are strays. 10. Forget about saving perfume for special occasions—over time, the air in a half-empty bottle causes evaporation and contamination. 11. Be skeptical of makeup hype and save a buck. Sometimes,
drugstore products
are just as good as department-store ones.

12. Put a few drops of nail-polish remover in goopy polish to thin it out. 13. Never shake polish. This creates bubbles and dries it out. Instead, roll the bottle between your hands. 14. Layer white nail polish under light or pastel colors to make them look brighter. 15. If you get polish on your cuticle, brush clear polish over the mistake and wipe it off. 16. Or wait for your mani to dry and wash hands with warm water. Excess polish scrapes right off wet skin. 17. Help a
manicure
last by applying a thin layer of topcoat every other day.

18. Before a shower or bath, rub natural oil into your skin. It combats the drying effect of hot water. 19. Sore or bruised? Take a bath with Epsom salts. 20. Leave conditioner in your hair throughout the shower instead of rinsing it out right away. 21. Shave at the end, when hair is softest and pores are more open. 22. Afterward, dry your face with a separate towel to limit the spread of acne-causing bacteria. 23. Water evaporates from skin quickly. Retain more of that moisture by applying body lotion within two minutes of your shower. (Here are
some other soft-skin tips
.) 24. Moisturize your face first so you don't clog your pores with excess body lotion.

25. Toothpaste, honey, coconut oil, and baking soda mixed with a bit of water can all be used as spot treatments. 26. Eye drops can diminish redness. 27. Wash your pillowcases frequently. 28. Or sleep with a clean hand towel over your pillow. Change towels every other day. (Flip the towel over on the second night.) 29. Hydrocortisone cream can reduce swelling, redness, and itchiness. (You can't use it too much, though. Read application tips
here
.) 30. Stop. Touching. Your. Face.

31. When brushing, start near the ends of your hair. Once you've detangled them you can brush from further up without causing as much damage. 32. Don't twist your hair up in a towel to dry. This can pull at the roots and cause breakage. 33. Instead, blot hair with paper towels. It cuts blow-dry time and doesn't frizz hair the way towels can. (This is especially helpful at the gym.) 34. If you absolutely
must
trim your own bangs, twist the section of hair first. It gives the ends a more natural shape. (This works best for side-swept bangs.) 35. Going swimming? Coat wet hair in conditioner to protect it from sun, salt, and chlorine.

36. Always exfoliate before using self-tanner. 37. Apply self-tanner from the lower body up so you don't get creases from bending over. 38. Afterward, stand in front of a fan for a few minutes to dry. 39. When applying sunscreen, don't forget your hands, feet, neck, hairline, ears, and lips. 40. You can still get a sunburn on cloudy days.
Always
wear sunscreen.

41. Lighten your load by packing
coconut oil
and
Dr. Bronner's Magic Soap
. They're both ridiculously multipurpose. 42. Save product samples for travel. You can even go to Sephora and ask for a sample of your favorite perfume. (Read more about
our adventures at Sephora
.) 43. When packing a suitcase or gym bag, roll clothing, don't fold it. It saves space and prevents wrinkles. (This is also helpful when moving.)

44. Arnica oil can reduce the appearance of under-eye circles. 45. White eyeliner makes your eyes look less red. 46. If you're not ready to open your eyes yet, soothe them with cold, moist chamomile tea bags. 47. Sniff peppermint oil or drink peppermint tea for a headache. 48. Upset stomach? Get a foot massage—it can release tummy tension.

49. If you have the space, lay dresses and sweaters down on a shelf or in a drawer. Heavier garments can stretch a few inches when hung up. 50. Thread one end of a necklace through a drinking straw and then clasp it to prevent knots from forming in the chain. 51. Repurpose old socks by cutting off the toe. You can wear them as "gloves" over Vaselined hands while sleeping or roll them into donuts to make sock buns. 52. Apply lotion or Vaseline before bundling up for a winter run. As your body heat develops, you get a deep-moisture treatment.

53. Mix Kool-Aid powder with a
tiny
bit of water for a DIY lip and cheek stain. 54. Exfoliate your lips first, though! Sugar and olive oil make a great scrub. 55.
Olive oil can also be mixed with coffee grounds
for an anticellulite scrub. 56. Olive oil also makes a great eye-makeup remover. You go, olive oil. 57. Storing wax-based cosmetics (lipstick, cream shadows) in the fridge can extend their life. 58. This is also true for natural or organic skincare products, as it keeps the ingredients fresher for longer. 59. You don't necessarily have to put your perfume in the fridge, but keep it away from heat and moisture (e.g., your bathroom). They kill the aroma's potency. 60. A pinch of turmeric is great for colds. Add some to warm water and drink up.
BY: Favin the Maven
For me, both beauty and fashion need to be accessible and not intimidating. I love a great deal and a good DIY beauty treatment. I pride myself on trying new trends, being open minded and getting a great treatment without breaking the bank. In the name of beauty I will try anything once.