Chicago Restaurant Week 2014 Coverage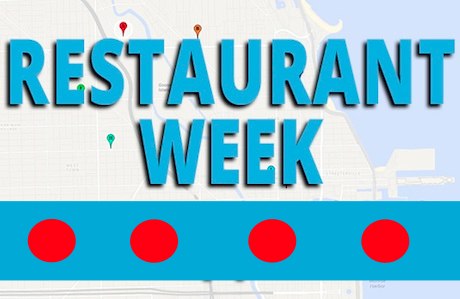 Interviews with chefs, insights into menus, and a whole mess of prix fixe.
Restaurant Week Mapped Out
Restaurant Week has expanded to a two-week culinary event this year, and more than 250 of the city's restaurants are participating. You're going to need a map.

Six Reservations Worth Making
We narrow the list of 245 restaurants down to six, highlighting a few of 2013's trendy upstarts as well as some perennial favorites

ADA STREET | 1664 N. Ada St. | Menu ($33)
Find out how Ada Street is using Restaurant Week
to honor female chefs
like Alice Waters and Julia Child.

MEXIQUE | 1529 W. Chicago Ave. | Menu ($44)
Top Chef
contestant
Chef Carlos Gaytan
on his Mexican-French fusion cuisine.

RIVA | 700 E. Grand Ave. | Menu ($22, $33, or $44) 
Acie Boyd is a flute player, a scuba diver, a union member, and
Navy Pier's most requested server
. He's tells all about his tenure at Navy Pier's premier establishment, including its most popular dish, cioppino.

SPIAGGIA | 908 N. Michigan Ave. | Menu ($22 or $33)
Chef Tony Mantuano (
Top Chef Masters
, James Beard Award) on
his busy 2014
.

CARRIAGE HOUSE | 1700 W. Division St. | Menu ($44)
Chef Mark Steuer brings
lowcountry cuisine from Charleston to Chicago
. As our Carolina-native writer can attest: "lowcountry cuisine [is] onomatopoeia in action: five smooth syllables that are buttermilk biscuits, bags of boiled peanuts, iron vats of corncobs and shrimp."

A10 | 1462 E. 53rd St. | Menu ($44)
Chef Matthias Merges three-course dinner
brought our writer back to childhood memories
, which included a (pleasant!) comparison between A10's ricotta gnudi and Cream of Wheat.